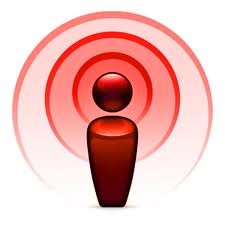 Podcast 5 - 2014
Brian (aka Scotty) talks a ton in this episode.
I'm careful not to cut him off. :)
We cover the questions that Good Looking Loser Forum Member 'ScumbagTrainee' brought to us and a bunch more.
This episode is somewhat different.
For one, it's pretty clear. We have a new audio ninja that is editing our podcasts and even cleaned up the old ones.
For two, we actually get pretty emotional/spiritual about certain things - particularly our starting points and how well life has treated us.
We are both very lucky in a sense.
Years ago, in our mid-20's, we were enthusiastic but quite naive - we could have focused on so many things (bodybuilding, graduate degrees, climbing the corporate ladder, video games). Instead, we got sucked into the "pick up thing" but made sense of it for ourselves - as so few actually have.
There were down times too.
Lonely times.
Times where we watched our blue pill friends that were 'doing what they were supposed to do' - get ahead of us.
I remember the nauseating feeling of being out on the beach at 11am, on a cold day, looking for girls, when my friends were finishing their Master's degrees or entering their 5th year of work.
In different ways, both Brian and I, stuck to our version of what life should be - knowing that we couldn't be satisfied until we were nothing less than thrilled about our sex lives.
At some point, the moment came where we realized that we had "made it" and finally we could relax and reap the benefits.
Often when Brian and I talk, we revisit moments and feelings that we hadn't explored since the day they happened.
Although we will both claim that much of ~2007-2011 was a blur, the emotions and experiences are unforgettable - even if they are tucked away from recent memory.
Some of the best days of my life.
I like this Podcast because it sounds like the old phone calls I'd have with Brian - he'd just talk and talk about how this stuff worked. This audio, more than any other, gives a picture of who he is and what he's about.
He is one of my very best friends and although he isn't as active on Good Looking Loser as we often would like him to be - I have no hesitation to share who he is and what he's accomplished.
Without Brian (Scotty), there is no Good Looking Loser.
I am forever grateful that our paths crossed - at a pick up workshop, of all places.
Enjoy...
(remember you can download these Podcasts by clicking on the down-pointing arrow)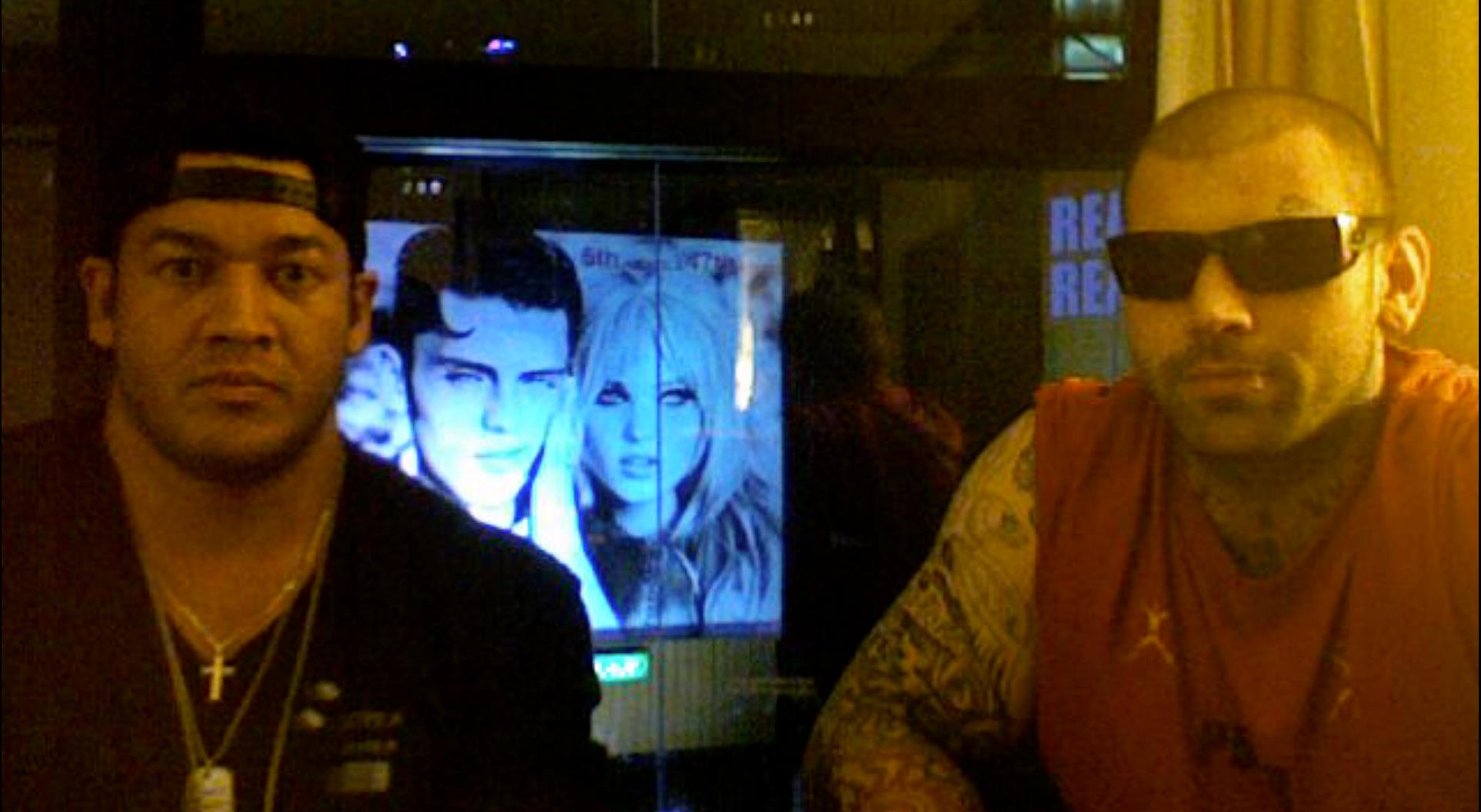 Picture from 2011 - Long gone are the blind man glasses. Lets get to know Brian (Scotty).
Podcast 5 - Part I
0:00 Good Looking Loser and Brian (Scotty) are here
1:00 New Good Looking Loser 2.0 Site and Forum are open
(and still under some construction)
1:45 Podcast 5 is brought to you by the Good Looking Loser "Red Pill Necklace" in the "Spring 2014 Guide to Style (Accessories)"
(it's a little necklace and chain that we put together - 100% of the proceeds benefit the Good Looking Loser Community)
-Housekeeping Issues-
3:00 New awesome audio guy, Srdan, is making our Podcasts sound much better. We fixed up the older Podcasts too.
3:45 Scotty wants to train guys on an on-going basis, the package he is offering is -
Go out with him 1-2 days/nights in New York or your city (at least 1 time every 3 months)
Talk to him on the phone (EVERY WEEK in between)
(check out Scotty's Private Training Page for more information and where to contact him)
6:15 Don't panic, but the FDA recently told customs to "detain without inspection" all Kratom shipments that are coming into the USA. Although Kratom is legal in the United States, the FDA is detaining/confiscating it. Vendors in the United States might be facing significant shortages in the near future if this decree gets enforced. I have stocked up and encourage you to do so as well (IF you have the money). Hopefully this is a temporary thing and the big vendors mount several lawsuits against the FDA's unconstitutional action. But there is likely to be a Kratom shortage in the upcoming months, regardless of the eventual outcome.
8:30 Questions from 'ScumbagTrainee' for Brian begin...
9:15 q: What are the 'core elements' of Brian's game? What is his 'style'?
11:00 Chris and Brian talk about the 'Laid Back & Aggressive' (or cool) vibe that they have.
Piercing eye contact
Verbally - laid back
Physically - aggressive/assertive
14:00 What "pick up" means to Brian and why he's done it for 7 years straight - almost non-stop.
17:40 How "pick up" has benefitted Brian's existence far beyond his sex life.
25:20 What "pick up" means will change over time. As you get better, get older and you will start to enjoy it more. The tough part is the start, it gets easier everyday. Pickup was all about validation when I started.
28:40 When you start to try to pick up women - all of your issues will surface. Embrace it. Handle it. Lean on guys in the forum for support. You'll eventually start getting laid and you'll never look back. Once you know you can get laid - things change. You start to enjoy it and can have healthy committed/uncommitted relationships. At some point, you'll move on and become more career-oriented and never have to stress over getting pussy ever again.
33:25 Brian's new life motto - "It's up to you."
35:30 Brian talks about Killer Instinct. Killer Instinct is the definition of "game" and covers up shortcomings. Killer Instinct is sincere, Funny Man is not.
45:00 Brian talks about why you should have NOTHING TO HIDE when you are talking to random girls. It's not about 'being direct' it's about being real and you can 'practice' being honest.
47:50 Honesty is social freedom.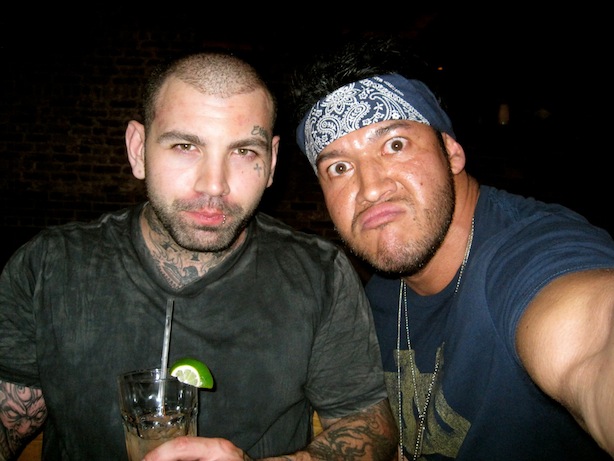 Podcast 5 - Part II
0:00 Chris' bad attitude about picking up girls when he started.
(gets somewhat emotional about it)
2:00 "How to Remove Your Need for Validation" (By - Illuminatus, Personal Power Mediation)
3:50 I have to say - Brian is one of my very best friends and he actually gives a shit about people. He feels good about helping people and is one of the most authentic people I've ever known. Although he is great with women - the reason he is a part of Good Looking Loser is because he is genuine.
* 6:00 note: I meant 'I remember every girl I've slept with' not every girl I've talked to. (obviously)
7:35 Chris' story about his old bombshell fuckbuddy "Trish" that is now a reporter on ESPN.
Once you are getting laid (and know you can) you'll have a constant sense of well-being and empathy that you may not have ever felt before.
14:00 Our response to - "Sleeping with a lot of women is a meaningless life..."
16:20 "Rejection", paying your dues, getting over the fear of rejection ultimately builds Killer Instinct. Avoiding rejection or "safe game" sabotages your present and future chances are getting laid.
19:20 Two types of guys -
Guys that know they can get laid.
Everyone else.
22:50 q: What drill do you recommend to build up your Scumbag Factor/Killer Instinct?
(I might put together a structured list later)
Honesty Drill - TELL EVERYONE EXACTLY WHAT IS ON YOUR MIND (if you want to talk about it).
Eye Fuck Drill (42:00 & Beginning of Part III) - Undress every girl with your eyes and don't look away. Don't be ashamed to check out girls. Every guy I know that can pick up hot girls has NO SHAME in staring at women. Learn to love it.
32:00 q: If Brian was on a cold streak for a month, what is his attitude?
34:40 Surrender yourself and then improve yourself.
36:00 q: What kind of goals should a guy have that is "okay" with women who wants to be great with women?
Understand and constantly improve your fundamentals. Look good, talk to girls.
Be honest with yourself and everyone else.
Have a simple gameplan and execute it on girls that you make eye contact with.
Talk to more girls.
39:00 q: What is on Brian's mind when he's approaching girls? (Eye Contact His Secret)
45:10 Brian discusses eye contact for screening and cheating.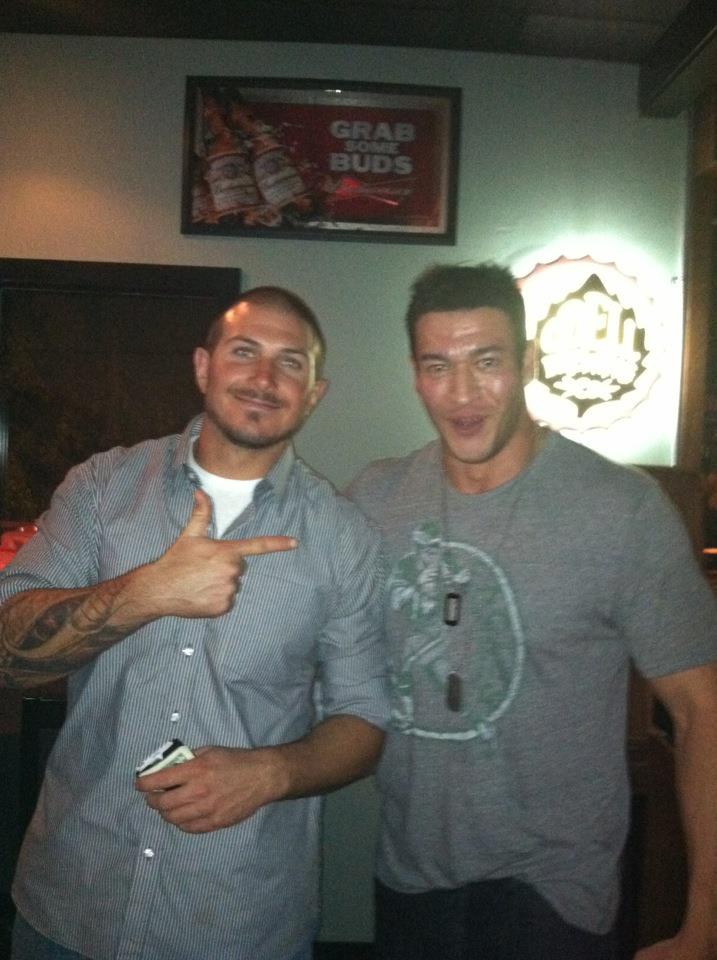 Chris and Brian... Wait... That's not Brian.
Podcast 5 - Part III
0:00 Chris' former good friend/rival "Danny" who was naturally incredible with women.
The wink technique.
The eye fuck drill.
2:25 What Brian does to follow up the eye contact. Brian can get physical with girls in 5 seconds because they will "let him" and he knows it.
"How are you going to look at me that way and not say hello?"
6:55 Brian is a master at reading girls from 7+ years of practicing/using eye contact as his main weapon and #1 screening tool.
7:50 Why Chris never fully understood the eye contact significance until very recently.
(Chris smiles but never particularly focused on eye contact since he doesn't wear his contacts)
11:30 Brian talks about getting girls attention on the street in New York City, where everyone is moving fast and have their own agenda.
Piercing eye contact.
Put yourself DIRECTLY IN HER WAY.
DEMANDING her attention by accusing/calling her out on checking you out - like Chris does in this video.
14:00 q: Give me an example of "flirting" that Brian does.
Accusing girls of checking him out.
Compliments, after the girl is into the dialogue. "You have nice facial features"
16:55 Why Brian doesn't like generic-repetitive lines. Limits social skills.
17:15 Why Chris uses the same line at the start - He made it up for himself - it's "his" line like Brian's line -

"How are you going to look at me that way and not say hello?"
19:40 q: What 5 things do you think guys should be able to do once they are 1-2-3 year(s) into "the game"?
This is hard to answer because the level of effort and commitment varies so much from person-to-person.
Chris suggests, at bare minimum -
After 1 year: You should have beaten approach anxiety. (hardest)
After 2 years: You should be able to get laid and know it. (play numbers game)
After 3 years: You should be able to have fuckbuddies and enjoy hunting/meeting women. Sex life considered handled.
(It is my belief that the information on Good Looking Loser will get you to year 3 in 18 months.
26:15 Brian on NOT BEING SUPER PICKY when you haven't been getting laid for months on end.
30:30 The guys that I know that get the most pussy (and most-quality pussy) don't ONLY talk to super hot girls. They bang average and super hot girls. Their friends (who usually don't get much ass) criticize them when they sleep with an average girl.
33:20 What happens when you start getting the really hot 9s and 10s. (personality selectivity)
34:10 q: How much do you feel your style (tattoos, etc.) affect your interactions with girls?
35:30 q: What are your thoughts on rejection, compared to when you started?
Chris answers first and discusses "Sexual Availability," a foreign concept to 99% of guys. Brian ponders the question.
36:30 Brian gives his answer - "I don't take it personally."
39:50 q: For a guy that is "okay" (can talk to girls but gets laid infrequently) with girls, what is your main advice to him?
Find a support network to keep you going.
Work on your fundamentals.
Be honest with yourself.
Talk to 30+ girls a week.
You will start to get laid. And Then you will get laid more and more.
42:40 What Chris and Brian know that that you don't know -
"If we can convince you to look your best and talk to girls (even if you are timid) - you will start getting laid a lot more than you used to."
46:10 Chris asks Scotty for an example of an awkward approach that he ended up getting laid.
Scotty thinks about it.
Chris gives his example - botched eye contact, girl wasn't checking me out. Ran after a girl and her friend and touched them from behind. Had sex 36 hours later.
That's all folks.
Our phone call was dropped but I hope you enjoyed this chat.
We love you.