Everything You Want and Need to Know About the Phallosan Forte
By: PhilTheBeard (w/ Good Looking Loser)
The Phallosan Forte was the one and only PE Device we recommended in 2013.
I felt confident recommending it because I knew 99% of people would dig it.
And More Importantly - it would work.
(it is mainly a length device)
It hasn't let me down and to my knowledge - it hasn't let anyone else down.
Feel free to take a look at the user feedback and on-going progress logs in our forum.
With that said, there's certainly is a learning curve and it requires patience.
Like with the Bathmate, I urge you to view the first 30 days simply as a "getting used to it" period.
Hopefully this FAQ can speed up that learning curve.
While Phil and I have tried to be as detailed and specific as we could be but these are merely suggestions based on our experience and our "Phallosan IQ".
Don't be afraid to experiment with your own methods and try new things.
Eventually, you will settle into a routine that makes wearing it and taking it off super easy, efficient and productive.
That's what we are shooting for because (as you know if you own the device) - it's quite comfortable.
The Ultimate Phallosan Forte FAQ

q: What is the best way to put on the device?
On page 3 of the "Phallosan Instructions For Use" manual - they break down the progress.
It might seem complicated at first but it's not.
We'll break it down on video and in layman's terms so you can see every step but truthfully, there's only about 3 steps.
Good Looking Loser Putting on the Phallosan Forte
* open in a different browser if video doesn't show

(not supported by all browsers, try a different one if you see no video)
Video is NOT SAFE for work
Step I (Temporarily Put on the Condom Sleeve)
The easiest way to put on the device starts with putting on the condom sleeve which is attached to the suction bell.
To be clear, we are talking about this part -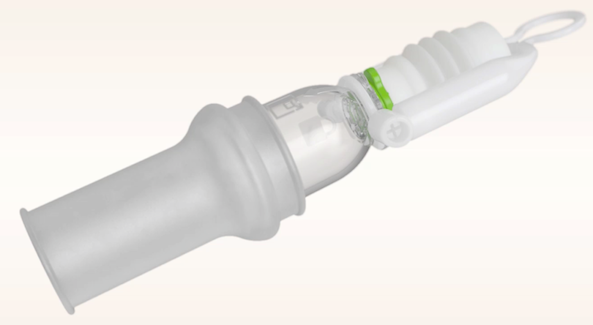 Put it on just like a condom, be careful to not be too rough with the condom sleeve - they can tear.
Step II (Roll Up the Condom Sleeve and Take It Off)
Once you have it on (your penis is in the condom sleeve and some of it is the suction bell), CAREFULLY roll the condom in the direction of the suction bell, the natural direction to remove it from your penis.
Roll it up and take it off.
It should look like this, if not rolled slightly more -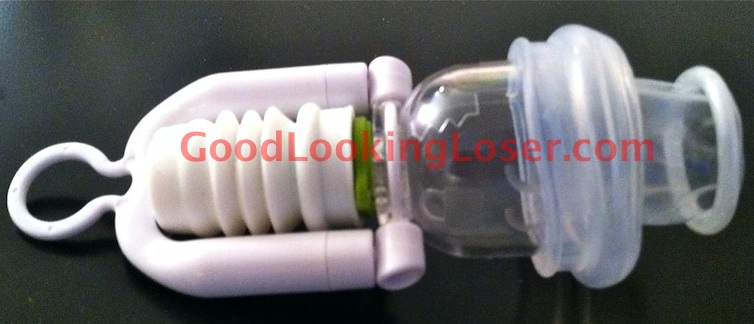 Step III (Put On the Protector Cap, Optional)
After you have rolled up the sleeve on the Phallosan condom and take it off - you need to put on the protector cap.
Open the rubbery-plastic cap wide and put it over your glans (penis head). Shove your penis head in there as much as possible - it should cover the head but not go much beyond.
* Bigger guys might have trouble putting the protector cap on. The good news is - you don't need it. I don't use it.
To be clear, this is the protector cap -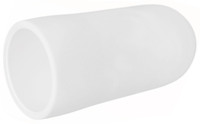 Step IV (Put the Condom and Suction Bell On)
Once you've secured the protector cap over your glans, it time to put the device on.
Put the head of your penis into rolled up condom and into the suction bell.
CAREFULLY roll the condom over your flaccid dick - just like you were putting on a regular condom.
Make sure your penis head remains in the suction bell - or push it into the suction bell afterward.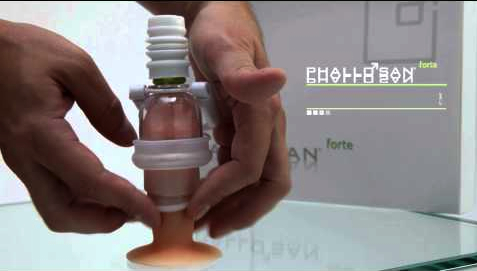 Step V (Secure the Device Over Your Penis Head)
Once you've rolled down the condom and have your penis head into the suction bell, as far as it will go, turn the green marker on the valve to 'suction' and press the suction ball in 3-4 times.
This should further secure your penis head inside the device. You should notice a tighter grip.
Step VI (Lock and Secure the Vacuum)
Once your penis head is in the suction bell and you have locked it in there by pressing the suction bell to get a vacuum, it's time to lock it in there.
Turn the green marker on the valve to 'locked'.
It will be the right-most setting.
This is the part that some people forget. The device will still work if you forget this step... just not as well.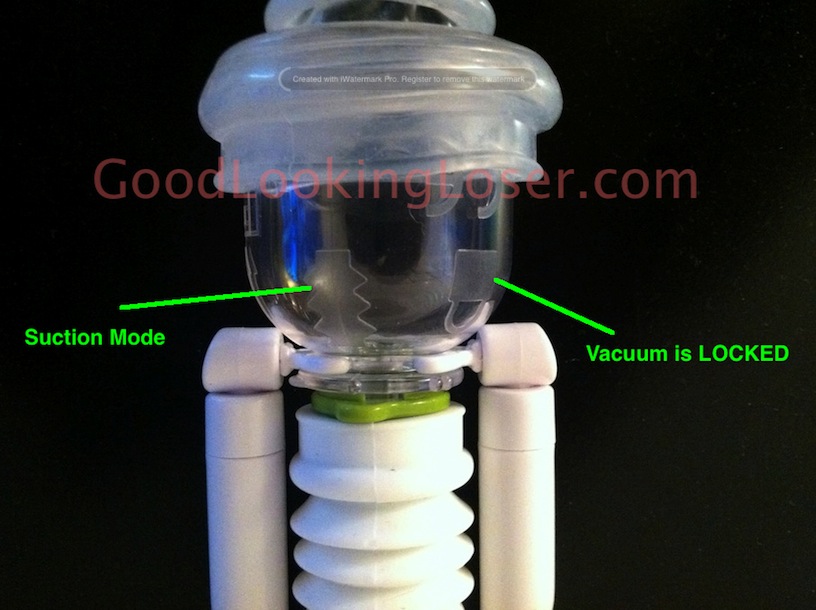 Turning the green dial to the right will lock it.
Step VII (Put the Belt On)
At this point the device should be locked onto your penis. You don't have to hold it there any longer.
Put the device though the "O Ring" in the belt and decide which way you want to stretch.
Put the belt on accordingly.
Holding the device to keep it stable, lock the belt to the device.
The process might be a little confusing at first but it becomes second nature.
Quick Notes - How to Put on the Phallosan Forte
Put on the Suction Bell with Phallosan Condom and CAREFULLY roll the sleeve forward.
(take it off afterward and keep it nearby)
Put on the protector cap - it should be completely over your glans (or head).
* if you penis is too big for the protector cap - you can forgo this step.
Put on the Suction Bell with Phallosan Condom by rolling backward over your penis.
(make sure the head of your dick is in the suction bell as far as you can go)
Turn the green marker on the suction bell to 'on' and press the suction ball in a couple times until it gains obvious suction.
(this is quite an easy step actually - you will see that the device 'adapts' to your penis and locks it in)
Turn the green marker on the suction bell to 'locked'. This will maintain the vacuum.
(at this point you can remove your hands and the main part of the Phallosan device will be holding onto your penis)
Put the device that is holding your penis through the ring on the belt.
Decide which way you want to stretch your penis and wrap the belt around you accordingly.
Holding the device, pull the very elastic belt and lock it to the device.
q: How do I avoid ripping the condom sleeves?
The biggest long-term issue with this device is making sure you don't rip the condom sleeves. Eventually, it will happen and hopefully you took up Phallosan on their offer and ordered through Good Looking Loser for the free condom sleeves.
There's no underground secret to avoiding tearing these sleeves, simply having patience and putting the condoms over your dick SLOWLY will keep them from ripping easily.
If you are to rough with them or have sharp nails you can rip the sleeves.

Being gentle and careful with them will provide a longer life.
In general -
Don't pick up the device by the sleeves.
Roll the sleeves carefully and do not lift them or snap them.
Do not force the sleeves over your dick if you are on the big side.
Masturbate or make sure your penis is in a super flaccid state before entering the device.
Take the device off slowly, ideally by - taking the belt off the device, instead of taking the device off the belt.
Store the device in a safe place.
Phil has been super careful and has gotten 5-6 months use out of one sleeve.
Chris only wears the Phallosan at night and uses Sizegenetics during the day.
Every time I've torn a sleeve - it's been because I've been in a public place and rushing to put the device on. This is something that could have probably been prevented with a little patience but patience isn't a natural instinct of mine.
Just be careful with things and make sure you get your free condom sleeves if you order through Good Looking Loser. (see below)
Have patience with the condom sleeves, especially if you are out and about and trying to take off/put on the device quickly. Make sure you ROLL the condom and not pull on it.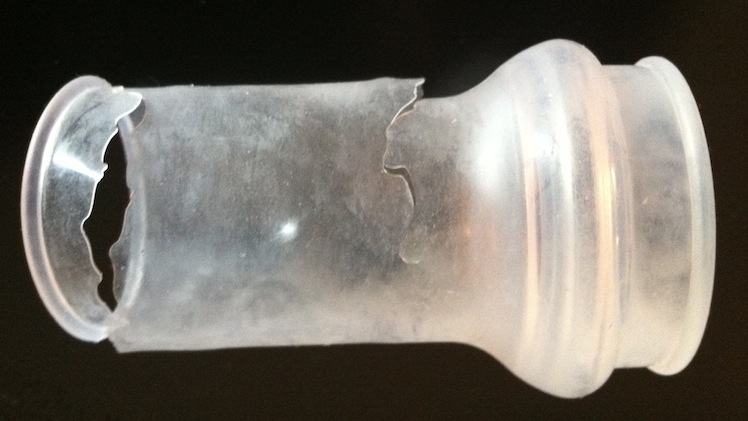 q: I ordered through Good Looking Loser, how do I get my 4 free condom sleeves?
The 4 free condom sleeves ($100 value) are already included if you order through the Good Looking Loser link below.
No more emailing or waiting.

After you get the device, use it for a week or so and figure out exactly which size sleeves you need. (small, medium, large)
After you are certain of the size, email [removed] and paste them this message.
Hey Julien/Phallosan - I ordered via Good Looking Loser, my order number is #######, I am emailing you for the free condom sleeves.
I need the ___ size.

Please send them to -
(List your name and address)

Say Thank You.
They have been quite good at getting these sleeves out to the Good Looking Loser community - I got mine in about 4 days.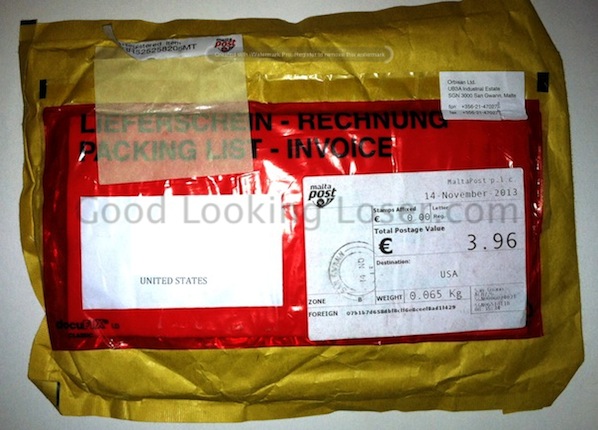 q: Is there anything I can use as a replacement for the condom sleeves until I get new ones?
Nothing is going to be as good or comfortable as the condom sleeves.
"Knockback", a Good Looking Loser Forum member has successfully used a "cut ballon" to mimmic the sleeves.
Have a look -
It's a very smart temporary fix, but you'll eventually want to get more condom sleeves.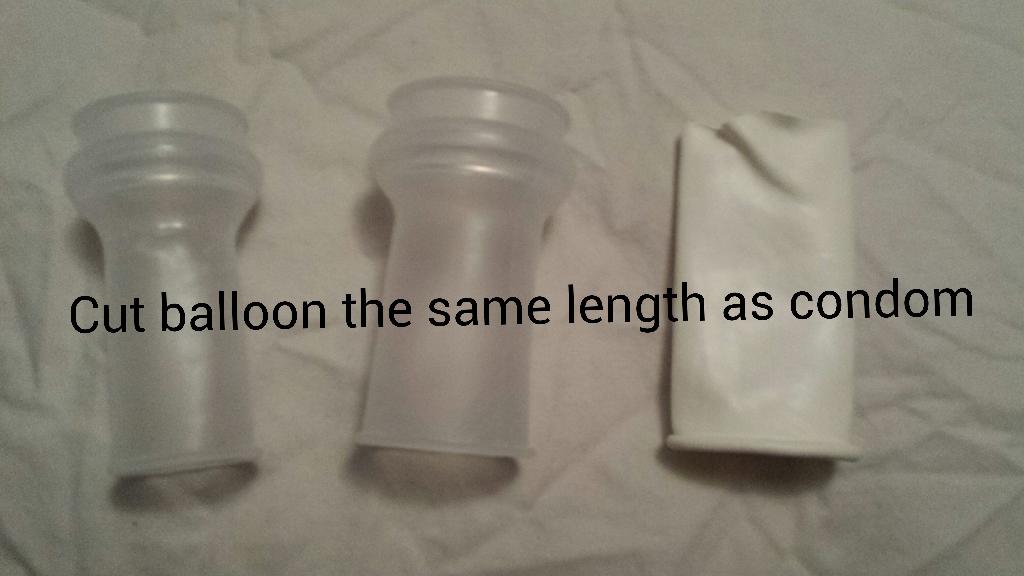 q: How often should I switch sides while wearing it?
To ensure the quickest, most growth you should alternate stretching right and left.
The good news is - most people find no difference in comfort between stretching right or left.
How often you alternate, is a matter of personal preference.
I have noticed switching sides every 2-3 hours greatly reduces/eliminates any natural discomfort at the base of your dick.
Phallosan recommends alternating directions every day.
It's totally up to you.
q: What is the best way to sleep with device on?
One of the primary reasons why we recommended the Phallosan Forte was because you can wear it while sleeping.
I have been able to sleep on my back and sides with the device on no problem.
If you wear boxers, pulling your dick through the front opening will reduce discomfort on your skin while sleeping.
Don't plan on sleeping on your stomach, although some guys might be able to.

q: How do I prevent blisters?

Some guys have gotten blisters from the device while wearing it.

Don't be alarmed - this isn't going to hurt you.
But the way to avoid blisters is to wear the protector cap with the device. But leave a little room in the front at nipple area of the protector cap.
If that doesn't work or if you are too big for the protector cap, putting a light coat of Vaseline on your penis head while both during and after stretching is a good way to keep the glans area blister-free.
Neither Phil or Chris have had any issues with blisters.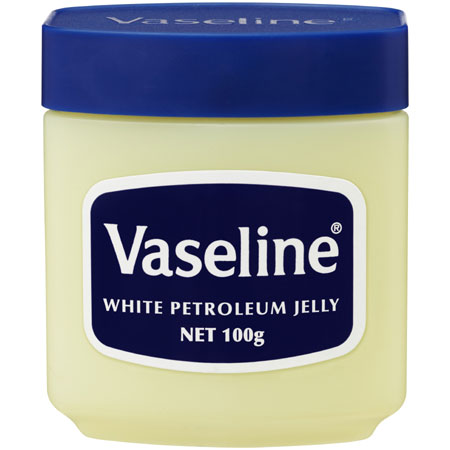 q: How do I prevent dry skin on the glans/base of my penis?
Like most serious guys that have been doing PE consistently, Phil has been putting lotion on his penis after training.
It keeps away any potential dry skin.
Using a high-quality moisturizer, like Extra Virgin Coconut Oil, while jelqing can be helpful too.
Phil suggests putting a light coat of baby powder on your penis head and/or in the condom sleeves.

Just make it a routine to put a moisturizer on your dick when you are done with training. This clears it up for most people.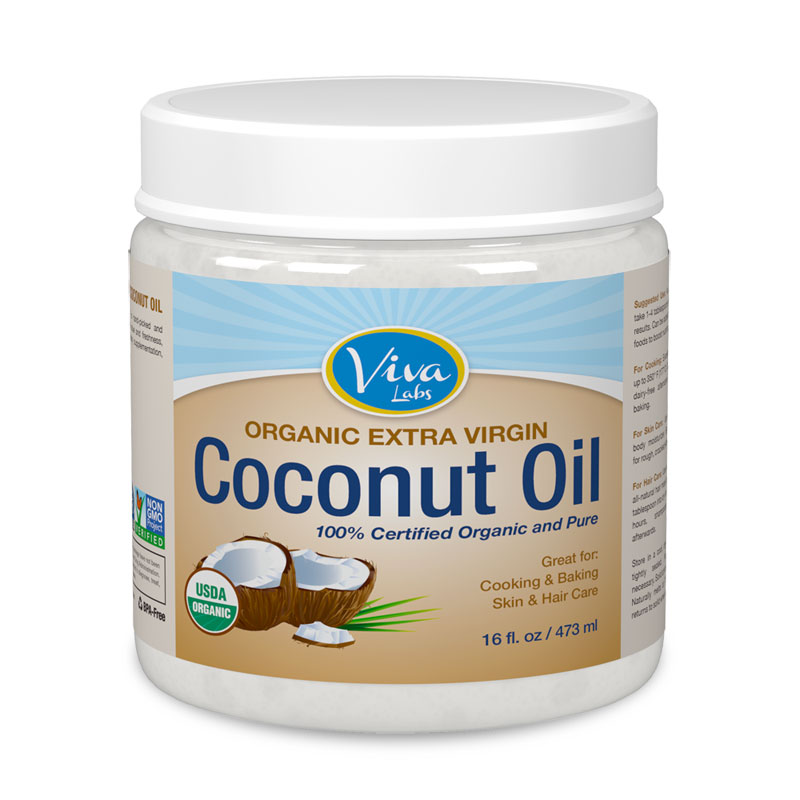 q: The "O" Ring on the Phallosan belt is bothering me/pinching my balls, what can I do about this?
GLL Forum member "BallsDeep69" solved this problem and here is his suggestion -
This won't be an issue for most guys.
q: Can I hang weights from this device?
No, don't do that.
It's not meant for that and you could end up hurting yourself or breaking the device.
In what is somewhat considered 'experimental PE', if you have a secure device on your penis - you can theoretically hang weights from that device to make length improvements.
I have no doubt that this works and is ~reasonably safe for experienced guys if they are careful and not overzealous. Still, I don't recommend it until you have exhausted length gains from manual stretching and Phallosan/Sizegenetics.
You should be able to get 1.5-2 inches from manual exercises and your choice of girth device (Bathmate/Penomet) and length device (Sizegenetics/Phallosan).
q: How long should I wear the Phallosan for?
If you are new to PE or any form of stretching - don't wear it for more than 4 hours a day in the first 30 days.
If you have PE experience and have been at it for more than 6 months - wear it as long as you want.
If you fall in-between these categories - wear it for no more than 6 hours in the first month.
Remember, regardless of your PE resume, the first month is going to be a "get used to it" period.
After the first month, wear it as long as you want/can.

q: Can I wear the Phallosan Forte while I work out?
Both Phil and I agree that hypothetically - you could.
We don't recommend it however.
Go your hardest in the gym and pick up where you left of afterward.
You don't want the device to get all sweaty or a condom to tear if you have go to the bathroom.
Phil lifts heavy boxes almost every day at his music studio and hasn't had any problem with slippage or discomfort.
q: How noticeable is the Phallosan Forte under clothing?
So long as your aren't wearing tight pants - the device isn't particularly noticeable.
Sweatpants, athletic/fashionable shorts and dress pants are probably your best options.
If you are still self-conscious about it - you can always wear jacket or sweatshirt which naturally sit lower than the waistline.
After you see that the device is working, you probably won't care whatsoever about this.
Like Phil tells guys -
If anything, ladies staring at your package will just think you have a kick ass bulge without it looking odd.
I concur.
q: Can I drive with this device on?
Driving and getting in and out of your car shouldn't pose any problems whatsoever.
Phil drove from Florida to South Carolina with zero issues and got a good workout in without even trying.

q: How easy is it to take the device on and off?
While there's definitely a learning curve to putting this device on, after you get the hang of it - it takes about 30 seconds.
The biggest thing you should keep in mind is -
Put the Phallosan on SLOWLY. Even if it takes 45 seconds. You don't want the condoms to rip.
q: What happens if I get a boner while I'm sleeping?

Zero, Zero, Zero issues with getting erections in your sleep with this device.
It won't loose suction or hurt your dick at all. It's purposely design to handle the "boner factor".
Don't be afraid of the device while you are sleeping :D.
Boners during the daytime are nothing to worry about either, I purposely inflated my dick several times to what would happen - the condom will simply expand (as a appropriately-sized condom would) to accommodate your excited state.

q: How should I incorporate other forms of PE along side this device?

You are free (and encouraged) to do other forms of PE on day that you use the Phallosan - it will only benefit you.
(rule of thumb: if you can't get a solid erection - take the day off)
Phil does jelqing, manual stretching and uses the Bathmate most days when he uses the Phallosan.
You just have to find the right combo for your goals and what best fits your schedule.
For most guys, simply putting on the Phallosan in the morning and wearing it all day is the best plan of attack because it works so well.
Phil does this and then does manual PE, followed by Bathmate, at night.
Check out -

q: What is the best way to put on the Protector Cap?

The easiest way to put on the Protector Cap (to make sure it fully protects your penis head) and not pinch yourself is to stretch it out both hands and place it over your glands.
Don't worry - this part of the device won't rip.
q: I'm un-cut (uncircumcised) can I use the Phallosan Forte?
The device works just fine if you circumcised or uncircumcised.

If you are un-cut - just pull your foreskin back and put your penis head in the suction bell just as you would if you were circumcised.
If anything, male enhancement device tend to improve foreskin health.

q: How do I find the right sized condom sleeve and suction bell to fit my dick?
The Phallosan system comes with three different sized condom sleeves (to which an alike suction bell is pre-attached).
The best way to find out which size is right for you is to use the bell size ruler that comes with the package.
In general, if your flaccid girth is-
Under 4.7" - you will need the small sized condom/bell.
4.7" - 5.0" - you will need the medium sized condom/bell.
Over 5" - you will need the large sized condom/bell.
These 3 sizes will accommodate 99% of cocks.
If you are the proud owner of an oversized dick, jerking off prior to using the device will help things fit better.
If you area the owner of an undersized dick, jelqing or using the Bathmate prior to Phallosan training will help your penis fit in there.
Since November 2013, when we first recommended this device, I haven't seen one report where the Phallosan failed to accommodate someone's size.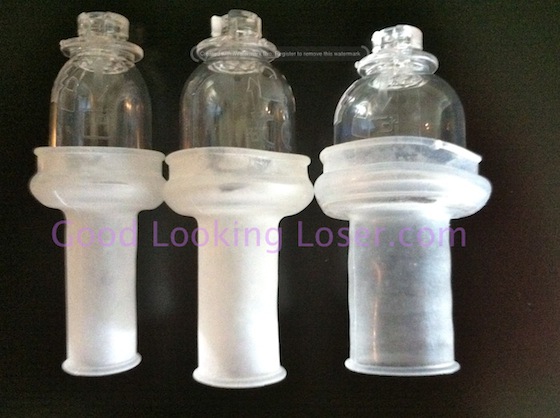 Remember - these are meant to fit your FLACCID size
q: What can I do to improve the "grip" of the condom/suction bell on my penis?
When you get your Phallosan system, you'll noticed that the condom sleeves are 'powdered'.
This powder helps the sleeves and suction bell comfortably adhere to your penis.
There's nothing necessarily special about the powder - you are encouraged to use a light coat of baby powder once the original powder runs out.
I suggest putting a light coat of baby powder on your penis - rather than putting the powder inside the condom.
A little goes a long way and can significantly help the grip and comfort levels.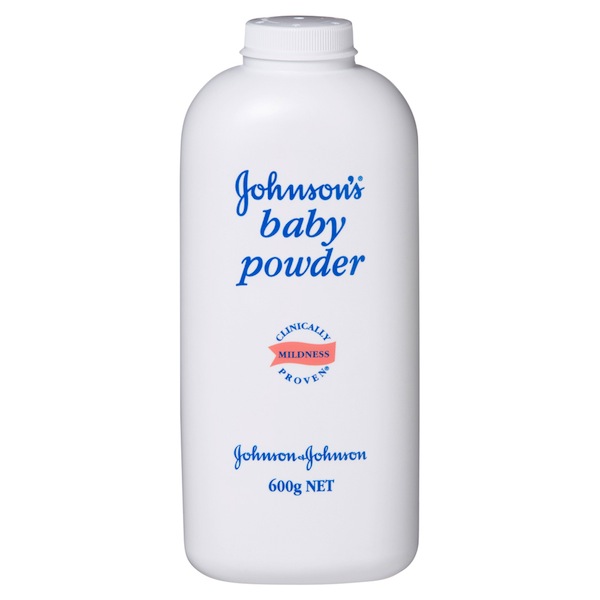 q: Can the Phallosan Forte help fix a curved penis (Peyronie's Disease)?
The Phallosan might be helpful at straightening your penis but the better device for Peyronie's is mentioned in this article -
q: Where can I read about the clinical trials on the Phallosan Forte?
You can have a look at the clinical studies on this page.
Both studies were published in medical journals that are subject to peer-review.
q: Can I take the Phallosan Forte on an airplane?
How can I travel with this device?
You can take the Phallosan on an airplane, but I don't suggest wearing it while going through security. It's not "illegal" to wear a male enhancement device on an airplane (yet) - it's just not worth the hassle if some TSA agent thinks you are a terrorist and wants to haul you off to prison.
Just keep it in your carry-on bag and put it on in the bathroom before your get on your flight.
If security is going through your bags, you should mention that it's a "male enhancement device" so they are gentle with it or avoid touching it altogether. Even though airport security wears plastic gloves - they will be hesitant to touch an item that spends its day on your dick.
The other alternative to pack it. You can put it in the box the device came in and pack it in the middle of your suitcase so it has virtually no chance of breaking. A hardshell case would be even better. It's a good idea to wear it on the plane though - make an otherwise boring flight - productive.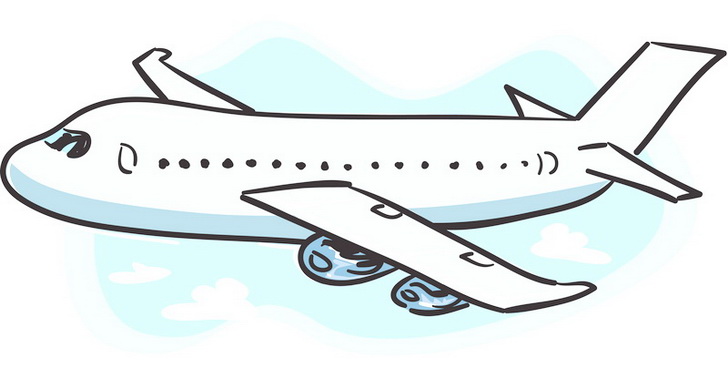 q: Can I do Kegels while I'm in this device?
Yes, please do.
You are eventually going to need a stronger PC muscle to support your larger penis size.
The device is fully prepared to adjust to increases in blood flow (particularly to the penis head) and erections.
Have a look at "Good Looking Loser's Ultimate Guide to Kegels" for more information.
q: I have more questions, where can I see additional frequently asked questions about the Phallosan Forte?
Phallosan has published their own FAQ.
Have a look at it here.
As well as the video FAQ - which is here.
q: I have a question but can't find the answer, where can I ask my question?
Hop on our Phallosan Forum and ask in there.
There's a lot of guy that own the device and will be happy to help.