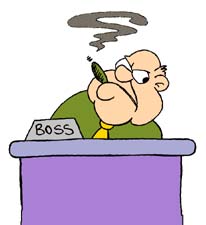 You Work For Me
A popular concept in surrounding this "pick up women" stuff is having and maintaining an alpha "frame". This so-called "frame" communicates your confidence (or lack thereof) and supposedly is the core behind your words and actions. In general, the idea is to have solid "frame" so you don't get sidetracked from your goal- GETTING LAID. There is a notion that an alpha frame can be taught - I don't quite agree but I feel it can be developed if you know what you are shooting for and have an example to follow. Frame, just like any sort of "game" shit, is simply a manifestation of social freedom.
The Executive (CEO) Frame
A wise man once saw one of the "faster/aggressive" videos and commented that I have an "executive frame."
PUA-Zone, Click to View
I had never heard the term "executive frame" before but it's definitely captures what I'm shooting for. Good thinking, Sgt. Gumbles. Basically, I'm the boss - the girl is the worker. Better yet, she's the secretary. I order her around (but not in a total asshole way). I interact with her within that dynamic AT LEAST until I screen her and she passes (e.g. grab hold of her hand and she doesn't stop me). It's an effective first impression on emotionally-healthy women that like to get fucked by an alpha male with more power than they. What's also good is that the "boss-worker" dynamic remains throughout the entire relationship whether that be 1 night or several months. She'll always look at you like you are the boss. Provided you met an above-average first impression, they never forget "how" you picked them up even if they don't remember what was said. It's actually kinda funny when I catch a girl in her office attire during the week.