How to Lose Your Virginity
Welcome to Part III of our "How to Lose Your Virginity" series.
In the previous section, we talked about how you are going to meet girls and present yourself with Universal Appeal.
In this section, we are going to discuss how to efficiently message girls online, get their number and call them.
We'll discuss the "dates" in the next section.
Again - if you think our advice for losing your virginity is "soft" and your chances are better if you timidly hit on hundreds of girls, then go do that.
That is not my advice for total newbies/inexperienced guys.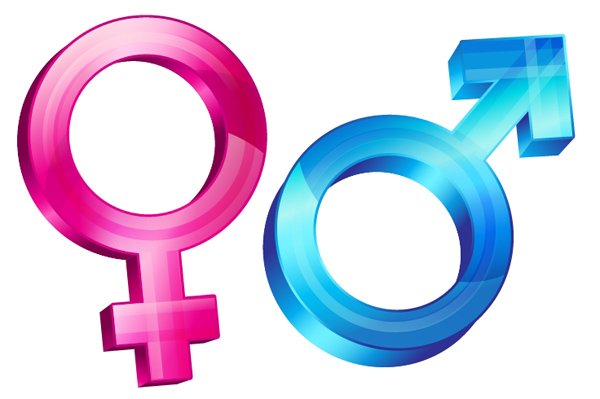 Step 4: Message Girls One of Two Ways
Whenever you get online, message all the girls that are also online.
They are at their computer and can reply to your messages.
MESSAGE EVERY GIRL THAT YOU ARE REMOTELY INTERESTED IN.
DO NOT BE TOO PICKY.
Unlike Screening, or a more aggressive approach to online dating - I don't suggest straight up spamming (copy and paste game) girls.
At the same time, you can't waste 15 minutes reading a girl's profile who might not even respond to you.
You need to find a median.
Here is what I used to do and it seemed to work out quite well:
For girls that you would only be interested in if they were interested in you
Have a generic message(s) to quickly copy and paste to girls -
(see the lack of punctuation I use, no periods on the ends of sentences - not a huge deal though)
Hey there/[name], you're genuinely quite attractive - I just thought I'd tell you that. naturally pretty

Hey kidd/[name], you're really naturally pretty - I can tell. Anyway, nice to meet you, I'm Chris

Hey Cutiepie[name], you are actually naturally quite attractive. Just wanted to make you smile. I'm Chris by the way
This "naturally" beauty thing seems to work really well since it's something that no guys are telling girls.
Girls can't turn down this compliment.
I've never heard a girl say, "No. I'm ugly as shit, it's all the fucking makeup, can't you tell?"
They are flattered and accept the compliment because they want to.
Inserting the girl's name helps too but I've gotten by without it. Try both.
For girls that you are actually fairly interested in (Hot Girls)
Use the generic message, insert their name and add ONE (or two) lines that shows you read a specific part of their profile -
Hey Angie, you're really naturally pretty - I can tell. Anyway, nice to meet you, I'm Chris

By the way - I'm from Florida too. Go Gators
This was with this EXACT message that I began a conversation with one of the top 4 or 5 hottest girls I've ever slept with.
From her pictures, she looked absolutely unattainable - even to me who started doing pretty well back in 2009.
She was absolute fire, funny and sweet. We had so many inside jokes and we loved having sex outside, particularly in wealthy areas of Beverly Hills and Bel Air.
Unfortunately, she moved back to Florida later that year. Lacie showed up shortly thereafter.
Here's another example -
Hey Steph, you're really naturally pretty - I can tell. Anyway, nice to meet you, I'm Chris

That's awesome you like Norm McDonald, I love him too. Totally underrated.. Did you know that he got kicked off SNL for screaming during a live episode that the writers of the show were ruining it
That's another message (it's not exact though) that I used to start a conversation with a hot, yet surprisingly pretty funny girl that became my fuckbuddy for about 2 months.
Send the 'copy and paste message' or 'copy and paste + custom' message to all the girls that are currently online that you are into.
(frankly I would just message ALL the girls and just see what happens)
The girls usually read your profile if your default picture (thumbnail) looks good and message you back.
It takes them a little longer because they usually read the profiles and they are shuffling through a ton of messages from other guys.
Obviously, just like in real life, "what you say" doesn't matter all that much - you have to pass the look (profile presentation) threshold and not be a weirdo.
Step 5: Exchange 3 or 4 Messages and Ask For Their Number
The goal of talking to girls online is to get their number.
Not to get them to like you or get to know them.
If they reply to your initial message then in most cases - THEY ARE INTERESTED.
If they reply to your 2nd and 3rd message then in most cases - THEY ARE DEFINITELY INTERESTED.
If THEY ARE INTERESTED IN YOU - there's not a lot of reasons to have a long conversation.
You should exchange names/locations and whatever naturally pops up in the course of conversation - but there's no reason to drag things out.
Believe it or not, the vast majority of girls are pretty comfortable giving guys their number online.
It's not a huge deal and that is why they are on the site.
(some girls are only looking to get their egos fed, that is why we don't engage long conversations)
Although you should certainly learn how to improvise and build your "online social skills", here's a few things that I reply with:
You can keep these in Microsoft Word and just paste them as well -
I'm headed to Nordstorm Rack to see if I can find some awesome deals, whats on your agenda today

I'm about to run out with my friend and grab sushi for lunch, whats on your agenda today

I've got to pick up my friends at the airport, I have a bunch of friends flying in to see me, what are you up today
It's worth spending an extra 30 seconds to customize the message - you probably have a girl that is interested if she replied to your first message beyond just a single word.
You don't need the "false time constraint" either - just make sure you seem like you have a life (even if you don't) and it's not rude/weird when you end the conversation.
Don't tell them -
I'm at home masturbating to these overgrown studs ruining this girl's barely 18 pussy.

Goddamn, how do they do it and how did they grow those penises?

I'll be here all day, so message me back.
Here is an example of what you should do:
My initial message to her was -
Hey Samantha, you're really naturally pretty - I can tell. Anyway, nice to meet you, I'm Chris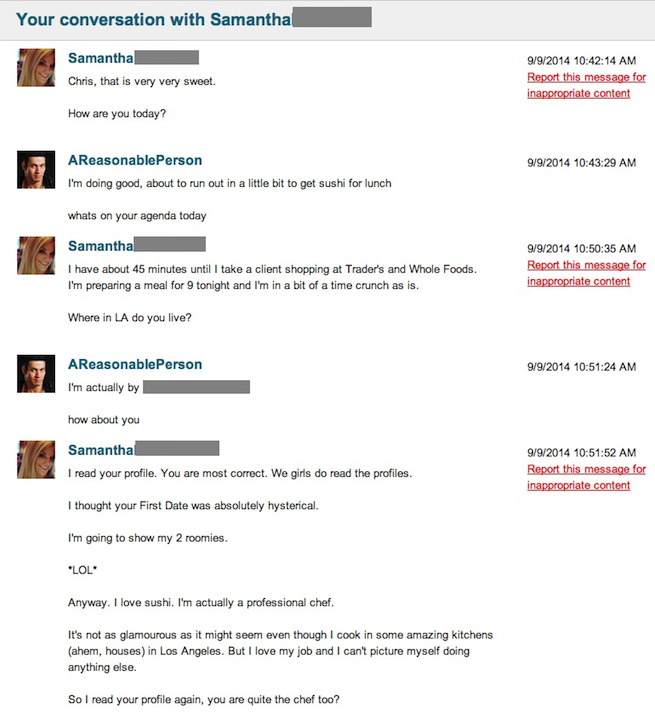 After I know she is interested (which I can tell by her detailed message/just the fact that she writes me back a few times), I shut down the conversation and take her number.
It's basically the same exact thing that I would do in-person.
IN AND OUT -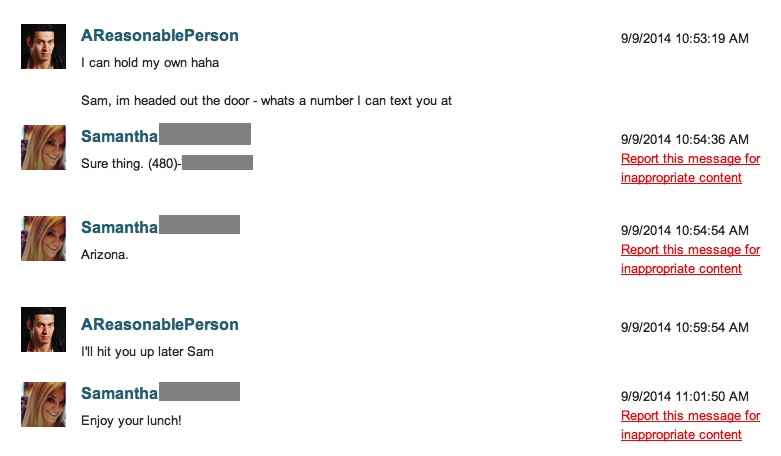 I texted her immediately -
Hey Samantha, its Chris, I'll give you a call later today
She replied immediately.
Here is another example where the girl says less -

Same type of "opener".
She oddly takes 5 minutes to reply though (likely reading my profile) -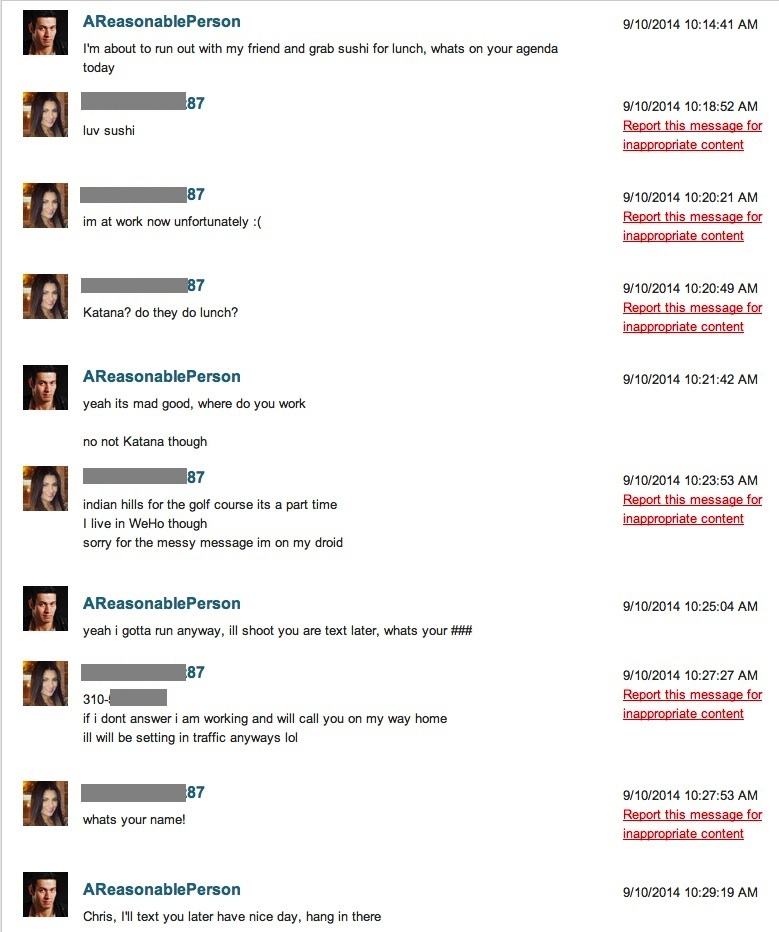 This conversation bounces in and out because she's at work.
Nothing special.
I texted her immediately -
Hey Kris, its Chris, we'll chat later today
She replied immediately.
Just repeat the process until you get (and confirm) at least 3 numbers.
Some girls may notice that you are still online (when you said you were going to Nordstrom Rack/Sushi/Airport).
I've found that it doesn't affect your chances with them.
If they get jealous that you are still online when they haven't even met you, then they are psychotic and going to cause trouble.
Just tell them that you have the "Plenty of Fish Mobile App." and your account always appears online, if you really want to give an explanation.
After you get each number, text the girl so she can save your number, and tell her that you'll text/call her later.
Step 6: Call the Girls
Later on, you need to call the girls.
AS I ALWAYS SAY (and is especially true of online dating) - if they give you their number, then THEY PROBABLY LIKE/INTERESTED IN YOU.
If they pick up your phone call then - THEY DEFINITELY LIKE YOU.
You don't need to be worried about your "phone game" or the steps you are going to take to convince the girl to like you.
The phone/text process is nothing special.
The goal of the text->phone call is to setup plans with the girl. Nothing more.
It goes like this
Send them a text.
Whats up [name]

Hey Kidd

Hey [name], how are you
... works just fine.
(don't send them a "Hey Sexy" or "Hey Sexy Bitch" text, we aren't screening)
When they text you back - CALL THEM RIGHT AWAY.
(they will have their phone in their hand and there usually won't be a missed call)
The phone call only needs to be about 5 or 10 minutes
- When they answer, be enthusiastic and ask them how they are and what they have been up to.
- Listen.
- Talk about your day/week/weekend and make it seem like your life is good and you don't want to die.
- Ask them basic questions along the way, slowly transitioning into what their schedule is over the next 72 hours.
So what's the rest of your week look like?

So what do you have planned over the next few days?
- Once you hear a day/time that is open, suggest meeting up at that particular time.
(they will usually be good to go. If not, say, "actually that day isn't great for me either..." and suggest another time.)
(usually you won't need a 3rd attempt. If you do - just let her pick the time and see if it works for you.)
Oh nice, I have some time on Friday afternoon, let's meet up then.

My week is packed but Tuesday afternoon I can sneak away, lets meet up.
- Repeat the date and time and tell her that you'll text her on that day to confirm.
Cool, I'll catch you on Thursday night at 6.
Again -
If the girl picks up the phone, reveals her schedule and agrees to meet up with you - SHE IS INTERESTED IN MEETING YOU.
You don't need to stress over "messing up" or if she likes you.
The only way that you will mess up is -
Not calling her or spitting large amounts of "game" at her that makes you seem like an oddball because she is already interested in you.
- The morning of your "date", text her to confirm your plans and the specific time -
Hey [name] I'll catch you at [time] tonight, I'll text you the plans soon, cool?

Hey [name] looking forward to meeting you, I'll see you at [time]
They will reply to it if the plans are still on.
Compared to other guys that run the 'numbers game' online and in-person, I get very few flakes.
I'm lucky in that regard, but most girls (if they liked your pictures and spoke to you on the phone) will be excited to finally meet you.
The majority of girls will follow through.
Here is an example of how it sounds to set up a date with a girl from the Internet -
We get disconnected at 1:15 and I call her back.
Again, the point is - if the girl picks up your call - SHE LIKES YOU.
Be enthusiastic and say whatever you want (I talk about having some shit stuck in my throat - it.does.not.matter.), just try not to be too available or desperate.
This is the easiest thing in the world. It takes some practice though.
Good Looking Loser's Guide to "How to Lose Your Virginity" continues here -
If you have comments, questions or anything else, please drop the comments on PART V (or on the Forum).
You will get direct feedback from one of us - we want you to lose your V-Card and getting moving.