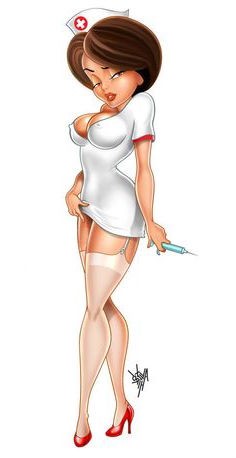 How to Last Longer In Bed
(Beat Premature Ejaculation or Just Fuck Her for a Long Time)
Update (March 2016)
I apologize for the slow content over the past year. I have been so busy but I am going to change this. I'm appointing a new CEO to Happy Hippo so I can focus on Good Looking Loser and my new company, "Red Supplements - Supplements That Actually Work" (try our coffee via Amazon, it will be the best or 2nd best coffee you've ever had). I have been trying to do all 3 for the last 6 months.
---
Oh great...
Another stupid "How to Last Longer In Bed" Internet article written by some inexperienced sex doctor, undersexed Internet marketer or geeked out goofy working for a content recycling farm.
Not quite.
As you know, virtually nothing on Good Looking Loser is generic and is always from actual experience.
Like always, it's not that mainstream advice is "wrong" or "bad".
It's that most mainstream advice is largely theoretical, non-applicable, unoriginal and doesn't actually benefit your life in the end.
This is the crap that I'm talking about -
How to Last Longer In Bed

Wow, great advice.
(sarcasm x 100)
Get out of your head!

Don't have performance anxiety!

Shift your thinking to a more confident inner voice, as opposed to a worried voice!
(Be confident!)
Shut up.
Like our fairly popular discussion, "How to Give Girls Ridiculous Orgasms (5 Non-Mainstream Tool to Get Her Off Big Time", I'm going to give you guys suggestions that actually work. Many of these will be new to you unless you have read this creepy website for a while.
Do I Actually Cum Too Fast?
Do you actually have a premature ejaculation problem?
Maybe not.
One thing I've learned from my career as the Original Douchebag Self-Improvement Guru is that insecure ambitious guys invent problems for themselves, convince themselves that they have issues based on one or two bad experiences or compare themselves to Top .000001% guys (legendary pornstars) who take large amounts of drugs to perform and have their failed scenes edited out.
Also, like many sex-related issues, as reported in the "Journal of Sex Research", men care considerably more than women about the duration of sex.
Every guy wants to be a 'great lover' but most have an unrealistic idea of what that is (and what the average is).
How Long Does Sex Actually Last For the Average Guy?
Here's the deal -
Most guys aren't studs.
Most guys (45% overall) last less than 2 minutes during intercourse and the average is slightly over 7 minutes according to Dr. Henry Fitch.
(I trust sex experts for statistics, just not helpful solutions)
While foreplay is more exciting to most women, her orgasm ultimately still largely depends on duration of penetration, as verified in the 2009 "Journal of Sex Medicine".
Duration DOES MATTER.
Most guys and gals DO wish that intercourse could last longer.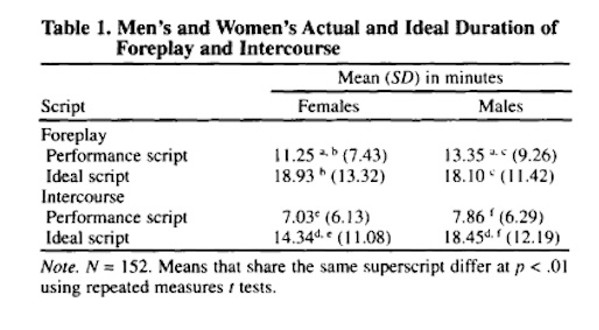 Averaging the results from the survey -
Foreplay should last about 18 minutes
Intercourse should last about 16 minutes.
32 minutes in all.
That might seem like a long time, but there's 4 important things that you need to keep in mind -
#1 Foreplay begins (and should begin) before you are naked. Physical and psychological foreplay can start simply by softly rubbing your partner's inner thigh or even just playing with her hair while watching a movie. In fact, girls have told me that sex is best when there's an extended subtle non-nude foreplay. For most girls, foreplay is the key to a good overall experience. In fact, if the girl is really turned on from good foreplay, she will orgasm almost immediately after you enter her. You can bust in 2 minutes and she won't hold it against you.
#2 16 minutes of intercourse shouldn't intimidate you. It's not like the chick expects you to go non-stop for 16 minutes. Penetrating the girl in 2 or 3 different positions for 4 or 5 minutes straight is just fine for virtually every sexually active and emotionally healthy girl.
You DO NOT have a premature ejaculation problem if you can do this.
If you can't do this or almost always climax within the first 2 to 3 minutes, it is my non-medical opinion that you could use some improvement.
Doctors consider premature ejaculation to be climaxing within 1 minute of vaginal penetration.
#3 If you can fuck for 15+ minutes total in a couple of different positions (or simply get her off a few times), the girl will consider you a pretty good lover. It doesn't take much to be most girls' best lover since most guys don't understand foreplay, don't have good girth on their penises and bust in 2 minutes.
#4 If you cum too early, it's not the end of the world. Just get the girl off orally. Some girls have stronger clitoral orgasms and like oral better anyway.
It's important to keep those 4 things in mind and take the pressure off.
How to Last Longer In Bed and Prevent Premature Ejaculation
While I have never had significant premature ejaculation issues, I have tried all of these solutions many times and they actually work.
#1 Check and Fix Your Testosterone Levels No Matter What
None of these suggestions is going to help your sex life if your balls aren't nice and strong.
Every man needs to keep an eye on his testosterone levels.
Although low testosterone is mainly associated with erectile dysfunction (not being able to keep an erection) and not premature ejaculation, the 2008 "Journal of Sexual Medicine" found that low testosterone is related with a lack of ejaculatory control.
Ask your doctor for a hormonal panel (tell him you are experiencing 'fatigue' so insurance will cover it) or get an inexpensive testosterone test at a nearby lab and get the results emailed to you in 48 hours if you don't want the hassle of making an appointment.
If you are on hormone replacement therapy, discuss HCG with your doctor. NOTHING made my balls, loads and sex drive bigger than HCG. If you use HCG, make sure you wear protection, your climaxes will be large, healthy and looking to create offspring.
related -
#2 Ask Your Doctor About Priligy
The single best thing that should totally fix premature ejaculation is 'Priligy'.
It is the magic pill for guys with premature ejaculation issues.
Ask your doctor about it.
Do not buy it from an Internet pharmacy.
It is the secret of the adult film industry.
The best thing about Priligy is - unlike most premature ejaculation treatments, Priligy WILL NOT lessen your sensitivity and potentially cause erectile dysfunction - it ONLY makes it harder to climax so you can last longer.
It will not 'numb' you.
That is the best way I can describe it.
For those who wondered, I absolutely do not recommend any dietary supplements whatsoever for premature ejaculation.
Most "penis pills" are a complete waste of money.
They don't make you bigger, last longer or more horny.
They do absolutely nothing.
#3 Use the Bathmate Hydropump to Last Longer
If you've been around Good Looking Loser for a while, you've probably heard of the Bathmate Hydropump.
It was my very first recommendation to the Good Looking Loser community and is as much of a part of our community as I am.
Bathmate is mainly considered a male enhancement device to make your penis bigger (especially thicker) but it also has some advantages for guys with premature ejaculation.
Right after you use the Bathmate, your penis sensitivity goes down slightly - but usually not enough where you can't get a solid erection unless you are significantly overtrained.
The net result is that it can help guys last longer in bed.
One of the most valuable benefits to Bathmate training is the immediate size increase (especially when entering the pump with a full erection and maintaining full pressure) that can be used in the bedroom.
But not only is your dick bigger but you can use it longer.
For more information about the Bathmate and Sex, check this out -
Side note - while simply having a bigger dick won't prevent premature ejaculation, size (thickness) absolutely increases a women's pleasure and can make her orgasm faster. Even if you can't consistently last a long time, chicks will almost always forgive you if you get them off quickly too.
In a study published in the "BMC Women's Health Journal", 45 of 50 (90%) college girls said that penis girth was by far most important to their sexual satisfaction. 0 girls said that length and width were equally important or that they didn't know.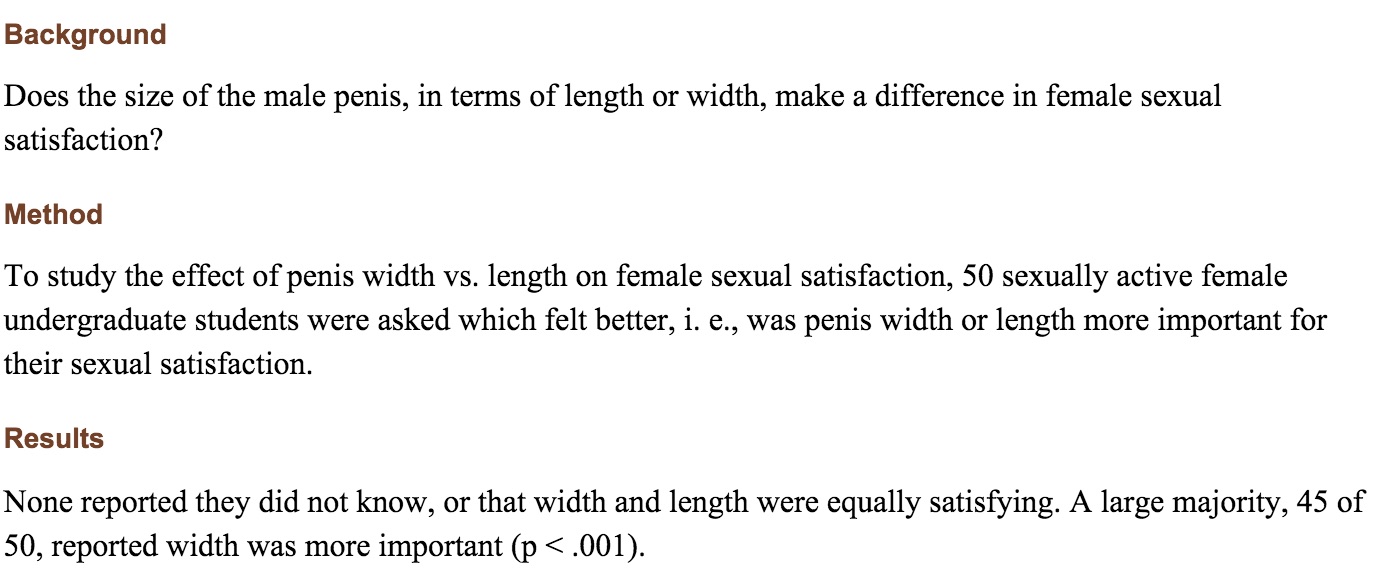 If you are thick, you don't even need to be "great at sex" to totally please most girls.
Good thickness alone can make you a great fuck if you get the basics down.
In terms of size, however, it's important to remember that our 'above-average' principle applies.
While a study in the 2013 "Proceedings of the National Academy of Sciences" found that women rated hung (but not overly huge) males as 'more attractive' in appearance, a more recent 2015 study in "PLOS One" medical journal revealed that the average woman's ideal size for actual penetration was just 6.4" x 5.0" or "slightly above-average".
This is considerably smaller than the 8" x 6" ideal dick that guys are shooting for.
It's fantastic to be well-endowed if you are really sexually active, but 'above-average' is completely satisfying to most women. Even women who favor vaginal orgasms and prefer longer penises do not prefer super long 8+" penises.
Related -
#4 Actually Start Taking Kegels Seriously
While most 'sex improvement' exercises do very little - Kegels are absolutely fantastic for orgasm power and control if you stick with it.
They are as good for men as they are for women.
It takes about 5 or 6 weeks to see slight improvements but results (ability to shoot cum, noticeably harder erections/orgasms, ejaculation control) come faster after that.
Most guys never commit to doing them for more than a couple of weeks and never reap any benefits.
That is why I never thought they were worth a damn. But they really work.
I was never a distance shooter until I actually took Kegels seriously for 3+ months.
I don't really do Kegels consistently anymore but I absolutely think they are mandatory to last longer in bed or if you are increasing the size of your penis. Adding size requires better blood flow for support and Kegels really help increase circulation. Kegels (PC muscle improvement) are so effective for blood flow that most guys with erectile dysfunction who actually commit to them will no longer need erectile dysfunction medications.
If you do Kegels 6 days a week for 4+ months you should see a dramatic improvement in your sexual health and ability to control your orgasm.
They aren't a gimmick.
Kegels, although convenient, aren't the most fun thing the world.
Combining Kegels with the Fleshlight Stamina Training Unit (mainly for fun, not necessary) and/or Edging techniques can make it more entertaining.
#5 Give More Foreplay For Her & Less Foreplay For You
To maximize your experience, this is probably not an ultimate solution but rather something you can do from time to time with the major hotties that make pre-cum absolutely leak out of your dick.
Give her more clothed foreplay so she is more turned on when you begin to get busy.
(massaging, kissing, touching, teasing, etc.)
When you get naked, keep the focus on her and get her off with your fingers and/or mouth before penetration.
Get her so wet so that when you finally insert your penis she climaxes quickly.
You won't have to worry as much about her total experience if you have already gotten her off.
As I mentioned, while I don't have issues with premature ejaculation (it will happen to everyone from time-to-time), I would follow this method. Under normal circumstances, before I penetrate, I usually have my partner give me a blow job or sit on my face if she has a bubble butt.
Hot foreplay is great, but it can really make me too aroused and make my climax too quick when I get inside.
You will last longer if you are not overly turned from foreplay.
#6 Use Thicker Condoms to Reduce Sensitivity
In some ways, premature ejaculation is the opposite of erectile dysfunction - you cum too quickly instead of not at all.
Just as guys with erectile dysfunction benefit from thinner-skinned condoms, guys with premature ejaculation can benefit from thicker condoms.
Look for "extra strength" condoms, some of them even have a lubricant that lowers sensitivity.
(not an affiliate link)
#7 Get Your Mind Right - Orgasm is Mainly Her Responsibility
(If You Can Last For 4-5 Minutes In Different Positions)
Although the majority of the 'mental' mainstream advice is worthless, premature ejaculation is partly psychological and it's important to have a healthy attitude toward the issue.
Sex will never be perfect.
Especially first-nighters when you bring a girl home at 2:52am and you and her have been drinking.
Girls know this and don't expect first-time sex to be fantastic.
The best sex is when you are comfortable and experienced with your partner's body.
Experienced girls know this.
Inexperienced girls won't hold it against you either, they are mainly concerned if you don't climax at all.
It's also important to know that a girl's ability to orgasm (or simply enjoy sex) is mainly a product of HER physical and psychological health.
Way too many guys buy into the narrative (marketing) that it is solely the man's job to provide an orgasm to the woman. If a girl can't regularly orgasm from 10 minutes of decent foreplay and 5 to 10 minutes of intercourse, it is because her mind-pussy connection is not strong enough. It has nothing to do with you so long as you aren't rushing foreplay or going limp.
(encourage her to masturbate for practice)
If a girl can't get herself off, how in the hell can you?
So get it out of your head that you are solely responsible for her orgasm.
I discuss this further here -
You do have some responsibility though, you should be able to fuck for at least 4 or 5 minutes in a couple different positions.
You DO NOT have to be a Sex God to be considered a Sex God

I don't even think I'm "great at sex".
I do the same handful of positions every time.
But many women consider me to be their best lover ever.
Many 'players' will tell you this but it's often true.
I have experience and girls are generally pretty comfortable with me.
I have above-average size, provide an above-average amount of quality foreplay and I can last an above-average amount of time.
The combination of the 3 make me a "Sex God" in the eyes of many girls because they rarely get all three.
I also have some secret tricks, none of which are technique based -
Whenever I hear a guy brag to me that he "fucked a girl for hours and hours non-stop", I know he's completely exaggerating or lying because most penetration doesn't last longer than 12 minutes - unless you are taking Priligy.
Don't believe hype.
Most guys aren't any good at sex and don't last longer than 2 minutes.
#8 Experience is the Best Teacher (Obviously)
I don't need to repeat stuff that you already know.
I will say though -
You don't need to sleep with 100+ girls to get all the experience you need to be a really good lover.
You just need to have a lot of experience with a few girls and get a feel for how to handle girls who prefer clitoral orgasms to girls that prefer vaginal (or deep spot) orgasms.
(clitoral orgasms = get her off from the outside & vaginal/deep spot = get her off from the inside)
In fact, you can probably get ALL the experience you need by just DOING EVERYTHING with 1 girl.
That is why I highly encourage inexperienced guys to hang on to the girl they lose their virginity to for as long as possible (short of marriage, obviously). Even if she isn't your ideal girl.
DO EVERYTHING WITH HER.
You can make up for a lifetime of inexperience with just ONE GIRL.
Pour Conclure
If you can't penetrate most girls for more than a couple minutes without cumming, you probably have issues.
If you can consistently fuck your girls for 5+ minutes in various positions without climaxing, you probably don't.
Either way -
Premature ejaculation or just lasting significantly longer for fun can be EASILY fixed with the solutions above.
Wear protection - Losers.