Dick Triggers, Quick Hard-On's
In this discussion, I'm going to talk about developing 'sexual triggers' to help you encourage blood flow to your dick so you can get hard. I'm not a sex therapist. I have a lot of experience though - I've had sex in public, in front of friends, outside, in the shower, in not-so-ideal places, etc.
Sex is nearly all a psychological process.
That's why anxiety can get it way.
If you aren't generally relaxed and confident- you ain't gonna perform too well.
There's a long list of stuff that can negatively affect your performance (we'll touch on these in detail another time).
Of the top of my head, things like - alcohol, drugs, general performance anxiety, she's too hot, she's not hot enough, dehydration, too much water, my legs hurt from the gym, tight underwear, I gotta pee, I gotta fart, I gotta poop, the condom is feeling tight, this position is weird, I blew my load either in the day and temperature can all potentially affect your performance and prevent you from getting a strong erection (or even getting hard at all).
If you have a big dick or been working on it via 'Get Hung', you're going to need even more blood in your dick to get and maintain a nice strong erection.
My first suggestion to beat this is-
Ask your doctor about Cialis, Viagra or Levitra if your sexual anxiety is causing erectile dysfunction.
Do not buy any of these compounds from an online pharmacy.
Cialis is my favorite one (I have a prescription for it).
You can take it everyday and not develop a dependency or a tolerance. It lasts 2-3 days (long half-life) and it's more subtle than Viagra, basically you don't feel it until your dick is touched and then it grows, grows, grows. It's nice because you also maintain a noticeable 'hang' and your penis flops around.
With Viagra, you sometimes walk around with a near hard-on and it gives me a stuffy-nose which kinda sucks.
Her Best Feature(s) (sexy talk)



I generally hook up with girls that are pretty hot, so it's not hard all to get turned on. Sometimes though, it's harder to get turned on simply because I'm either less into it or the girl isn't my ideal type. In these cases, I focus solely on her 'best feature'.
My buddy who gets lots of girls once told me, "Don't look for what doesn't turn you on about a certain girl, focus on one thing that she has that's really sexy to you." Usually girls will have at least one thing that stands out and it will be enough to turn me on.
For example, a girl might not be a "10" but she might have a nice pair of boobs or a bubble butt. I will put ALL of my attention to that feature and embrace it. I'll compliment her on that feature, "you have a beautiful ass." I'll get her to talk about it, "do you find that guys just stare at your ass when you are walking in front of them?" "tell me what it's like to be a girl with a beautiful butt," "your round ass gives you so much power, guys stare at it and I bet girls stare at it too." I'll have them dance and show off whatever feature I like. I'll get them in a sex position where I can stare right at that feature.
* It's "okay" to worship a girl's body if she already likes you and you are in the moment. It's not "beta".
I used to ONLY get turned on by super hot girls. But once I took my friend's suggestion and applied it, I found that I could enjoy sex with a lot of other girls (so long that they were pretty good looking). This was actually a big step for me at the time.
So keep that in mind. Give her best feature all your attention and focus. It makes girls feel super sexy and it gets the blood flowing to your dick. Works good.
This obviously works with girls that are super hot too.
My Best Feature(s) (sexy talk)



Just like 'her best feature' I will encourage her to admire my best features and make me feel sexy about it.
I can get the dialogue going by saying, "You're hot, you are turning me on," girl will usually say, "Thank you, you're hot too."
I'll ask them what about me [right now] turns you on?
They'll usually give reasons or features.
If they mention something that makes me feel sexy (my body, my cock, my butt, my legs, my masculinity) I'll get them to talk about and encourage dirty/worship talk about.
For example, if she mentions "You're quite endowed. I'm excited." I'll tell her what it's like to have a big penis, how I love it, how people stare and admire it when I decide to drop my pants and how it's going to feel so good FOR HER when I decide it's time to insert it. All the while, I'll get myself turned on.
Some guys are resistant (don't be) to talking about 'their best features' because they are worried about (don't be) coming off as arrogant or cocky.
In the moment, this stuff is 'dirty talk'. It's not arrogant. It's embracing your sexually and your gifts. You can talk about 'her best features' if you want to balance it out. It all about heating the situation up.
I find that this stuff works good for me with girls that I don't find that attractive. I'm not into them that much, but I still want a good experience for her and I. I encourage you to explore the same. I've had good experiences simply because a girl made me feel sexy and powerful. I've gotten good blowjobs from girls that weren't attractive because I loved watching them admire and struggle with my cock. I've banged girls that weren't that attractive by imagining how THEY felt to have sex with me. All in all, it makes for a good time for both parties. A lot of girls love when you have a powerful orgasm in their mouth, it makes them feel sexy.
This obviously works with girls that are super hot too.
Mental Pictures
I suggest developing certain "mental triggers" that you can quickly visualize when you need to increase the blood flow to your cock.
These mental pictures are a matter of preference (whatever turns you on).
You basically think a mental picture that are sexy to you.
Then [ideally, but not necessarily] apply them to the girl. Ideally too, they will incorporate the girl's best features so you can return to the moment and return to the motions of sex with the blood rushing to your dick.
You can also put on some music, have the girl dance, while you focus on getting a solid hard-on.
For example, if you are having trouble getting turned on (or getting hard)-
if you like big boobs, have a mental picture of a girl/the girl proudly showing off her big breasts.
go to the mental picture in your head, hold it, focus on it while blocking everything else out and touch (or have her) touch your dick while you continue to visualize.
The mental picture can be from a hot picture or scene that always turns you on and that you have jerked off to and had an intense orgasm and blew off a large mess.
If you are addicted to porn - this one probably isn't for you.
I personally like clothed pictures since it seems to leave a lot to the imagination.
If I'm with a girl with big boobs and I'm having trouble with blood flow, I'll visualize the picture below in my head. Although it briefly takes me out of the moment, I've seen this picture 100 times, jerked off it it and it always turns me on. I'll get the blood flowing to my cock and then return to the moment. The idea is simply to get the blood moving to your cock and then return to the motions of sex/foreplay and let it naturally go from there.
This might not work for everyone, but it seems to be pretty good for a lot of guys - the key is blocking EVERYTHING else out, visualizing it, the colors, the curves, how proud she is of her chest, how it gives her power over undersexed men, how she can freely have sex any night of the week because of it (whatever turns YOU on about it), getting some blood flow, returning to the scene and then resume the motions with a hard/semi-hard cock. You sometimes just have to trust that just going through the motions will eventually get you into the moment as it starts to feel good.
I don't usually advise going back to the picture when you start penetrating the girl, you don't want to be bouncing back and forth between your mental picture and the girl you are with because it will make it hard to maintain your erection.
Secure and Practice Your Mental Picture
Obviously, you don't have to wait until you are with a girl to secure your 'mental picture trigger'.
There's a lot of ways to 'practice' your mental picture.
Masturbating to the picture is a start. Get yourself really turned-on though. Make detailed observations and LOCK them into your head- Look at her nice tan skin, where the skimpy shirt hits her breasts, how her bra can barely support her chest, the confidence on her face, how she probably touches her breasts during sex or when she pleasures herself, etc. Try to keep the details strictly based on the picture, don't go into an elaborate fantasy (mental movie) where you imagine fucking her and watching her scream as she takes your thick penis into her too small pussy. It's too elaborate and it can be too hard to view the 'mental movie'. So just stick to the picture.
Masturbating without the picture is the next step. Visualize all the details from before. Think about how the girl (Jen Sterger) is out somewhere in the world showing off and teasing EVERYONE with her breasts- the undersexed men and the jealous girls.
Getting a hard-on in public is another step. It takes some more balls and greater focus. If you're seated at a dinner table, think of the picture, think of the detailed observations that you made before, touch yourself, feel the blood rushing into your cock, feel your cock getting warm and growing up the side of your leg. Focus, feel and embrace thees sensations.
Another step, unnecessary however, is to go into a public bathroom- sit down on the toilet, think of Jen Streger (the picture), think of the details, jerk-off and orgasm. It's unnecessary like I said, but if you can do that- you'll probably be easily able to get hard when your with a chick. I've done all of these. It's not hard and I think it's pretty valuable.
I think it's good to have 'Big Boobs' and 'Beautiful Butt' mental picture stored in your brain that you can access if need be. You can pick some other features if you want to. Don't try to have a whole album of mental pictures though. If need be you can put your mental pictures on your cell phone and go into the bathroom before (or during) sex if you need a minute to focus. This is not about 'watching porn', this is about training your mind to trigger rapid blood flow to your dick.
I like to hook up with a lot of girls with beautiful fit round asses, so I definitely have a go to 'bubble butt' picture.
You've probably seen this one before (yum!)-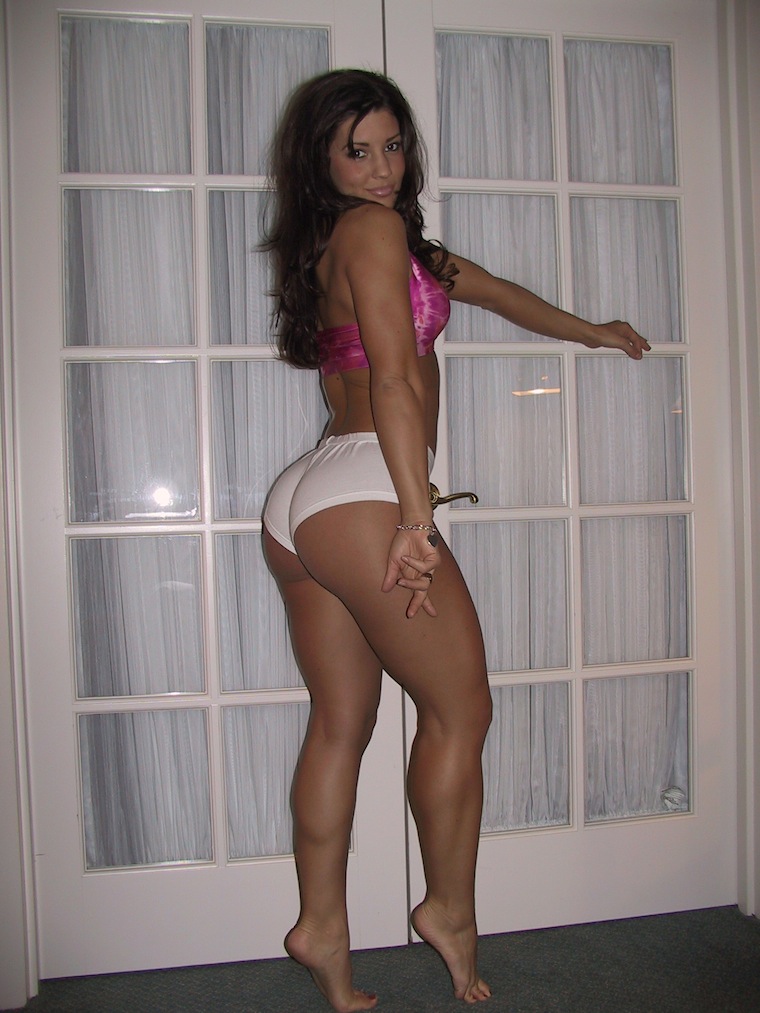 Verbal Triggers
I think the mental triggers and best features are the best way to get the juices flowing and blood flow to your dick.
But verbal triggers are good too.
Say something to yourself (in your head) that encourages you to bring out your masculine, primal aggressiveness in the moment. Have trigger words or statements. Something like, "I'm gonna slam this girl," "She's gonna be sore tomorrow," "This chick is in for a rough time," and look right at the girl and smile.
In order to establish these verbal triggers, it's helpful to use them leading up to sex. For example, if I'm grabbing coffee with a chick/watching a movie with her/whatever, i'll look at her right in the face and think to myself "I'm gonna make this chick so sore," and touch myself briefly to encourage blood flow. During foreplay, do the same thing- look at the girl and say to yourself "I'm gonna make this chick so sore," and touch yourself again.
If you stick to one verbal cue, you'll be able to make it pretty effective whenever you want to get the juices flowing. Just block everything out, look right at the girl and say the verbal trigger in your head.
Turn-On's and Soft Fetish Play
This is an interesting one and it seems to have potential for turning on a lot of guys when "boobs and butts" just don't do it on that particular night. Other guys don't need any part of this. I'd like to emphasize that 'turn-ons and soft fetish play' probably won't work for guys with HARDCORE specific fetishes in which the object/situation is not present.
Guys with hardcore fetishes can't climax (or even get turned on) without a specific object or situation. In this situation, I can still try to help, but I'm not an expert. I've never had any hard fetishes. But I know how to get chicks to embrace role play and sexual fetishism, here's a discussion on Femdom related role play "How To Get Your Chick to Be Dominant In Bed," the mindset and techniques in this discussion can be applied universally to all types of role play.
I will explore this one softly, because again- I'm not a sexual therapist. My discussion comes only from experience. I have only from a handful "soft fetishes" or "unique turn-ons" (big cock sex, facesitting, smoking, women's thick hair, submissive femdom non-BDSM related) that can speak specifically on- even though I have engaged in these scenarios/role plays more times than I can count. The majority of sex I have is generally just "she's hot," I want to bang her... you know- normal stuff :)
If you have a specific turn-on or fetish that heats you up, I encourage you to embrace it and do some visualization prior to sex, during foreplay and even during intercourse if you have to.
For example, suppose you are turned on by a women's feet (foot fetish, I don't have it but it's common). Suppose you picked up a chick who's decent looking but you don't find her that attractive. When it times to have sex, you hope you are turned enough to give her a good bang. Since her looks probably aren't good to do it for you, I'd suggest getting as close to her feet (or whatever goes on with this fetish) as possible. It doesn't matter if she knows you have a foot fetish or not. Just lead the way.
Starting off, when you meet up with her, start turning yourself on. If she's wearing shoes, think to yourself "wow I can't wait to see her feet... they are probably so nice." If she's wearing sandals or flip-flops focus a lot of attention on her feet. If you can, put her feet up on your lap. Tease yourself (don't start licking them or whatever). When you get her on your bed, give her a massage and spend some time playing with her feet. When you eat her out, get up right next to her feet. The idea is to turn yourself on so much that once it's time to have sex, the juices will be following and you'll ready to go. During sex, you can attentively hold her feet while she enjoys your cock.
Now again, I don't have a foot fetish. But if I did and I had a hard time getting turned on by normal stuff, that's how I'd approach it.
Some people argue that it's best to not embrace your unique turn-ons and soft sexual fetishes and you should try and get turned on by normal stuff. While that's maybe true, there's not a lot of time to think about normal stuff during foreplay if you are so caught up with your fetish.
And who cares if you can bring your soft fetish scenario to life and have intercourse with/to it?
I say- the more that turns you on (and you can bring to life) the better. Embrace it.
Furthermore, you will be able to find a wider range of chicks attractive.
Some guys are terribly undersexed because of their HARD fetishes. Even lightly bringing one of their scenarios to life is like a dream come true.
At the same time it can make it really hard to enjoy have normal sex. Some guys are so addicted to fetish-based porn and that's a problem. I will talk about solutions and how I moved passed certain soft-fetish and starting having more normal sex again.
Now lets talk about some other scenarios and what I've actually done to get turned on and had great sex thereafter.
Big Cock Sex
The first unique turn-on/soft fetish I mentioned was 'big cock sex' (oh great... GLL is going to talk about his cock again).
Basically, sometimes, not always- I like really giving the chick a rough ride with my big cock.
When I meet up with a chick, I'll be thinking, "wow her little vagina is going to have trouble with my big cock."
During foreplay, I'll lose my pants and let her see exactly what she's going to have to take.
I'll put it right in her face so she's a little intimidated by it.
A wonderful contribution from a GLL guy showing yours truly getting a blowjob.
I'll let it dangle and swing and I'll shake my head thinking, "wow her little vagina is going to have trouble with my big cock."
Maybe I'll say to her too and watch as she gives a timid reaction.
I'll tell her, "I'm going have to have really make sure you're really wet and lubed up because I'm thick and I'm going to fill you up. After I insert it, there's no turning back, I'm going to thrust away."
(I will actually make sure she's wet enough to take it)
When I'm about to insert I'll tell her, "Ready or not, here comes my thick cock."
After all of these statements, the girl usually gives some sort of excited or timid response the turns me on further. When I'm having intercourse, I'll absolutely bang away and it will be loud from my crotch and balls hitting her crotch. I'll watch my cock during sex and I'll also visualize a camera crew behind me filming and focused on my big cock slamming into her small pussy. It's like porn.
(I discovered this first-hand when I did a scene)
That is usually a really hot scenario for me and I can get turned on pretty easily if the "normal stuff: face, boobs and butt" isn't doing it for me.
Whether they directly participate or not, I'm usually really turned on and I have enough visual images in my head to have good intercourse.
Facesitting / Amazing Butt

This one is along the lines of "her best features" but it's taken to another level.
This works well with the decent looking chicks that aren't quite hot enough, but have wonderful butts.
When I meet up with a chick who has a nice, fit, bubble butt. I'll make a point of really watching her butt as she walks, when she sits and I'll slap and pinch her ass too. I'll visualize what it would look like if she slowly sat down over my face. Again, I'm really making it a point of turning myself on.
When I get her on my bed, I'll massage her while she's lying on her stomach and focus my eyes on her ass. I'll massage her ass, but not too much since I'm teasing myself. When I remove her pants, I'll repeat the same thing again. I'll get up really closer to her ass and give it a little kiss and smell it. When I eat her out, I'll focus on the bottom half of her butt cheeks and give it a smell or a kiss. Ideally I would just have the girl get in the 69-position and blow me or bang her doggy-style (from behind).
Regardless if they directly participate or not, either way, I'm probably turned on enough and have enough solid visual images of her tushy in my head to have good intercourse.
Smoking
This one dates back to when I was a kid.
My parents used to take to the Four Season's Hotel for dinner nearly every night when I was ~8-12 years old. They allowed smoking indoors then and I actually used to have asthma (I don't anymore). I can't count the number of times that a beautiful woman would light up a cigarette and I had to hold my breath. I would just watch them and hope they finished their cigarettes quickly so I could breathe. Somehow, slowly it became a turn-on. Hot chicks smoking cigarettes- pretty hot to me, gross to most people. I tell chicks this story a lot- they love it because it makes me look like a nice vulnerable little kid.
These days, a hot chick smoking is still a turn-on, although somewhat less. I've gotten away from this one somewhat since smoking isn't too good for my respiratory health.
If I meetup with a girl who smokes (and is or isn't super attractive) I'll make sure to watch her when she lights up. I'll purposely get close to her when she is smoking and in the way of her exhales. Sometimes, I'll tell her to just blow smoking my face or "I'm a former smoker, you're making me want a cigarette, but I'm not going to have one- blow your smoke in my face." I found that if I DON'T smoke cigarettes with her, I'm more sensitive to the turn-on/soft feitsh. I'll encourage the chick to smoke during sex or just before and I'll usually get turned on.
Whether they actively participate or not, I'm usually turned on enough and I have enough visualize images in my head to have good intercourse. I found that this one is usually only effective with the chicks that 'smoke sexy' and really suck in hard and blow out a ton smoke. It also doesn't work for ugly/average looking girls or chain smokers, I think their smoke is gross. Not that you care. haha
Women's Thick Hair
This a pretty new one and as made a wider range of chicks attractive to me. Not just the super hot ones.
I've had 2 hair restoration procedures after losing lots of hair after using steroids for years. Although it looks like I have a completely full head of hair, it's not perfect- I use various products such as Toppik and Dermmatch to give it better density (these products are AWESOME btw). While it's not really a big deal anymore since I can bang tons of hot girls, for a while in my mid 20s it was definitely an insecurity of mine. I naturally was attracted to girls with thick beautiful hair anyway.
Poking at me insecurities turns me on (how's that for turning a negative to a positive?)
If I meet up with a chick with nice hair and I have less interest in her boobs and butt, I focus on her hair. This is a pretty easy one. I'll think to myself, "Jesus this girl has a forest of hair," and I'll play with her hair while we chill. I'll talk about her hair, compliment her on it, make her feel super sex and ask her stuff like, "Are you're friends jealous of your thick head of hair?" "You should give seminars to people with thin hair on how you're is so nice." "You should do a commercial where you are playing with your hair and some other girl with thin hair is watching you in total envy." Chicks are really receptive to that stuff and it makes them feel really sexy.
Girls are also pretty unaware and insensitive on how it's a significant issue for guys and they'll make comments like "People with thin hair are so gross," "This guy with a pathetic comb-over was hitting on me, even though he had no chance." "I was getting my hair cut by this girl with thinning hair, I could tell she was so jealous and she had to bend down and pick up all my excess hair after!"
Those comments turn me on when I'm in the mood for this kind of thing.
I'm thinking to myself "What a lucky bitch." At the same time I appreciate it and I've never actually gotten mad or anything.
When I get her on my bed I'll touch her hair some more and give her a scalp massage. I'll tell her to dance and play with her beautiful hair. During sex I'll pull and smell her hair. If she's on top, I'll tell her to play with her hair. Stuff like that.
Regardless how much she participates or not, I'm usually pretty turned on and I have enough visual images in my head to have good intercourse if the "normal stuff" ain't doing it for me.
Girls are quite assumed by this one and have fun with it too.
Conclusion
So there you have it- Her best features, my best features, mental pictures, verbal triggers and unique turn-ons/soft fetish play. It's all stuff I've done. It's good for when you can't get hard (and when you can) or when the normal "boobs" and "butt" just ain't cutting it. Some of this stuff doesn't require that much direct female participation and it simply meant so you can quickly turn yourself on. Never a bad thing! I feel these things are good because they can make you attracted (and able to have solid experiences) with broader range of women. Just try to implement these one at a time, don't plug too many triggers/picture in your head.
If I absolutely can't get even blood flow to sustain intercourse with a condom, I'll take care of the chick (1-3 orgasms) and just jerk off. I don't mind doing that.
*Please talk to your physician and get a valid prescription before using Cialis or any of the erectile dysfunction treatments. Do not buy it from an online pharmacy.