You Work For Me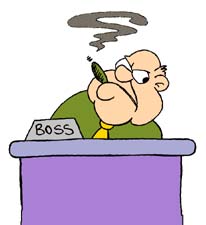 A popular concept in surrounding this "pick up women" stuff is having and maintaining an alpha "frame". This so-called "frame" communicates your confidence (or lack thereof) and supposedly is the core behind your words and actions. In general, the idea is to have solid "frame" so you don't get sidetracked from your goal- GETTING LAID. There is a notion that an alpha frame can be taught - I don't quite agree but I feel it can be developed if you know what you are shooting for and have an example to follow. Frame, just like any sort of "game" shit, is simply a manifestation of social freedom.
The Executive (CEO) Frame
A wise man once saw one of the "faster/aggressive" videos and commented that I have an "executive frame."
PUA-Zone, Click to View
I had never heard the term "executive frame" before but it's definitely captures what I'm shooting for. Good thinking, Sgt. Gumbles. Basically, I'm the boss - the girl is the worker. Better yet, she's the secretary. I order her around (but not in a total asshole way). I interact with her within that dynamic AT LEAST until I screen her and she passes (e.g. grab hold of her hand and she doesn't stop me). It's an effective first impression on emotionally-healthy women that like to get fucked by an alpha male with more power than they. What's also good is that the "boss-worker" dynamic remains throughout the entire relationship whether that be 1 night or several months. She'll always look at you like you are the boss. Provided you met an above-average first impression, they never forget "how" you picked them up even if they don't remember what was said. It's actually kinda funny when I catch a girl in her office attire during the week.
General Tso's Chicken (On Friday's)
Here some things to keep in mind when carrying the "executive" frame-
You are the boss, you give orders (but in a nice dominant way).
She is the worker, she follows the orders (but in a willing feminine way).
You set the agenda, there's not a lot of time to set sidetracked.
You have to delegate to a lot of responsibilities so you don't have time to dilly-dally.
Ultimately, we are the same team - we are paid to produce to results.
You mean more to the team though. You are not expendable.
You are paid more too.
You have a bigger office and a nice view of the girls playing in park across the street.
You reward your workers, sometimes.
Every day at 11am she orders delivery for you, from one of 6 different restaurants.
You generally get food the healthy places, you aren't the fat, slothful boss.
Except on Friday, you get General Tzo's chicken from the Chinese place.
The company pays for it.
If she's serious about her work and looking for a future promotion she'll use the time to impress you.
If she doesn't do a good job, you'll find someone that will.
Even if she does a good job, she's up for evaluation at the end of the month just like every other worker.
You mean business, that's why you are the executive.
Lets get to the point. Shall we?
You Get Laid because of your job, but don't rely on that by any means to get pussy.
You aren't a heartless boss, but you are kinda sleazy sometimes.
You have the discretion to remind her that you are the boss.
I'm not here for your entertainment.
There isn't' gonna be a "strike 3."
Upper management (the CFO, President and Board of Directors) all sleep with the female employees.
If she sleeps with you, she might get consideration for a promotion. But maybe not, there's lot of competition around here.
Rumor has it that all of her co-workers sleep with you too.
You've spent a while with the company but were promoted quickly, which created outrage among older employees that have been with the company since 1987.
To work is an honor.
Outside the office, I'm cooler than you too. And You know it.
Just based on my appearance (society tells me it's masculine), I go for a 'more-friendly but alpha' executive, not the total scumbag boss. Scotty is masculine too, but he goes for the total scumbag boss, he can't help himself. You can justify either. You might have play around with it to see which your employees respond to better. There's more to it but I'll let you think of which parts I left out. It's not because I'm lazy but because you have a better idea of what the executive frame will look like on you. Not that I owe you an explanation. I'm the boss.
Statements As Questions, Tell Don't Ask.
This a technique. Don't think for a second that any sole 'technique' (GoodLookingLoser or PUA) will result in 'creating attraction' to the point where a girl's pussy goes from dry like Las Vegas in July to hot like Mexico. Techniques, like frame, are simply a manifestation of social freedom which is arguably slightly less important than your looks. I'm discussing the technique so your gain better perspective on the "Executive Frame" more so than suggest 'do this' and you'll get pussy. Tell Don't Ask, works like this- Instead of asking questions like, "where are from?" or "what's your name?" You would say, "Tell me where you are from." or "Tell me your name." You TELL the girl to give you the answer instead of asking her. Here are some more examples-
"What are you up to?" = "Tell me what your up to."
"What are you doing tonight?" = "Tell me what you night looks like."
"When are you available to hang out?" = "Take a look at your schedule real quick, tell me when you have time open."
"How do you guys know each other?" = "Tell me how you know each other?"
You get the point. Keyword is "Tell me." Executives are used to bossing people around, their time is limited so a lot of them don't ask question, they simple demand answers. Now, I don't do "Tell Don't Ask," all the time. In fact, if you watch the videos - it's probably a minority of the time. From habit, I tend to do it on the hotter girls. But again, the actual technique doesn't get the pussy, the overall looks, style and in this case- overall social freedom does (assuming sexual availability).
Rude Executive
Keep in mind that the executive frame is not supposed to come off "rude" or arrogantly. You aren't supposed to be "talking down" to girls, even if they didn't score within 799 points of you on the SAT. That is conceited and arrogant.μ If you often find you are getting responses (aka MORE THAN ONCE) such as "that's rude." "you're a douchebag!" or "don't tell me what to fucking do!" then you've probably taken it a little far. That's okay, there will be a learning curve with this, especially if you are trying to break a "nice guy" frame. Keep at it, but remember- she works for you but you have keep the workers happy so they remain productive - or in this case, turned on. μ - still better than being a nice guy :)
Semi-Retarded: I'm the Prize! (Popular PUA Frame)
There's a popular concept/affirmation in the PUA community that states tell yourself that "I'm the prize!" in order to establish and hold a masculine frame. This is groundbreaking to a lot of nice guys that place so much value on whatever girl they are speaking too, especially if they are hot.
The problem with that, however, is- that's a far as the "affirmation" goes.
A guy can repeat, "I'm the prize! I'm the prize!" 5,630,210.5 times in the mirror and have it do jackshit for his frame.
Rather than talking to a mirror (you know what I think of affirmations) or pretending, try this instead- BE THE FUCKING PRIZE.
Do the AA Program so you can go out into public and not be nervous.
Get your ass in the gym and develop a body that women and gay guys masturbate too.
Get a cool hobby (goal) or two so you have other shit you enjoy in your life.
Get a tan.
Whiten your teeth (shit I gotta do that).
Put on some clothes so that you stand out (in a good way).
Lose the glasses Poindexter. (some exceptions)
Stand up straight for Christ's sake.
Get the Bathmate and pump up your dick so it rest warmly against your leg when you are talking to women.
Be sexy.
A minority of guys will say, "that's superficial!" That's right. It's superficial. Women are superficial and so are we. It doesn't make us emotionally unhealthy. My goal is to GET YOU LAID not "give advice so long as it's not superficial." Besides, "superficial" or not. Women are attracted to sexy guys. That doesn't necessarily mean just the "good looking" guys, rather the guys that "look good." Like David DeAngelo said, "attraction isn't a choice!" He just didn't know what he was talking about.