How to Increase Your Penis Size
(All About Male Enhancement that ACTUALLY Works)
Gentleman from More Plates More Dates, welcome to Good Looking Loser.
Derek is a good friend of mine and we're going to give you a quick rundown of 'Male Enhancement' (What Actually Works to Make Your Dick Bigger), what is realistic, what works, what doesn't and a simple way to do it and keep your gains without committing huge blocks of time.
Bodybuilders can especially benefit from this.
Many bodybuilders spend 15 hours in the gym a week trying to get the perfect physique, but somehow think that think working out the penis is "gay", weird or not possible.
I disagree completely.
If anything, bodybuilders are the guys that need to increase their penis size the most.
Hopefully I don't have to explain why. 
Does "Penis Enhancement" (PE) ACTUALLY Work?
Yes.
Some of it does. 
Despite the reputation of this scam-infested industry a handful of things that DO WORK.
The rest of the industry is largely a scam however.
Case in point - 
We'll cover what DOES WORK and what you can reasonably expect if you commit to a routine.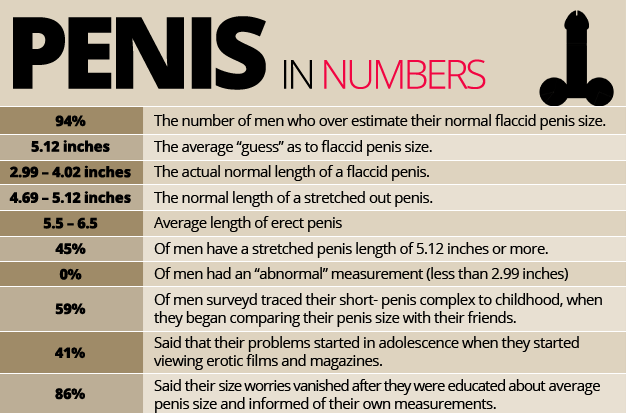 *source: Journal of Urology
What Are Realistic Expectations?
(How Much Can I Really Increase My Penis Size If I Do This?)
Realistically - 
If you use my suggestions, you can gain expect to naturally gain 1 or 2 inches.
(and .5 - 1.5 inches in girth)
Most guys who take the exercises fairly seriously for 12 to 18 months can gain 1 to 1.5 inches - regardless of starting size.
About .05 to .10 inches a month.
Those who go the extra mile can gain 1.5-2 inches. 
If you are starting with a well-grown 8 inch cock, you can gain upwards of 2 inches since their is so much untrained tissue to work with.
But ignore the sleazy exaggerated marketing claims -
Gain 4 inches on your penis in 4 weeks!
IT TAKES TIME and 4 or 5 inches of growth is absolutely not realistic.
But you can gain 1 or 2 inches. 
Newbies will gain quickly.
The first inch is fairly easy, the second is harder.
But it definitely DOES WORK if you are serious about it.
related -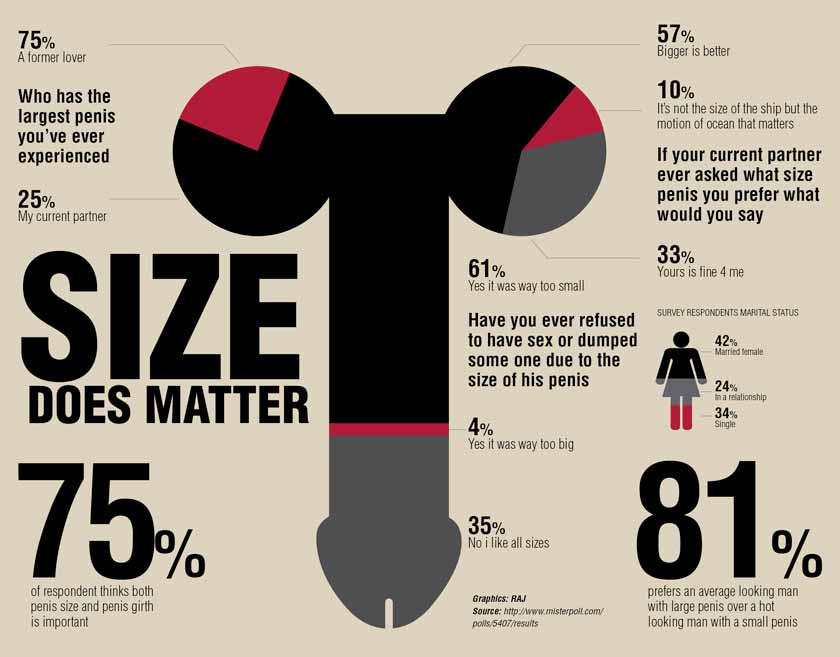 *source: Journal of Urology
Are These Size Gains Permanent Or Is It Temporary?

(Will Go Away If I Stop Doing the Exercises?)
Good question.
The answer is yes and no.
If you COMPLETELY stop training, you will lose about 50% of your gains.
(mainly progress beyond 1" inches) 
You will NOT all lose your gains.
Maintaining your size gains isn't very hard though -
If you train just 1 time week for 10 or 12 minutes, you will keep about 70% of your gains.
If you train 1 or 2 times a week for 10 or 12 minutes, you will keep about 95% of your gains.
It's somewhat like weightlifting - you need to make an effort get bigger and stronger, but maintaining your gains requires far less effort.
I will discuss that that "bare minimum" maintenance effort later.
If your question is -
Is male enhancement worth it?
I think so. 
I started at 5.25" and broke 7.2" with very significant girth.
These days, I only train 1 or 2 times for 10 minutes every 10 days and I'm still 7" and have kept most of the girth too. 
What is the Average Penis Size?
(Lifestyle Condom Non-Self Report Study)
So What Really Works to Increase Penis Size?
Newbies should become familiar with the "Big 3" -
There's some more advanced exercises and devices, but this is all you need to hear about right now.
Combining these 3, you can almost certainly gain over 1 inch in a year (or sooner) if you train 4 or 5 days a week.
Jelqing (Girth & Length Exercise)
Jelqing is a largely considered a girth exercise, but will help with length exercise until you gain your first inch.
Jelqing alone basically got me close to my first inch.
Stretching (Length Exercise)
Stretching is solely a length exercise and is a mandatory part if you want to gain length quickly or gain in excess of 1 inch.
If length is your goal, you should be doing these stretches.
Bathmate Hydropump (Girth & Length)
This one is great.
The Bathmate Hydropump is the world's most effective (and fun) PE device that will add both length and girth to your penis.
Bathmate was the very first product I ever recommended to our community and is much apart of Good Looking Loser as I am.
Have a look at the independent user progress in our Bathmate forum.
The thing actually works. 
Bathmate keeps the process fun, immediately pumps up your penis for sex (partner will absolutely notice and appreciate your added size) and slowly but surely - adds permanent size over many months.
After the first 30 days, use the Bathmate 5 days a week with a full erection for 12-15 minutes.
Just stick the thing on anytime you shower and you dick will look significantly fuller temporary and permanently after 3 or 4 months.

Derek's Thoughts on Male Enhancement and the Bathmate Hydropump
What If I Don't Have the Time or Desire to Do the Exercises?
(Can I Just Use the Bathmate and Gain 1 to 2 Inches?)

Yes, you can skip the manual exercises and just use the Bathmate.
The combination of jelqing, manual stretching and Bathmate is just the fastest way to gain size.
You can use Bathmate as a standalone and get solid results.
I can't make any guarantees, but gaining .5"+ in your first 6 months and over 1" in 12 months is days a week is realistic if you are new to PE and only use the Bathmate.
(you will also gain .5-1" in permanent girth during this time)
No jelqing or stretching required.
Gaining 2 inches or more, however, generally requires a commitment to stretching or length devices.
Most of these reviews are from guys only using the Bathmate -
In 2010, as a manual PE veteran, I wore the Bathmate for 10-12 minutes, 3-4 days a week and grew about .5" in length (I had already grown .5-.75" from manual exercises) and nearly 1 inch in girth.
You don't need the Bathmate to gain size.
If you don't have the money, don't buy it.
At the same time -
You don't need to do the manual exercises to gain considerable size if you use the Bathmate. 
If I had to pick between manual exercises or the Bathmate, I would pick Bathmate because it does the same thing, only faster. The immediate post-Bathmate pump will can do big things for you sex life too.
These days, I only use the Bathmate a few days a week for maintenance and before intercourse.
Bathmate is my #1 recommendation for Male Enhancement because it only requires a very small time commitment, it's super fun to use and it works long-term if you actually commit to using it.
But again -
You can gain 1 or 2 inches.
Probably somewhere in-between. 
But not 5 inches like others will tell you.
Here's a routine if you are only using the Bathmate -
How to Combine Jelqing, Stretching and Bathmate (Big 3)
I'm going to keep this as simple as possible.
Male Enhancement is not rocket science.
If you safely train and fatigue your penile tissue (and let it recover) on a daily basis, it will become bigger and stronger.
Although the composition of penile tissue isn't completely identical to smooth muscle tissue - it's just like going to the gym.
Train and get adequate rest - you will grow.
As a rule of thumb -
If you can't get a good erection (~90%), take the day off. 
Remember -
Like the gym, your gains come when you RECOVER, not when you are training. 
If you are a total newbie to Male Enhancement, you'll want to use the first 30 days to get your penile tissue used to the training. Focus on that.
If you plan to combine Bathmate and manual exercise, follow this routine -
Notice that you are not Jelqing/Stretching and Bathmate on the same day.
After 30 days, you can combine the 3 on the same day.
Just do a little more each week or take it to the next level by Jelqing just prior to your Bathmate workouts. (6+ month experience only)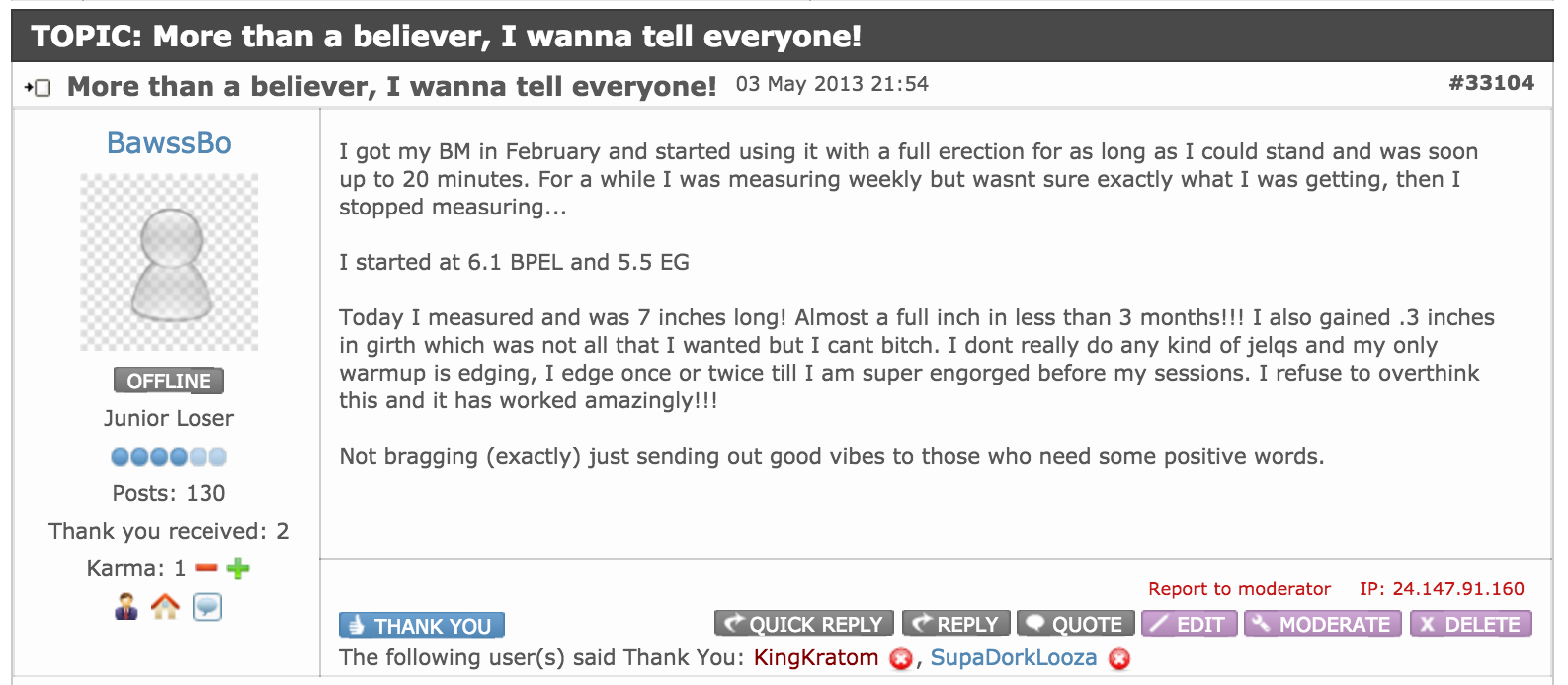 This guy gained almost a full inch in 3 months with only the Bathmate.
It's possible.
I choose to give a more conservative estimate (1 inch in 6-12 months).
What Is the Most Important Thing to Remember?
PE is a marathon, not a sprint.
Daily consistency is the key to getting bigger.
IT ALL ADDS UP.
Every Jelq.
Every Stretch.
Every minute in the Bathmate.
You'll grow if you train consistently (3-5 days/week) and allow adequate recovery.
You won't if you don't. 
On a final note -
Losing weight can help you gain size as well.
For every inch you lose off your waist, your dick will measure .05" to .10" longer.
That's why virtually all the super hung guys you see in porn have beanpole physiques.
If you have 20 or 30 pounds to lose, you will probably gain about .25" to .5" length.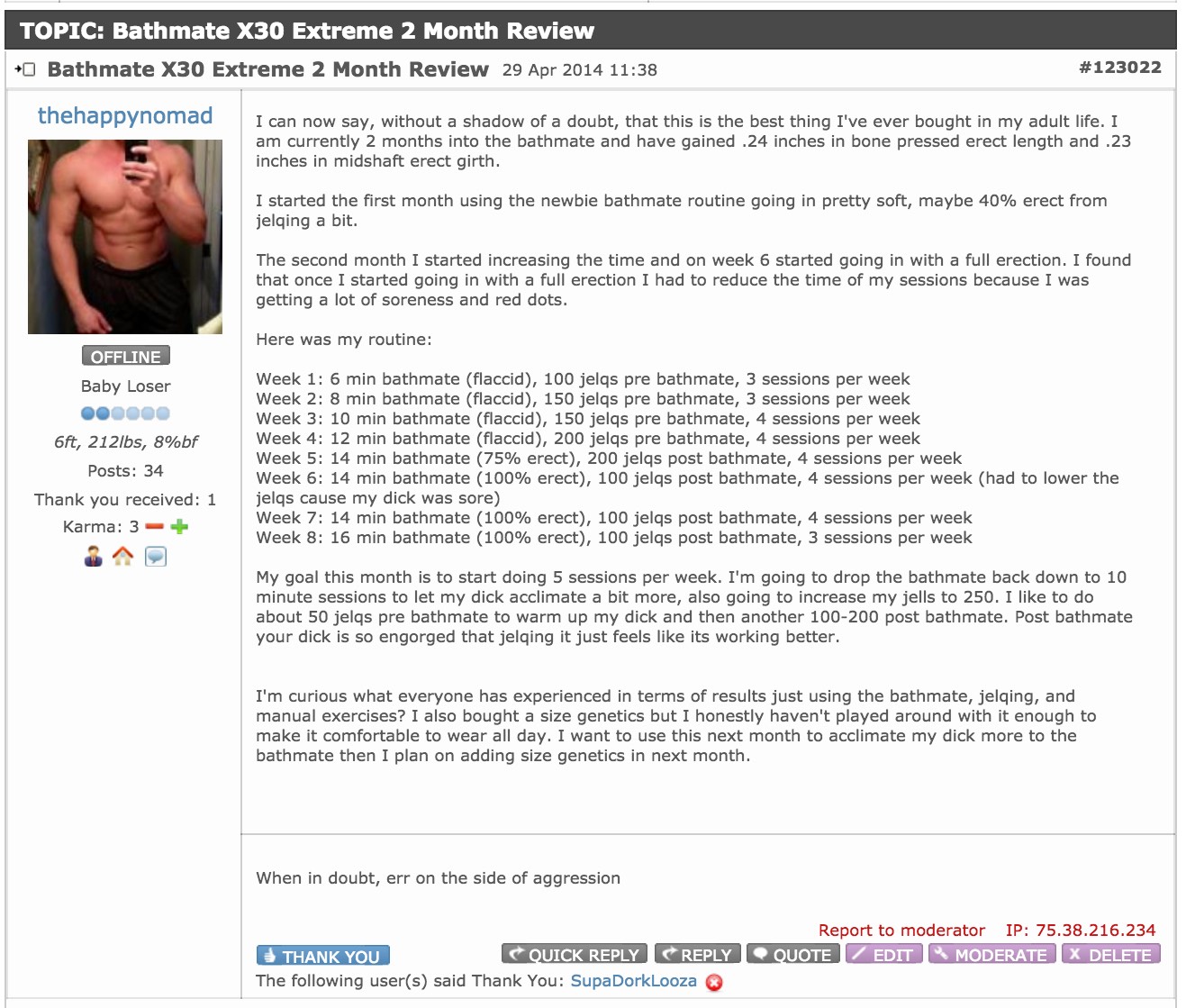 This guy's Bathmate results are a bit more representative in my opinion.
1/4" in 2 months.
He is well on his way to 1" in 6-12 months.
Pour Conclure & Revisiting Expectations
Male enhancement actually works. 
The exercises and the product I mentioned.
The industry has a rotten reputation because the vast majority of marketing over-promises and the products (especially "pills") do absolutely nothing.
It's important to have realistic expectations though.
You can gain 1 to 2 inches if you make a year-long commitment.
If you have weight to lose or are already natural hung, you can possibly exceed 1 or 2 inches. 
(likely after a year)
Like natural bodybuilding, genetic ceilings exist.
A small dick can become an average dick.
An average dick can become a big dick.
A big dick can become a huge dick.
A huge dick probably doesn't need to be doing this. 
Enjoy.
Additional Male Enhancement Resources
Every question about the Bathmate Hydropump answered in detail
For further Bathmate support (or to look at user results), please visit our Bathmate Forum. 
Bathmate Coupon
Bathmate does not issue any 'money off' coupons for their pump.
Ever.
The only coupon is for free shipping (valid for USA, Canada, most of Europe), issued to a small handful of content creators.
If you see a coupon the saves you money, it is for a Bathmate clone or unauthorized vendor.
If you choose to order Bathmate via our link, you will be getting an authentic pump directly from the manufacturer with a warranty. Good Looking Loser only works directly with manufacturer. 

Transparency Disclaimer
If you purchase the pump via our link, you get free shipping ($8.95 to $35.00 value) and Derek and I get a commission at no expense to you.
Thank you for your consideration.