Help Me, Help Deck
Hey guys, I hope you are doing well.
This past month has been stressful for us, we lost BOTH YouTube channels (Good Looking Loser, HairLossFromSteroids) that were both in 100% good standing from an intentional sabotage (confirmed).
While I need to let YouTube's investigation and the legal proceedings play out, I'll keep you updated.
Everything is a learning experience and once I really get working on the "Get Paid" (it will be called "Get Rich") section of the website, I'll have 1st hand experience and be able to tell you how to handle people that intentionally try to sabotage your business (and how to prevent it from happening).
Things move slowly, but I CAN GUARANTEE that I'm going to make a lot of you guys wealthy and let even more of you guys escape the 9-5 life. Until then, just keep hitting on women, getting in shape and pulling on your dick (if you are into that part of GLL).
We have a great team of guys working for us and a lawyer (well, legal team) that jumped at the chance to take on a case like this and see that justice is served.
The Good Looking Loser community is getting a much needed facelift and will debut early next year. It will be sexier, easier to navigate and a treat you to a better overall user experience.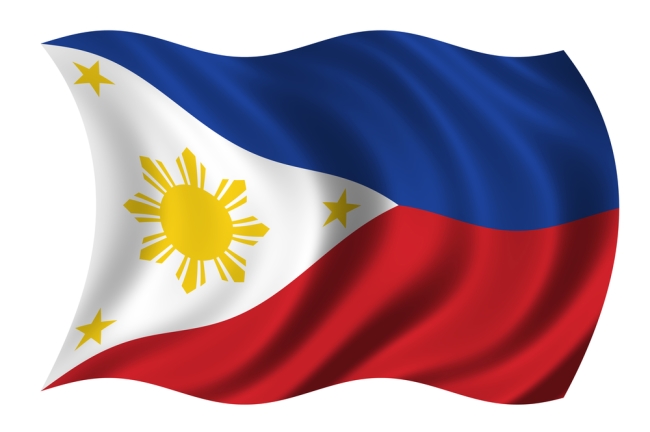 Though my web team is now exclusively in the United States, I still hire international contractors to do certain things.
Many of the contractors are in the Philippines - and I totally suggest that you hire from there in the future. Filipinos are EXTREMELY HONEST, hard working people that speak excellent English (that is their native language). I wish I hired from there when I started, there wouldn't be random problems with our website and words in the header misspelled.
As bad of a month as it was for us, it was worse for one hard working kid that I've had the pleasure of working with.
As you know, the Philippines was hit with a massive Typhoon that left thousands of people dead and hundreds of thousands displaced. Hundreds of thousands are still without power and without work, many of them are grieving over the losses of loved ones, their homes and everything they owned.
After the typhoon hit, I immediately messaged all the Filipino contractors that work or have worked for us.
2 of 3 of them told me that they were okay and their families were still alive. They both expressed gratitude for the humanitarian aid from the United States.
One was missing.
His name is Deck.
Thankfully, I got a message from him last night, he is alive.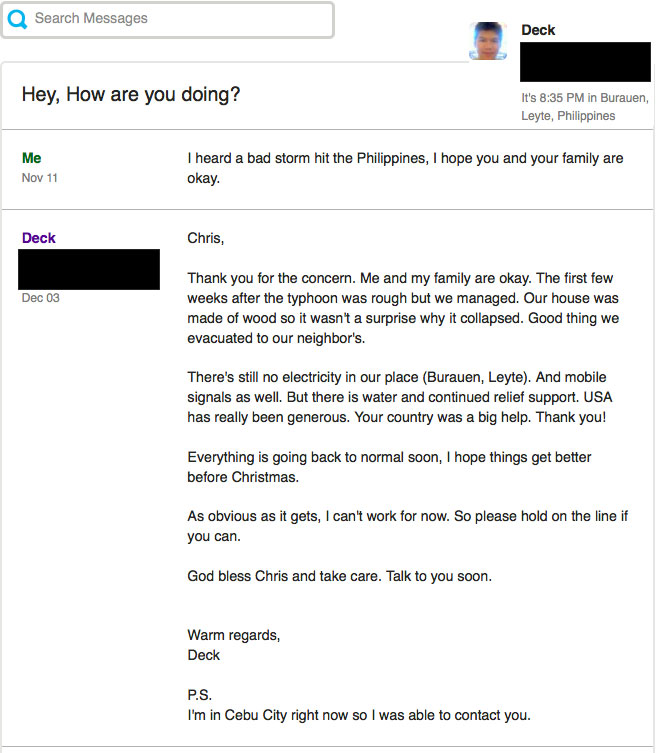 As you can see, Deck and his family are displaced and their lives have been turned upside-down.
Because of Good Looking Loser, I have the chance to help he and his family out.
I'm going to try and do just that.
Like I promised a 15 months ago, mentioned recently and will always stay true to- ALL of our content will remain FREE FOREVER. I will never charge you for my information. Selfishly, I know that Good Looking Loser has the ability to change more lives if it is free. I don't even like the idea of raising money for GLL and probably never will.
I only ask for donations to benefit someone else who needs it.
Our friend Deck and his family need our help.
For the next week or so, I'm going try and raise some money for him so he can have a good Christmas.
100% of the donations will go straight to him and his family.
(I will even post the screenshots of how much was raised and transferred to him. Like me, some are rightful skeptical if their charity ends up in the intended hands)
As cliche as it sounds- ANYTHING will help.
Even if it's just $1.
If we can raise a couple hundred dollars, that will be A LOT for him and his family.
I cordially ask you to consider donating to our Help Deck project.
Seriously, even if it's $1.
If you have recently expressed interest in or considered donating to GLL - I want you to donate to him instead. It means a lot more and will do a lot more.
Thank you for your consideration and have nice day!
[wp_paypal_payment]
(Make sure to indicate that your donation is to 'Help Deck' if you donate. I'm going to give any donation over the next few weeks straight to him anyway, but it's helpful for my accountant)