Good Looking Loser's Sizegenetics Review
updated: January 30 2016
(Added Free Shipping via Good Looking Loser link)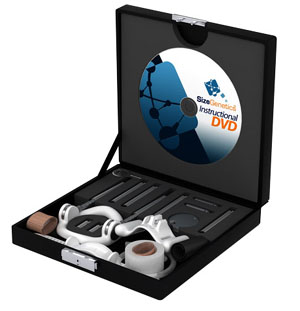 Over the past 8 years, I've tried several male enhancement devices including 2 3 different penis extenders. Other than the Bathmate, all of these devices were pretty underwhelming and difficult to wear.
At the end of January 2012, I decided to try the Sizegenetics extender because it had a money-back guarantee and promised "no slippage" or "pinching," which was the biggest problem with the other extenders. Perhaps more importantly- my friend Erik said it works really well.
As of this review (June 2012), in 7 months, I've gained about .5" of length.
This might not seem like a lot, but I have done male enhancement on an intermittent basis since 2001 and I'm fairly "maxed" out. I haven't gained length in about 2.5 years.
If you are new to PE, you will likely gain double this amount in the same amount of time.
I feel comfortable recommending Sizegenetics because I use it, have gotten RESULTS with it and can compare it to other similar products.
Let me tell you about it and WHAT YOU CAN EXPECT.
Check out Sizegenetics, Free Shipping via GLL-
Good Looking Loser's Sizegenetics Review (Updated 2014)
Table of Contents
0:00 Updated Sizegenetics Review (2014)
0:40 My initial success with the standalone extender (.4"-.5" in about 6 months) from January-May 2012 even though I had previous PE experience
2:50 I recommend getting the full system IF you have the money, you'll be able to wear it for long periods of time (90+ minutes)
4:20 Sizegenetics absolutely works IF you wear it for hundreds of hours (7-8+ hours a day)
6:05 Sizegenetics isn't a "fun" device like the Bathmate, but it's the best length device you can get
7:45 Chris' predictions on how much you will gain
8:50 Who will benefit from Sizegenetics (guys who haven't gained 1.5" yet)
9:50 Who is unlikely to benefit from Sizegentics (guys who have gained over 1.5")
Check out Sizegenetics -
Disclaimer: This review of the Sizegenetics extender is my personal experience. This device or my experience is NOT meant to treat or correct any medical problem or an adequate substitute for medical advice from a physician. Please do not use this device to self-diagnose or treat any medical problem. Sizegenetics is meant to be used by healthy adult males.
How Does Sizegenetics Work?
In short, this penis extender works by applying moderate tension on your penis throughout the day. It keeps your flaccid penis "extended" and does not allow it to naturally retract. The tissue is gradually stretched and broken down overtime. With adequate rest periods, the penis tissue* rebuilds itself and becomes stronger and specifically- LONGER.
This is similar to the hypertrophy (growth) created by resistance training (lifting weights) on skeletal muscle.
*Penis tissue is made of 3 types of tissue (notably muscle tissue and organ tissue), it is not voluntary skeletal muscle like your biceps or quads- but it is made of some 'smooth' (spongy) muscle tissue.
The Official Sizegenetics Video
Why is Sizegenetics Better Than Other Extenders?
Several reasons, i want to give you specifics. If you've tried other extenders, you'll probably know what I'm talking about.
COMFORT = RESULTS

This is the most significant aspect, the Sizegenetics extender is BY FAR the most comfortable device that I have used.
Although this generic penis extender had a strap, not a noose, there was consider pinching
You will need to consistently wear your extender for several hours a day.
Although this generic penis extender had a strap, not a noose, there was considerable pinching.
I previously owned the [product name removed due to legal threats] extender and the Platinum Penis Generic extender by B&G International (see picture). These were not very comfortable and it became a pain in the ass to use them.
Both of these extenders kept falling off- not a great thing if you are sitting in class and it falls down the side of your pants leg. The generic extender kept pinching my dick. After 2 months, both became too painful to wear for more than 40 minutes.
I also used drink a gallon of water a day, it was completely annoying to remove and reattach these uncomfortable devices, especially in a public bathroom. Driving and climbing stairs became nearly impossible. I ended up selling the [product name removed] extender. The other generic extender is sitting in a box in my closet.
In order to get significant results, you need to wear the Sizegenetics for at least 4 hours a day. 8+ hours is even better.
(see below for a beginner's routine)

Ideally, an extender will be part of your lifestyle. Not a hassle.
You need to be able to take it off and put it back on after you use the bathroom. It should be comfortable when you are walking around, driving, sitting or even when you bend over. It should not be pinching your dick or slipping off. Pinching and slippage are painful. You don't want it to begin to hurt as your studying, at work or hitting on chicks at the mall. After sex, masturbation or following manual exercises, it's important to wear your extender to prevent 'turtle dick'. The last thing you want to do is put a painful, restrictive device on it.
Comfort is super important. I can't emphasize that enough. Even the most dedicated guys can't wear a device that begins to hurt after 10 minutes.
This extender is the most comfortable male enhancement device I have used.
I'm wearing it right now as I'm typing this review, drinking green tea, cooking chicken on the George Foreman and watching ESPN. How's that for multitasking?
*SOFT PLASTIC RUBBER STRAP, NO NOOSES*
This is largely what makes it so much more comfortable than the other extenders.
Sizegenetics has a soft plastic strap that holds your penis in place without slippage or pinching. It keeps a consistent amount of tension on your penis and you do not have to adjust it until you take it off.
The other extenders I owned all had cheap "nooses" that are either always- too tight (pinching) or too loose (slipping).
These nooses would always dramatically stretch out after just a few weeks. When they stretch- they don't hold your penis as well. This causes significantly less tension to be applied and ultimately your penis will always "slip" out. After the bands stretch out and can't secure your dick, the system is basically worthless.
*EXTRA PADDING (Full System)*
There is extra padding for the area that holds your penis.
The other extenders have a cheap plastic piece that holds your penis. Your penis naturally adheres to this piece which makes taking it off pretty painful, especially after wearing it for 2+ hours. It felt like taking a band-aid off an open cut. It was always a short, quick, acute pain- definitely not pleasant.
Nothing like that with this extender- easy on, easy in and easy off since your dick is surrounded with padding.
* From member feedback, if you are uncircumcised, it is probably a good idea to purchase the extra padding (the full system). I am circumcised, so I can't comment however.
This is the Package I Own (Click to Enlarge)
What Can I Expect from Sizegenetics?
In the clinical study below, participants gained an average of 1inch in their first 6 months.
You can expect permanent LENGTH GAINS over several months if you legitimately make the effort to use it.
The clinical study below will provide the best guesstimate.
There are also progress logs from several our members that you can check out.
If you have weight to lose (especially fat in the abdominal/pubic region) and lose it in the process - your gains can easily eclipse 1" in less than 10 months.
PhilTheBeard did just that. In fact, he gained over an inch.
(To be fair - Phil also used Bathmate and was extremely committed to growing)
UK board certified physicians and plastic surgeons tested the Sizegenetics extender and published the results in the March 2009 edition of the "British Journal of Urology International."
The Results Indicated the Following:
6 month average growth= 2.3cm (1 inch)
12 month average growth range= 2.55cm to 5.1cm (1 inch to 2 inches)
All the men in the study had a starting penis size no bigger than
At 6 months, the men saw an average size increase of 2.3cm (~1 inch) which was considered statistically significant.
At 12 months, the men averaged a final growth between 2.55cm and 5.1cm, between 1 and 2 total inches. The main variable was the daily length of time the individual wore the extender, all wore it for at least 4 hours. The guys that wore the Sizegenetics extender more often, had more length gains.
My Summary of the Sizegenetics Study
This is from the clinical trial that documents % improvements of length gains over 24 weeks
Official clinical study- Sizegenetics_Clinical_Study.pdf
Published in: BJU International; Volume 103, Issue 6, pages 793–797, March 2009
What Will I Gain and How Fast?
(updated August 2014)
Everyone asks this question so I won't completely duck away from it.
Don't completely hold me to it though.
Here are my predictions for how much you will gain - provided that you are wearing it AT LEAST 7+ hours a day, 6 days a week.
(These are my based on my veteran gains, progress logs in the forum and the study above)
COMPLETELY NEW TO MALE ENHANCEMENT
4-6 months = .75 - 1 inch
6-10 months = 1 - 1.25 inches
Perhaps more. Perhaps less.
It will depends on how much you wear it (and genetic factors).
PhiltheBeard gained nearly 2 inches in 11 months, he lost a lot of weight too though.
IF YOU HAVE ALREADY GAINED 1 inch
(if you have never really focused on length with regular stretching, you will gain as I did .5" in about 6-7 months)
IF YOU HAVE ALREADY GAINED 1.5 inches
I don't necessarily recommend this device if you have already gained 1.5", you will have to do more aggressive things to get to 2 inches.
Again, this is provided that you WEAR THE DEVICE for 6-7+ hours a day, 5 or 6 days a week.
If you combine the manual exercises (jelqing, stretching) with Sizegenetics, you will gain even faster.
There's really nothing that will give you permanent gains faster than this combination.
Sizegenetics Reviewed and Featured in GQ Magazine (UK)
Click to Enlarge GQ Feature
One of the editors of GQ did his own review.
He gained over .5" in 4 months, that's pretty good.
Click the thumbnail to see James Mullinger's Sizegenetics Review-
What If I'm Uncircumcised?
Will Sizegenetics Still Work?
If you've seen my pictures (adult), you'll know that I'm circumcised. Still, from user feedback, the vast majority of guys that are cut will find the system quite comfortable with the extra padding.
12 months of user feedback suggests that uncut guys are less comfortable in this device. Thankfully, there is an easy and super inexpensive solution if you are uncircumcised.
It's called the "VLC Tugger" and it's a modification that you can add-on to your extender. Some say it makes the extender significantly more comfortable for uncut guys.
Here is a review of the VLC Tugger from an uncircumcised guy that also owns Sizegenetics and can tell you what to expect.
How Do We Know That You Have a Big Penis and Really Do This Stuff?
I don't mind showing that I USE EVERYTHING I recommend.
I started out pretty average (~5.3"), I'm somewhere between 7.15-7.25" now.
Update: November 2012, I'm somewhere between 7.25-7.35" now.
↓Pictures Below Are Not Safe For Work (Adult)↓
I encourage you to check out other reviews in our Sizegenetics Discussion Board
You can ask questions in there too.
Where Can I See Before and After Pictures of Guys That Have Used ONLY the Sizegenetics Extender?
I tracked down some before and after pictures from guys with no previous male enhancement experience that used ONLY the extender.
I included some of my own pictures, but remember- I've have extensive male enhancement history.
Should I Get the Bathmate or Sizegenetics?
I get asked this a lot, here's my opinion-
I always tell guys to get a Bathmate Hydropump first.

The main reason is because the Bathmate is a lot of fun, you see gains quickly and guys get excited about their male enhancement prospects.

In reality though, over the LONG TERM, Sizegenetics will be a better device if your goal is permanent length gains. It usually takes longer to see obvious gains however. I want you to know that. If you are impatient and debating between the two- go with a pump.

Sizegenetics is a marathon, not a sprint. You have to use it for hundreds of hours.

Male Enhancement, in general, is a marathon.

A worthwhile one.
Both devices work great if you are committed to using them, I wouldn't be recommending any of them if they didn't work or if they didn't make my dick bigger.
Sizegenetics vs. Hanging [Weights From Your Dick]
If you are new to male enhancement and just learned that you can lengthen your dick over time by stretching the tissue in safe, controlled increments - you might not be shocked to hear that some guys (almost always experienced guys) make penile devices so they can hang weight plates from their dick.
This works: pull on your dick a lot = it grows slowly.
Same reason Sizegenetics works.
However, I absolutely do not recommend hanging for newbies or for guys that have not yet gained 1.25-1.5" yet.
Sizegenetics is a safer option until you KNOW WHAT YOU ARE DOING and strength your tissues and ligaments.
After you gain over an inch and your gains slow down or plateau - then you can consider hanging.
If you haven't yet gained your first inch - Sizegenetics will be the best and safest option.
Trust me on this.
The 3 Most Important Things You Should Know About Sizegenetics
I recently made an FAQ video that I think you should check out if you are considering ordering a Sizegenetics system.
It's extremely helpful to know what you are getting yourself into.
It's the best device for increasing penis length, fairly comfortable, but it's not "fun" like Bathmate.
Gaining length is a marathon not a sprint - you need to commit to wearing Sizegenetics for hundreds and hundreds of hours if you are serious about gaining length. Otherwise it's a waste of money.
Golden rule: THE MORE YOU WEAR IT - THE MORE YOU GROW.
(the less you wear it - the less you grow)
Additional Helpful Information
Sizegenetics.guru
(Comprehensive Sizegenetics Resource)
Other than the individual reviews and a few other pages, I'm keeping most of the male enhancement stuff off of GoodLookingLoser.com. Some people aren't into this stuff and I respect that.
You can find answers to just about every question in the world about this system on our satellite site -
Using Sizegenetics for Peyronie's Disease (Curved Penis)
Progress Reports From Our Members
Just a heads up, if you buy Sizegenetics, I get a commission.
At NO additional expense to you.
I recommend this product first and foremost- BECAUSE IT WORKS.
The Sizegenetics extender is the one that I own, use and recommend.
Thank you in advance if you purchase it via my link.
Shipping and Tracking
For USA customers- they have tracking and local delivery (DHL/USPS).
For UK/International customers- they will be shipping from England. Shipping with tracking is quick.
There is no additional charge for International shipping.
Allow 7 business days at most. It will come in a plain unmarked white or brown box.
You can see a picture of the box and entire ordering process here-
You will also get lifetime access to The Ultimate Male Enhancement Resource and the Offical Sizegenetics Forum.
Check out Sizegenetics, Free Shipping via GLL-
MONEY-BACK GUARANTEE
I wouldn't be recommending this system if I thought you would be returning it.
Still, I want you to know that you have that option. That's one of the reasons why I bought it back in 2012.
If it sucked, I would have sent it back. If somehow you don't like it after giving it a legitimate try, I encourage you to send it back.
*CUSTOMER SUPPORT*
They have AN ACTUAL PHONE NUMBER- 1-800-209-1670.
I've never called in, but I feel this is pretty important because the other overseas companies that sell male enhancement packages offer ABSOLUTELY NO WAY for you to contact them for customer service or a refund.
Although it's "overseas," it ships from jolly ole England - you'll have it in less than a week, I've worked with them for almost 2 years now and the customer service is excellent.
Shipping is free via our link.
If you have any questions regarding Sizegenetics, you are welcome to post below-
I'll be happy to try and answer it for you. :)
(if you want an even faster response, hit up our Sizegenetics forum, you can speak directly to the Sizegenetics representative, most questions will be answered in about 15-20minutes.)