The ULTIMATE Gorilla Mind Review
(A Comprehensive Breakdown of Mike Cernovich's Super Nootropic That Derek and I Built)
If you hang around our sphere of the Internet, you will start to hear more and more about "Gorilla Mind".
While there are some personal experiences out there, very few scratch the surface of this incredible nootropic we developed.
note: This comprehensive discussion is specifically for "Gorilla Mind Rush", I will discuss "Gorilla Mind Smooth" toward the end.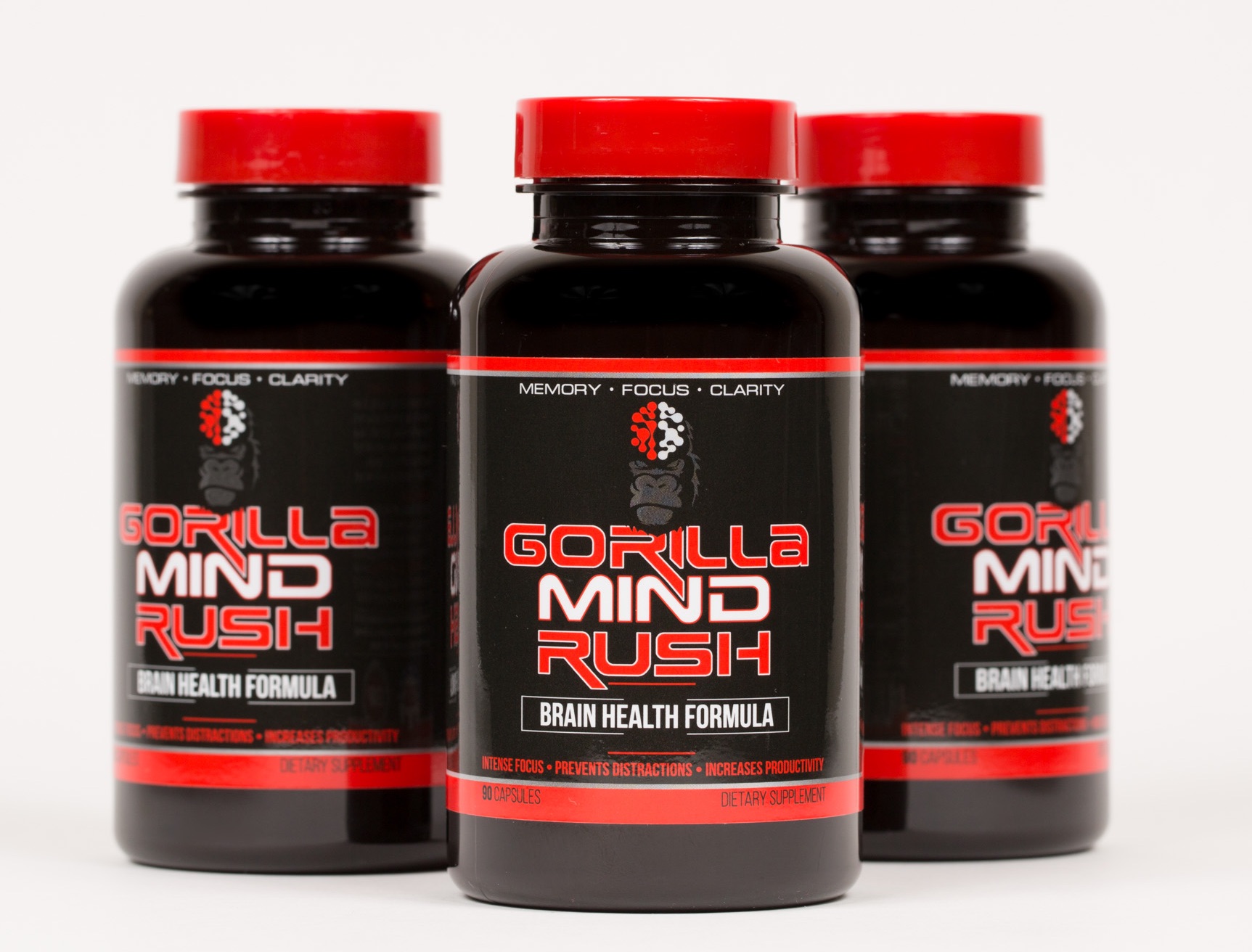 We built Gorilla Mind and it works BIG TIME.
Good Looking Loser's own - DC7 (Derek) was the main formulator.
Gorilla Mind makes and keeps you insanely focused and motivated for hours on end. It has an acute but controlled energy boost benefit and an unparalleled anti-fatigue effect.
But it is not the 'dirty energy' that totally throws off your focus for non-physical activities and makes you a high-anxiety basketcase.
Gorilla Mind Rush is Ritalin/Adderall meets Modafinil in a legal dietary supplement - with a "chill" factor (sense of well-being) once you figure out your personal dosing.
(I will explain and compare later)
That is no exaggeration whatsoever.
Heavyweight boxer Ed Latimore describes -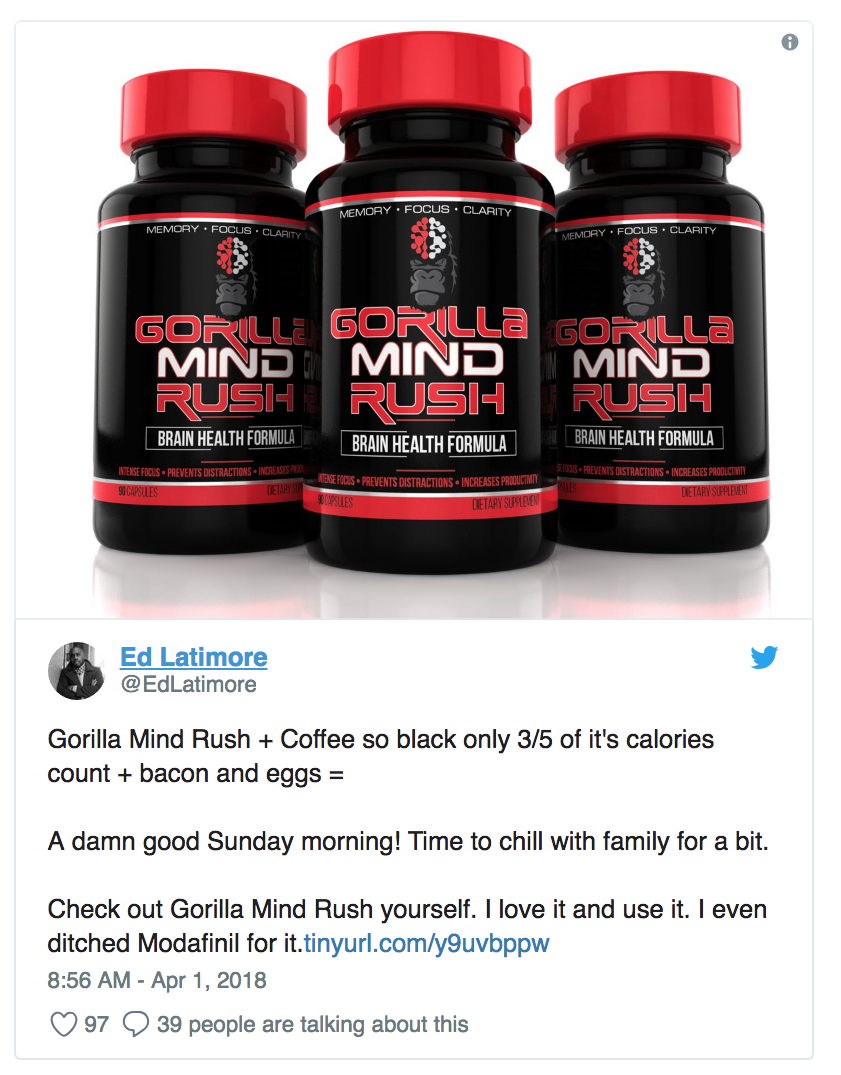 The 2 Problems With "Focus Supplements"
The concept of a "focus supplement" is good.
But all (and I mean - basically ALL) legal focus supplements have 1 of 2 problems which renders them useless for doing non-physical work:
1) The focus supplement "works" but it is only suited as a pre-workout because the energy blast and jitters are far far far too much for regular 'non-physical' (e.g. sitting at a desk) activity.
-or-
2) The focus supplement doesn't do jack shit.
Gorilla Mind Rush bridges that gap without being average -
Insane long-lasting focus with controlled energy without the jittery pre-workout and post-workout anxiety effects.
Gorilla Mind isn't a caffeine-laden energy drink in a pill or some shitty low-dosed complex of do-nothing random herbal compounds.
What You Can Legitimately Expect From Gorilla Mind Rush
If you take 3 capsules of Gorilla Mind Rush on an empty stomach upon waking (or soon thereafter) you can expect -
- 4 to 6 hours of acute hyper-focus
-- 4 to 6 hours of slightly more energy than usual
--- 8 to 10 hours of improved focus
---- 8 to 10 hours of increase in 'sense of well-being'
----- 8 to 10 hours of significant appetite suppression (comes with the territory, but usually a good thing)
------ 0 hours of anxiety-ridden, irritable crash
Gorilla Mind Rush really lasts for 12+ hours - so don't take it ANYWHERE near your bedtime.
* These statements have not been evaluated by the Food and Drug Administration. This product is NOT intended to diagnose, treat, cure, or prevent any disease. Please consult your physician prior to use. Gorilla Mind is NOT a replacement for any prescription medication. Start with 1 to 3 capsules and do not exceed the maximum dose (6) in any 24-hour period.
Most "stims" can make you anxious and a weirdo, Gorilla Mind (both Rush and Smooth) have noticebale mood-boosting effects:
first time taking Gorilla Mind Rush and I KICKED ASS TODAY. felt like a natural high with no jitters; it's progression was steady and certain; awesome focus with a desire to create and make things happen. about to take Gorilla Dream. nice work @Cernovich #GorillaMindRush pic.twitter.com/CZV5Qyv4oI

— Michael James Torres (@michaeljamesto3) April 23, 2018
How I Personally Use Gorilla Mind
Derek and heavy-weight boxer Ed Latimore pop 6 Gorilla Mind Rush and relentlessly attack their day.
I don't do that.
(and neither should you until you know that the fuck you are doing)
How I use Gorilla Mind largely depends on what is on my daily agenda.
On days that that absolutely know that I need non-stop all-day productivity (aka Monday-Wednesday), I'll take 3 capsules of Rush about an hour after I wake up.
More often -
On days that I need focus but in limited amounts, I will just take 1 capsule and repeat 3 or 4 hours later if need be.
If you are not a 'stim-junkie' (I am not anymore, I barely workout or go outside), 1 to 3 capsules of Rush is all you need.
I love to work weird graveyard hours (waking up at 8pm and going to sleep at 1pm the following day is my ideal). If I need to stay up to "reset" my schedule, I'll take 1 capsule throughout the day, but stop 8 hours before I need to go to sleep.
No exaggeration -
You will be up for 24 hours straight (with barely any sign of fatigue) if you don't plan your dosing right.
While that might be good sometimes - that is no way to live.
So don't do that.
@Cernovich I ordered some Gorilla Mind Smooth and I love it. Ordered it on Thursday and got it Saturday morning. So far, it seems to be doing one hell of a job. Gonna try Gorilla Mind Rush sometime soon to see how much I like the energy boost.

— Jason (@JasonTLouis) April 22, 2018
Gorilla Mind vs. The World
(Comparisons to Familiar Substances)
As I previously said and Ed Latimore alluded to -
Gorilla Mind is Ritalin/Adderall meets Modafinil.
Let me put that in context.
Gorilla Mind is a LEGAL middle ground between the 3.
Ritalin/Adderall have a SUPER ACUTE effect.
Both compounds significantly increase dopamine, serotonin and the always under-appreciated - norepinephrine.
(that is why they are addictive and will crash you - both behave like oral low-dose methamphetamine/crank)
There is a very noticeable super-physiological effect.
Your entire brain opens up. Your awareness goes superhuman levels. It is totally noticeable. Even your vision is clearer. You notice visual details that you otherwise would not see. Your ability to multitask, retain information while not getting distracted is not normal (and you know it). Mundane tasks and subjects become interesting and even enjoyable.
Gorilla Mind Rush has a lesser "super-physiological acute" effect.
You don't feel you are "on something" or feel significantly different than your baseline (but otherwise noticeably happy, very productive) state.
Gorilla Mind doesn't have a "euphoric" effect, but rather a perpetual, nice "sense of well-being".
You are just really focused and happier than usual.
For a long, long time.
As for Modafinil -
Gorilla Mind Rush is actually closer to Modafinil than the afore mentioned substances.
The focus on Modafinil is certainly noticeable, but it is not as drastic as Adderall or Ritalin.
Modafinil, by contrast, has a insane yet oddly subtle "anti-fatigue" effect.
You just don't get mentally or physically fatigued.
You can work for hours upon end without any conception of time.
That is Gorilla Mind in a nutshell -
Very significant but not super-physiological acute focus, with a incredible "anti-fatigue" effect.
Gorilla Mind Rush is most like Modafinil, if I had to compare it to anything.
Another Disclaimer
Gorilla Mind, nor any dietary supplement, is a replacement for prescription medications. You should speak to your physician if you already take ADHD medications. Gorilla Mind simply just the best legal alternative. It will surprise you how fucking good it is though.
Gorilla Mind vs. Other Dietary Supplements
This is where there is NO COMPARISON.
I have not tried anything legal that is anywhere close to Derek's formula.
Like I said -
The best legal dietary "focus" supplements are only suited for the gym.
Too much energy, not enough smooth, useful focus.
The rest of them just fucking suck.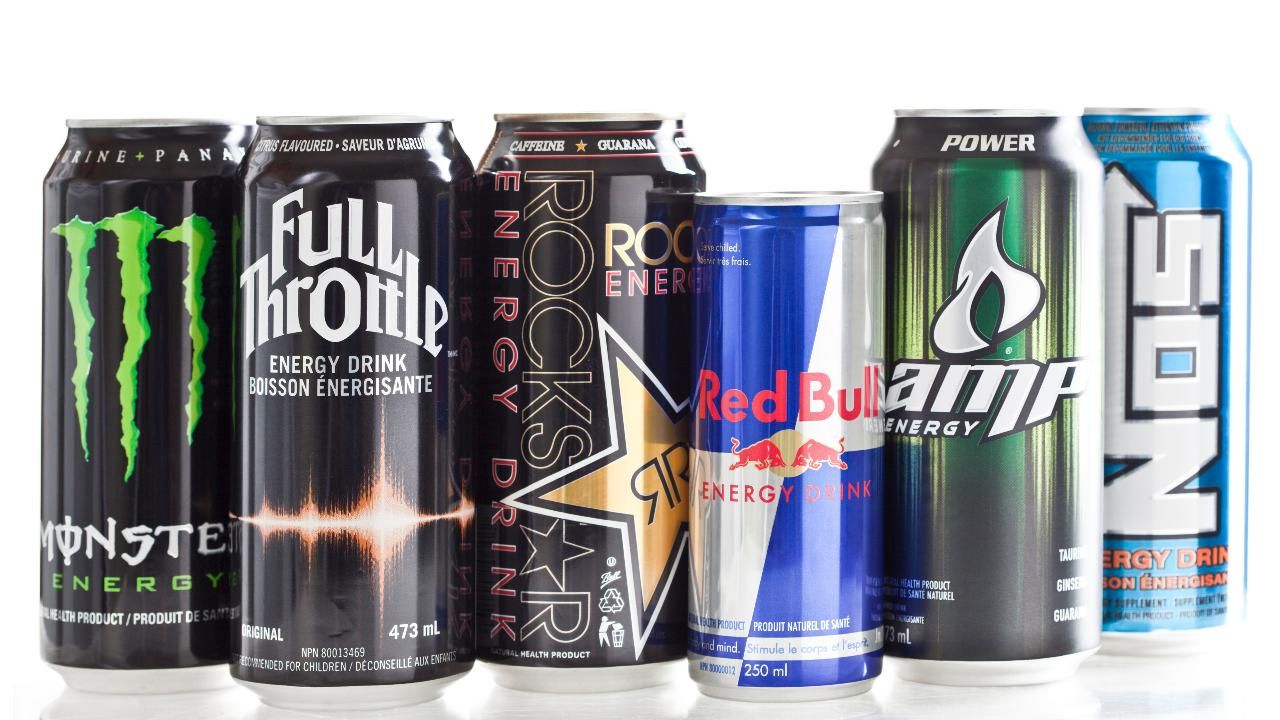 Gorilla Mind vs. Energy Drinks
Energy drinks taste good but they are simply "dirty" energy (caffeine and guarana) and a bunch of empty sugar if you don't use the sugar-free versions.
Energy drinks can certainly increase your energy but do very little for your overall focus and concentration compared to Gorilla Mind.
Besides, there's usually a nasty crash from energy drinks.
Professional MMA fighter Jon Fitch digs Gorilla Mind Rush -
(the hardcore guys will LOVE Gorilla Mind Rush)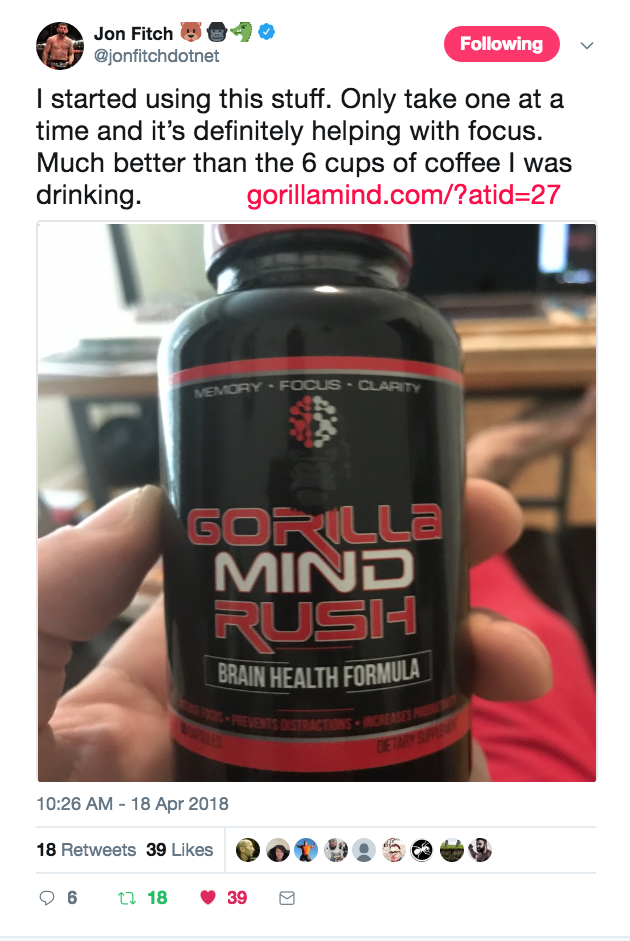 Gorilla Mind vs. Coffee/A Lot Of Coffee
This is a silly comparision too - but I know people are going to ask.
Coffee certainly has its place, don't get me wrong.
I drink 1 large cup of coffee when I wake up.
Coffee goes amazing well with morning Kratom.
Coffee is a nice little "caffeine kick" (95mg per cup) of energy and some short-lived yo-yo focus.
Gorilla Mind, by contrast, is ALL-DAY super focus and perpetual concentration.
I like coffee and diet soda, but there is no comparison here.
1/2 I just received my Gorilla Mind Rush from @realgorillamind today (including the documentary Silenced from @cernovich for free).
I took 3 capsules earlier and it delivers as promised - to put it mildly ?
Epic workout (lifting weights) and more energy at soccer practice. pic.twitter.com/cKDTC3qs7j

— Jan Fredrik Drabløs (@JanFredrikD) January 22, 2018
Advanced Gorilla Mind Use
While Derek is the true expert since he made Gorilla Mind, I'm probably the best "normal guy" expert there is.
Like I said -
I am not a gym-rat or athletic stim-junkie anymore.
I'm just a normal guy who works 14-18 hours a day, 7 days a week in a desk chair.
I'm not a bodybuilder, heavyweight boxer or MMA killer - I'm just all business.
I can give the average, more sedentary person some pretty good Gorilla Mind tips.
Microdosing Gorilla Mind Rush
(GLL Protocol: 1/2 to 1 capsule, every 3-4 hours)
While 1 capsule of Gorilla Mind won't do much if you have a stimulant tolerance (or dependency in some cases), the average person can actually benefit greatly from taking small amounts of Gorilla Mind Rush throughout the day.
I use the "microdosing" protocol more often than any other.
An hour after waking (and coffee), I take 1 Gorilla Mind Rush capsule and repeat every 2 to 4 hours until I've taken 3 capsules.
That is exactly what I'm doing now.
While the focus and concentration aren't as instant and sharp as taking 3 capsules at once, "micro-dosing" (1 capsule, as needed) gives me stable focus and improved concentration the entire day and I have no tolerance whatsoever.
My "micro-dosing" protocol won't interfere with my sleep schedule.
Gorilla Mind Rush + Phenibut = God Mode
(Absolutely Obliterates Social Anxiety)
Phenibut is an incredible anti-anxiety, pro-social compound.
The feeling is enhanced with Gorilla Mind Rush.
I introduced Phenibut to everyone in 2013 and have spoke about it in detail.
Phenibut is great because it kills anxiety without making you an unmotivated slothful couch potato like other anti-anxiety compounds.
Phenibut's effectiveness significantly improves if it is combined with a stimulant. Ideally a long-lasting stimulant since Phenibut's half-life is really long.
Gorilla Mind Rush is ideal.
Here is what I personally do -
I take 3 capsules of Gorilla Mind upon waking
I take 1500mg of Phenibut upon waking
(I take 500-1000mg 3-4 hours later if I don't feel fantastic)
This combination will take some trial and error.
Only take small amounts of both until you have a feel for this magical combination.
Total newbies, upon waking, take -
2-3 capsules of Gorilla Mind Rush
1000mg - 1500mg of Phenibut
(See how you feel 3 or 4 hours later and take 500-1000mg more Phenibut if you don't feel socially-free and fantastic)
DO NOT EXCEED 6 CAPSULES OF GORILLA MIND -OR- 4000MG OF PHENIBUT EVER
(Newbies shouldn't take beyond 3 capsules of Gorilla Mind Rush or 2000mg of Phenibut)
Again, this will take some trial and error (start with small amounts) but if you figure it out - it will be ABSOLUTELY MAGICAL.
Like I said, Phenibut has a long half-life and takes a while to kick in.
Until you assess tolerance, you need to wait 3 or 4 hours before taking any more Phenibut after your initial dose.
Do not combine Gorilla Mind Rush and Phenibut more than 3 times a month
Do not combine Gorilla Mind or any dietary supplement with prescription medications
You can purchase Phenibut that works really well here -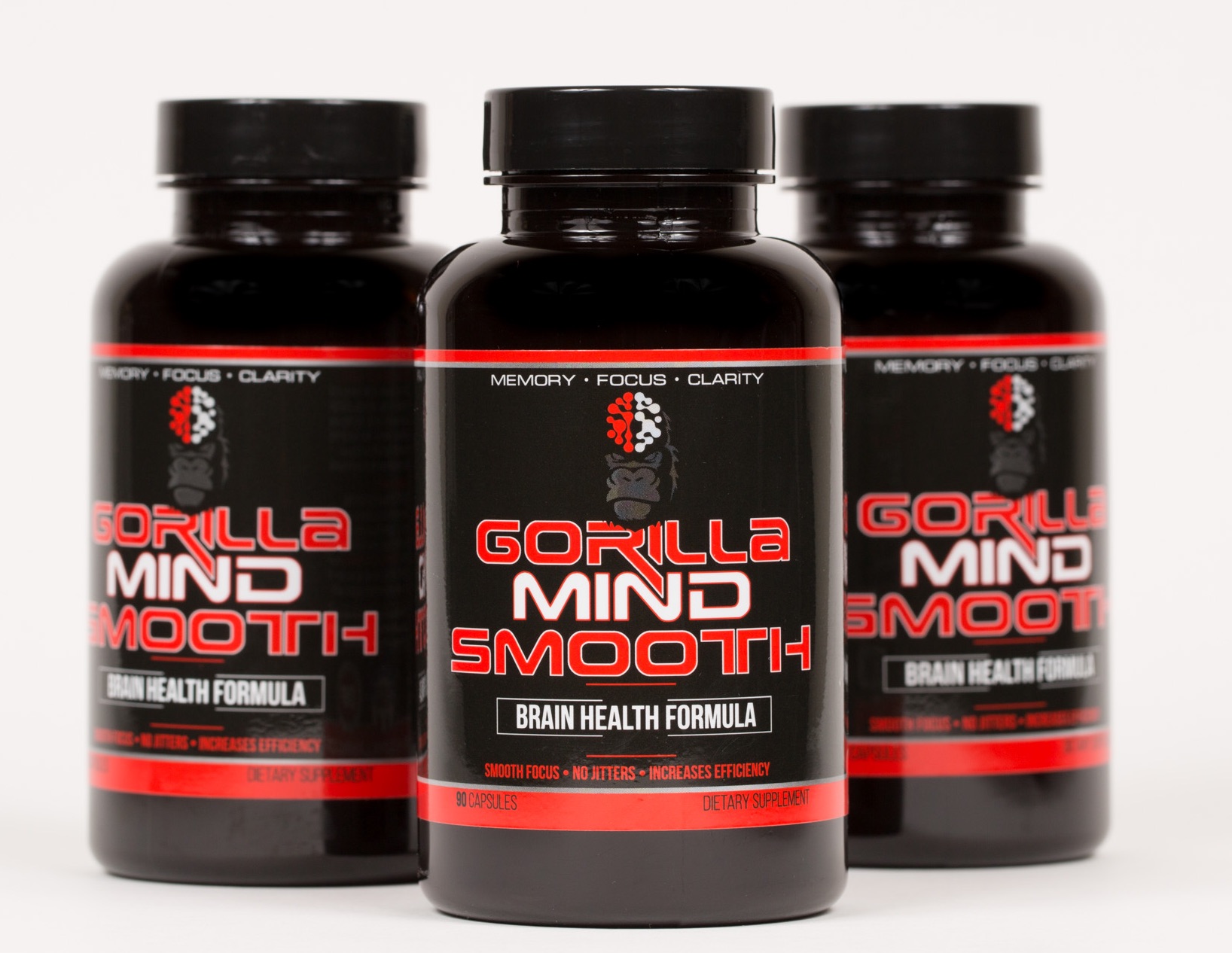 What About "Gorilla Mind Smooth"?
(Mike Cernovich actually prefers Gorilla Mind Smooth)
Gorilla Mind Smooth is the non-stimulant less hardcore brother of Gorilla Mind Rush.
Mike takes 6 capsules (3 capsules - 2 times a day and generally 3 on weekends) of Gorilla Mind Smooth every day.
You can take Gorilla Mind Smooth everyday too.
Gorilla Mind Smooth has a place in my life on the lower stress days and often toward the second half of my day since Smooth won't fuck up your sleep.
I basically use Smooth non-Gorilla Mind Rush days.
(I don't use Gorilla Mind Rush or Smooth on my off-days, however there aren't really any "off-days")
Gorilla Mind Smooth is useful, the mood booster complex is pretty good, but Gorilla Mind Rush is the one that the Good Looking Loser guys are really going to dig.
Smooth is largely for guys that don't want ANY stimulants at all but still want a nice boost of concentration without losing any sleep.
If you are ultra sensitive to stimulants or don't want the extra long hyper-focus, Smooth will be good for you.
You can always combine Gorilla Mind Smooth with your usual caffeine intake -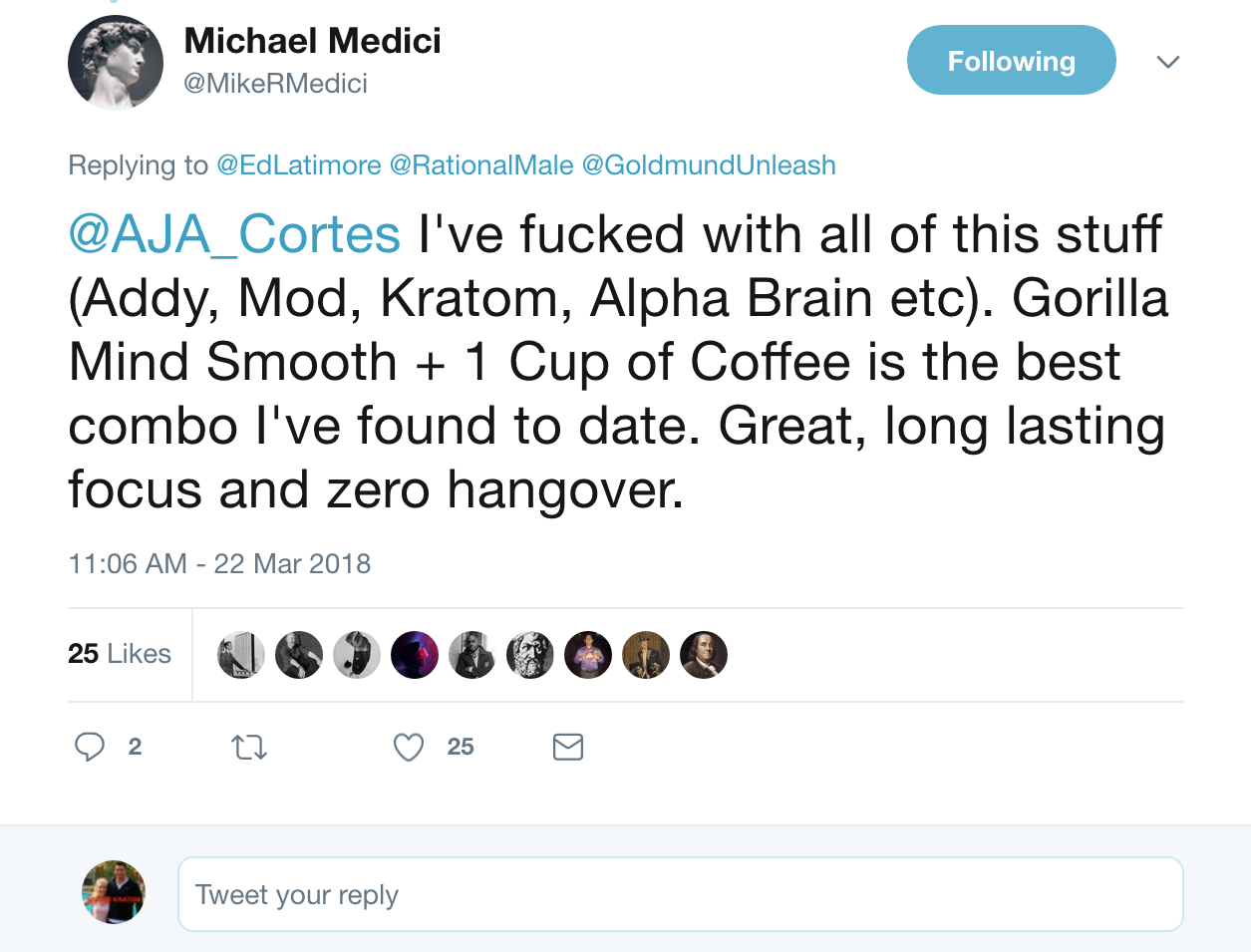 A lot of guys will really Smooth - but Gorilla Mind Rush has that "wow" factor that Good Looking Loser guys will love.
Gorilla Mind Rush For Appetite Suppression and Diet Help
Lost in this discussion is how fantastic Gorilla Mind Rush is for killing appetite.
Gorilla Mind Rush (at only 1 or 2 capsules) is ideal for appetite suppression, without making you super hyper.
If you've used useless garbage like Garcinia Cambogia, you'll know there really aren't many legal good appetite suppressants without getting to super-stimulant territory which messes up your whole day if you don't hit the gym.
Gorilla Mind Rush (at a small dose) can be that bridge.
My "micro-dosing" protocol (1 capsule every 3-4 hours) is enough to totally throw off my appetite, without slamming me with an unnatural stim'ed out feeling.
Obviously, your dieting success will depend on your weight loss diet.
Gorilla Mind will help you eat less, it's not meant to be a "fat burner" however.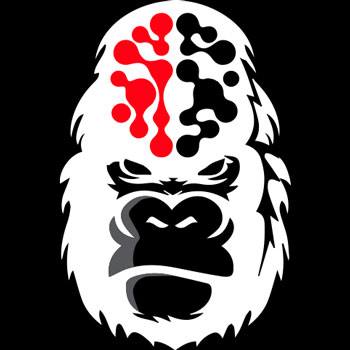 Frequently Asked Questions About Gorilla Mind
We have an on-going FAQ on the Gorilla Mind website that discusses the intimate details of Gorilla Mind.
Can I Take Gorilla Mind Rush Everyday?
Gorilla Mind Rush is super strong, I don't recommend taking it more than 4 days a week. While it will give you superhuman focus and clean energy, you should take days off so it remains super effective for you at reasonable doses.
There is no typical "withdrawal", nor will you become dumb and stupid if you stop using it. But like any good stimulant - you can give yourself adrenal fatigue if you abuse it.
Can I Take Gorilla Mind Smooth Everyday?
Yes. Mike Cernovich does.
Smooth works great with some caffeine on non-Rush days and there are no stimulants in Gorilla Mind Smooth so dependency is not an issue.
Can I Take Gorilla Mind Rush for the Gym?
High-dose Gorilla Mind Rush can certainly be a great pre-workout supplement, but it is meant to be used to be productive with non-physical work.
Your "gym dose" is likely to be more than you would usually take.
The focus is incredible for working out.
What is in Gorilla Mind?
I'm not going to bore you with a breakdown of each ingredient (there are a lot of compounds in both) because you can just view the ingredients in detail on the Gorilla Mind website.
What I will tell you is -
Gorilla Mind not a "Private Label" supplement.
Both of our formulas do not exist as any other supplements and are pending trademarks.
In fact, Gorilla Mind Rush is the ONLY supplement that we know of that combines Higenamine, 2-Aminoisoheptane, Alpha GPC AND N-phenethyl Dimethylamine Citrate (Eria Jarensis Extract).
The combination of the 4 is nearly impossible for most manufacturers to blend because it creates a sticky final substance that takes a shitload of time to put in small capsules.
That sticky final product is magical.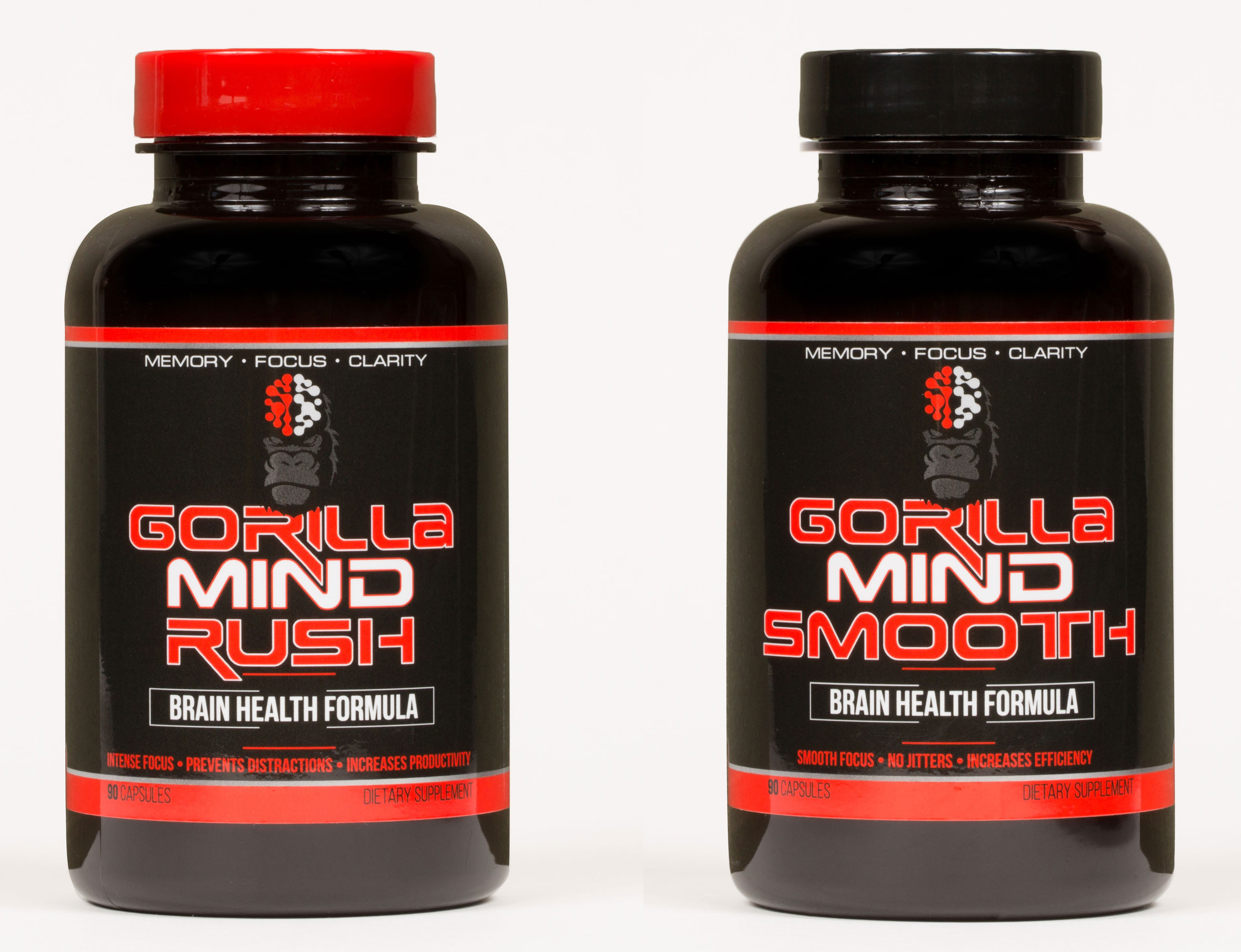 Pour Conclure
We are incredibly proud of Gorilla Mind.

After well over a year and $200,000 for developing, constant testing and manufacturing - we have an amazing nootropic that is infinitely better than anything I have ever used.
As with everything else I recommend -
GORILLA MIND WORKS - BIG TIME.
DEREK REALLY NAILED IT.
It's not a stupid barely-does-anything weak dietary supplement.
It is not a crackhead highly-caffeinated pre-workout supplement disguised as a nootropic.
If anything -
It will be too strong and you'll have to start with very modest dosing.
Gorilla Mind Rush is the one that the Good Looking Loser guys will LOVE.
Gorilla Mind Smooth will be good if you are hyper-sensitive to stimulants or just want focus without any energy boost.
Derek, Mike and I will eventually do a podcast on our "long summer" and what it took to develop these two dietary supplements.
Until then -
ENJOY.