Penomet Review
Updated September 2014 -
We currently recommend the newer Bathmate models over the Penomet.
See here for more information -
Please look into one of those models (x30, x40 or Xtreme) if you decide to buy a pump.
---------------
"Best Male Enhancement Device 2012"

In My Penomet Review, We'll Discuss-
How it works, Why it works
My personal experience, pictures/video (initial impressions; follow up)

EXACTLY what you can expect
The Penomet guarantee
My suggestion on which packages to consider and a discount link if you want to grab one
Other Penomet related issues (discrete shipping, delivery, etc.)
If you have any questions, don't hesitate to leave a message below.
I will get back to you ASAP.
Since starting Good Looking Loser in ~January of 2012, I have been sent 11 different male enhancement products to "review." By "review" the companies want me to recommend their product and usually could care less how the product reflects upon me or if you get results. That's the male enhancement industry for you. Quality people.
That's why I try EVERYTHING and will absolutely not recommend anything that I would not purchase with my own money.
Everything I recommend- I use and suggest with my reputation on the line.
Of the 11 penis enhancement products I have been sent in 2012, only one passed my test-
The Penomet.
I have done male enhancement exercises for a number of years and been "pumping" since December of 2009.
This device is excellent and compares well with the Bathmate, which is awesome, as you may know.
***Good Looking Loser's Automatic Penomet Lowest Price Link-

(Lowest price automatically applied on the order page)
(this is an affiliate link, if you decide to purchase the Penomet, I will get a commission [at NO EXPENSE TO YOU], if you do so- I really appreciate it. I don't sell anything and these commissions are how our community makes money)
Video: Penomet Review from Good Looking Loser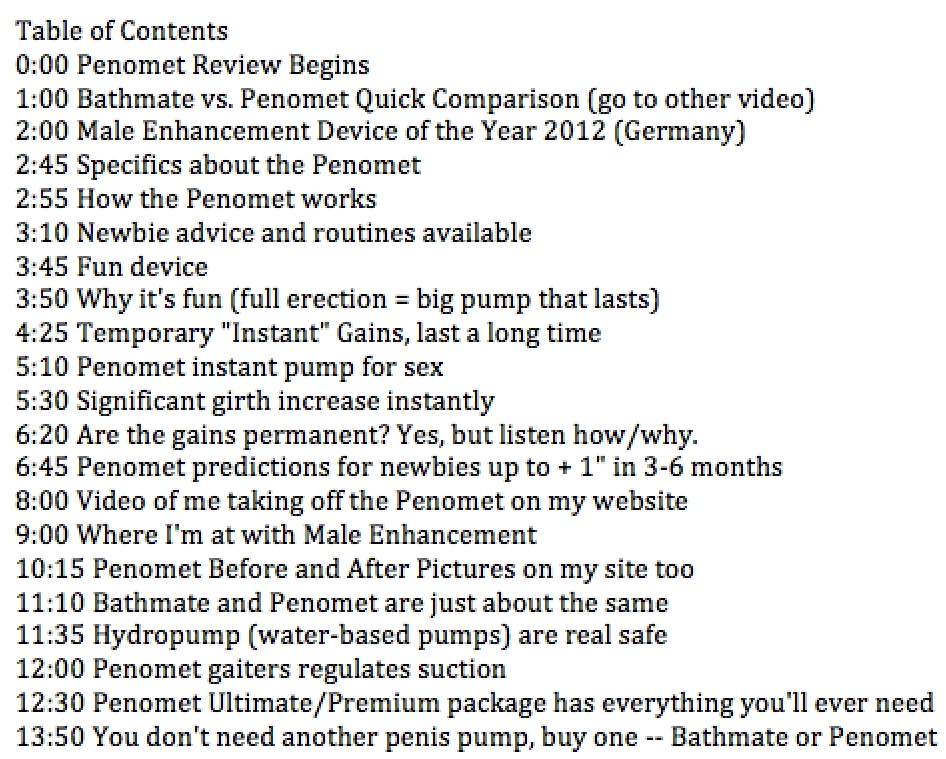 Table of Contents *Click to Enlarge*
About the Penomet Penis Pump
The Penomet Premium System (The One I Own)
The Penomet is a water-based penis pump that you can use in the shower or the bath.
(update- You can use it outside of the shower/bath since you don't have to pump it after you put it on)
The pump creates a safe, but strong, vacuum around your penis shaft. The vacuum causes your penile tissue to expand which produces a temporary change in size. It also causes the tissue to fatigue. Similar to resistance training from weightlifting, when the tissue is given adequate time to recover, it regenerates stronger and most importantly- larger.
The device increases both the length and girth of your penis.
According to Penomet USA-
"The pump is designed to allow a minimal compression force, while achieving maximum expansion, encouraging maximum growth and minimum discomfort. The more water is forced from the Penomet, the more the penis is encouraged to expand and the higher the hydro force vacuum that's created. The more you use the Penomet the bigger the vessels become, allowing more blood to flow and fill the tissue. It's like body building for your penis."
Basically, it makes your dick bigger and it's pretty comfortable to wear.
With consistent daily expansion and ample recovery, the results slowly become permanent. The result is a bigger penis in both the flaccid and erect state. An extended explanation is available on the Penomet website.
Some guys have also found that "pumping" helps correct unwanted excess penis curvature and prevent premature ejaculation. Since I haven't had either condition- I can't comment.
My Personal Experience
Initial Thoughts (November 2012)
While I'm new to the Penomet, I'm pretty experienced with penis enhancement and pumping. In total- I have grown over 2" in length and nearly 1.5" in girth. Water pumps have been significant in my progress over the past few years. It's fun too.
Here are some pictures of my "development," before and after pumping.


(the before/after pictures with the Penomet are at the end of this review)
While the pictures are representative of my Bathmate progress, the Penomet effectively does the same thing.
Penomet Review Video: "My VERY FIRST time using the Penomet with first impressions" (Nudity, Non-Sexual)
Click Video Screen to Start Video
Instant Penomet Pump (Post-Workout)
My soft size was about 5.5" before that session, it flops around at 6.25" after the session.
(+.75" temporary flaccid length gain)
My erect size was about 7.2" before that session and measured 7.3" after the session.
(+.1" temporary erect length gain)
My erect girth was about 5.8" before that session and measured 6.2" after that session
(+.4" temporary erect girth gain)
<These results slowly start to become permanent with consistent use>
In that video, I used the strongest gaiter (the red one) and attached it over my erect penis for just over 15 minutes.
One thing I really like about the Penomet pump is that no water drips out when you are filling it up in the shower. When putting it on, it gets suction very quickly very quickly with about 4 pumps in total and without losing much water. The pump is nearly completely filled with water and you don't have to pump it again.
This is very significant because the water helps create a strong vacuum. You want as much water as possible to remain in the pump. Interestingly enough, I didn't really have to continue to pump the Penomet much while it was on. It stayed tight the entire time and the suction remained consistent both in pressure and across the length of the shaft.
Taking it off (see video) it was painless and not messy. As you can see there was still a significant amount of water in the pump which I poured out into the tub. Since I have been pumping for several years, my flaccid size was quite big when I removed the pump.
Final Thoughts (August 2013 Update)
The Penomet has a translucent ruler so there is no doubt of your size. Click to Enlarge.
It's been about 8 months with the Penomet thus far. It's a very good pump and excellent if you at the beginning-intermediate levels with your PE. Had the Penomet been available been when I began pumping in 2009, I have no doubt that would have achieved the same success as I have with the Bathmate. It excellent for girth and good for length, just as legit pumps are. It's also fun to use.
User-Friendly
As compared to the Bathmate, the Penomet is actually a bit more user-friendly. You only have to pump it when you put it on, as opposed to the Bathmate that you have to pump 1 or 2 times every 3 minutes to maintain good suction.
The advantage to this, in my opinion, isn't that you have to do "less work," but rather that you can put the use the Penomet outside of the shower and walk around. Since you don't have to re-pump it, you don't have to be in the tub or have a place for the discharged water to go. You can make breakfast or chill on the couch and watch television.
Since there are five different gaiters and the pump is large, there is arguably a slightly more extensive learning curve. Each gaiter pumps slightly differently. I like the Bathmate because you can just put it on with brute force in a violent pumping motion and it will stick your body in about 10 seconds. The Penomet, by contrast, takes a bit more finesse. Some might actually prefer to put on this way however.
Potential Support Issue For Smaller Guys


(no longer an issue)
The Penomet is heavier than the Bathmate Hercules and new x30. It closer to the size of the Goliath model. Although not necessarily in my case, this can be either an advantage or a potential disadvantage for some guys.
It can be an advantage because the pump is large and you'll never grow out of it.
It can be a potential disadvantage for smaller guys (5.5" in length or less) might find it difficult to keep that Penomet on at a straight forward angle and might experience it 'hanging down' slightly toward the middle-end of their session. Guys that are already fairly equipped (7.0" in length or more) probably won't have this problem since their size should be big enough to support the pump. I'm ~7.3" now and it's fine for me, but it might have been more difficult when I started at ~5.25". A shower strap would fix this issue completely, I don't know that Penomet has one yet.

Update: Penomet now has a Comfort Shower Strap, here it is-
Penomet now has a shower strap and I recommend it, even if you are already hung.
Minimal Water Retention
Perhaps the most notable aspect (aside from the always appreciated increase in flaccid hang) was that there was almost ZERO WATER RETENTION. Water retention or "turkey neck / tennis ball dick" is a non-aesthetically pleasing but otherwise harmless side effect of longer pumping sessions. Your penis may look deformed, but it will it normal shape in a matter of hours. The main problem is that it's hard to put on a condom in that state. With the Penomet, this isn't an issue and you won't retain much fluid, if any at all.
For more information and specific comparisons to the Bathmate-
Closing Statement on the Penomet
Penomet is Hands-Free.
Since I have years of experience with penis enhancement and pumping, it would be unfair for me to evaluate the Penomet (or any male enhancement device) as a newbie. I have pretty much "MAXED OUT" my genetic potential for penis growth.
In order to give a fair evaluation I have to consider "what I think" this device will do for you based on nearly a decade of male enhancement and the amount of pressure it generates compared to similar devices that I have had success with.
In that regard and in my "professional" [non-medical] opinion-
The Penomet is excellent and it is nearly impossible for it not to give you lasting gains if you stay committed to the workouts.
The pump will produce significant temporary and permanent changes in both length and girth, especially if you are new to male enhancement or to pumping.
What To Expect From the Penomet
You can expect both temporary and permanent gains from regular use of the Penomet penis pump. Lets discuss these.
Temporary Gains
One of the best things about the Penomet is that your penis will see an immediate increase in size. This increase will "hang around" for hours after you have been using the pump for several months.
The video above demonstrates how your penis can look after a training session. In that particular session, my flaccid length increased 3/4" and my erect girth increased almost a 1/2". You can expect similar temporary gains after you start using a FULL erection during your session. With a semi-erection or in the flaccid state, the temporary pump will generally be less dramatic.
These temporary gains are a lot of fun, you can take them into the bedroom and share them with a lucky girl.
Other than sexual experience, in my opinion, developing a large penis (even temporarily) is the best treatment for sexual anxiety. When I had an average dick, I had moderate sexual anxiety. These days it's a total non-issue, in fact- I'm a bit of an exhibitionist and SIZE is about the last thing I'm worried about in the bedroom.
Permanent Gains
After several months of regular use, these temporary gains begin to become permanent. This process is sometimes called "cementing," although that's not quite how growth happens.
According to the manufacturer-
"Generally, most individuals can gain between 1-3 inches in length with a 30% increase in thickness. People who are much smaller, flaccid, seem to get the fastest, most noticeable results; Generally, after between 1 to 3 months, the length will start increasing anywhere from half an inch upwards and the more you use it the fatter and longer your penis will appear."
I find their statements to be accurate.
The first inch is the easiest, the second (and further) grow gets a bit more difficult.
Guys that are on the small side when flaccid should experience significant gains. When I started penis enhancement many, many years ago, my flaccid size was a modest ~2.5". These days, as you can see in the pictures, it's over 6". I credit pumping for 95% of that. I had manually stretched and jelqed for years and saw only minor changes in flaccid length, pumping has probably given me 3.5", at least.
Similar to bodybuilding, untrained newbies will gain quicker than experienced guys that have been training.If you've never done PE before, you certainly have a lot to look forward to. If you have, but never used a penis pump, you too should gain permanent size as well as have fun with the temporary gains.
The Penomet comes in several different colors, you can specify which one you want.
Penomet Money-Back Guarantee
Penomet offers a 60 Day, no-questions-asked money back guarantee. If, for any reason with the first two months, you don't like it- you can get all of your money back.
I wouldn't be recommending Penomet if I thought you'd be returning it (you won't be), but I wanted to let you know that you have the option to do so.
How Does the Penomet Pump Arrive?
(is the shipping discrete?)
Yes.
It arrives in an unmarked brown box - with no stickers or labels (including the return address label) that indicates what is in the box.
This video shows exactly what it looks like.
What About the Bathmate?
(What If I Own A Bathmate?)
I'll keep this short.
If you own a Bathmate- stick with that.
Don't spend your money on stuff you don't need- that includes my recommendations.
That said - the Penomet and Bathmate are both excellent. They both do the same thing. You will make excellent gains with either. I discuss the slight differences below.
You should consider getting a Penomet if you, either / or-
Don't own a Bathmate and have the money for the full Penomet system (but don't have the money for the Bathmate Xtreme)
Outgrew your Bathmate Hercules and are looking for a bigger pump
As discussed in "Penomet vs. Bathmate: A Critical Comparison" newbies should consider either the Bathmate Hercules or the Penomet Premium system.
The Bathmate Hercules is affordable and is a great starter pump. I used it for years and made significant gains. I still love it. Later on- you might have to get a larger pump later if you outgrow your Hercules.
If you have a little more money and want to get a system that will last you until you die, the Penomet Premium system is definitely a great choice. It has all the pressure settings and it's plenty big enough. You will make wonderful gains. If the Penomet was available in 2009 and I had the money- I would have gotten the Penomet.
***Good Looking Loser's Automatic Penomet Discount Link-
(Lowest price will automatically be applied on the order page)
Just a heads up- The link above is an affiliate link. That means- if you make a purchase, I get a small commission (AT NO EXPENSE TO YOU).
If you purchase via my link- Thank you! That is how our community makes money. Regardless if you do or don't, if you have a question about my Penomet review or the pump, I won't hesitate to try and answer it for you.
Further Penomet Discussion

(Developing Section)
Since I like to get in-depth so you EXACTLY what to expect and how to do things, I'm going to continue the specific Penomet discussion, media, etc. on pages below.
"Penomet Routines: DO THIS, GET RESULTS."
"How-to Easily Maintain Penis Enhancement & Pumping Gains"
It's a great pump and we want you to get results.