Hey kids, Good Looking Loser here.
I don't and will not directly sell anything on this website.
Please understand that my blog still makes money and it does so through the commissions I receive for recommending certain products. The site has grown so big at this point that it is nearly impossible to go back through and list each and every program that I have an affiliate agreement with. Given this, you should assume that any links leading you to products or services are affiliate links that I may receive compensation.
Any suggestions/recommendations I make on this site I OWN, USE and RECOMMEND TO YOU FROM MY OWN PERSONAL EXPERIENCE.
I don't recommend stuff I haven't used, no matter how "good" it seems or would sell.
I absolutely HATE Internet marketers that "recommend" this they have never even used. I will never.fucking.do.that.
I consider those people straight up- scammers.
Regardless if you become a member of our community or are just poking around on the Internet, I encourage you to look with a keen eye at any and all sites that present advice, recommendation and information as "fact".
The reviews and "authorities" that don't/cannot give you VERY DETAILED specifics and tell you WHAT TO EXPECT on the subjects/products they are discussing, most likely - HAVE NO EXPERIENCE with them.
If you have any questions regarding the above, please do not hesitate to contact me on just about any page on this website or our forum.
Live an awesome life,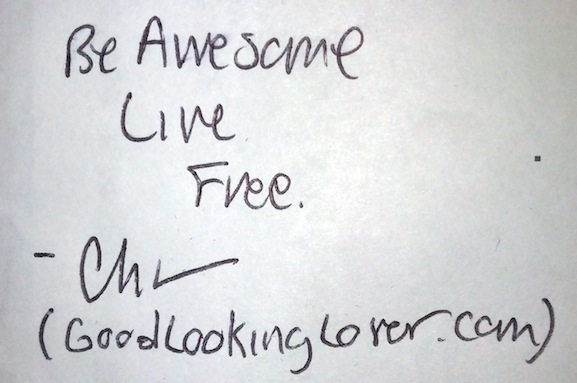 Chris

(Good Looking Loser)