Human Growth Hormone
By: Baby Hulk
(GoodLookingLoser.com "Get Juiced" Authority)
We are talking about REAL Human growth hormone, not oral HGH "supplements," which are complete and utter garbage.
All of them.
Human growth hormone is a peptide hormone made of 191 amino acids and is made by the pituitary gland. Higher Growth hormone is responsible for keeping people youthful. If you have lower GH you will find yourself getting older looking faster or just old period. GH is good for just about everything from bones, cartilage, tendons, muscle, fat loss, skin, hair, immune system, mental well being and more if it is used for anti-aging. GH is known to increase IGF1, This will create hyperplasia in the muscle tissue. There is an increase in protein synthesis. It will also burn the crap out of fat while protecting your muscle from being broken down. It will also make it hard to get fat. People should be aware that HGH in high doses has its bad side effects too; organ growth, bone growth, numbness, joint pain and swelling, feeling tired, bloating, insulin resistance and suppression of thyroid hormones along with oversized intestines. The good side effects outweigh the bad sides if you do it right and most of them can be avoided by working up to the dose you need to take or by not doing 10iu a day. The worst side effect is organ growth, especially the intestines. Pro bodybuilders have to suck in there stomach all the time or they show bulging abs caused by the growth of their intestines. For their goals it is not easily avoided because they need high levels of IGF-1 for hyperplasia and that's the cause of it.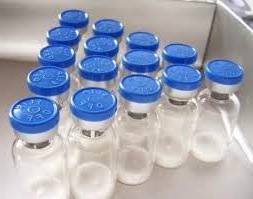 GH needs to be reconstituted with bacteriostatic water, it comes in the form of lyophilized powder. You need to reconstitute as needed, 1 vial at a time because it is only good for 3 weeks after you mix it and It needs to be refrigerated too. You need to know a little math when reconstituting. 1 mg = 2.7 IU and usually comes in 10 IU vials, If you add 5ml of bacteriostatic water for every 10 IU, this makes every 50cc 1 IU of GH. You can make it whatever you want. You need to be gentle when reconstituting, slowly add the water at an angle and swirl it around or roll the vial in between your hands until it is dissolved and store it in the fridge. Store it all in the fridge even the vials that are not reconstituted.
The injections should be done in the fat or the muscle, the circulating half-life is around 30 minutes. If you are going to take it for anti-aging purposes then all you need is 2iu a day. For fat loss all you need is 4iu a day. The times to take it depend on a few things. If you have a healthy pituitary and don't suffer from a deficiency of GH then you would take half the daily dose early morning right when you wake up and the other half any time 8 hours before bed, this is so you will still make your own GH in your sleep. I recommend you take HGH before you work out. The suppression of natural growth hormone is around 4 hours from the last injection. If you have a deficiency then you can take it before bed and when you wake up. This is because you won't really benefit from your natural GH if you are low on it to begin.
You don't need to take an AI or PCT unless you are taking steroids with it and that's what I recommend you do. I highly recommend you take it with steroids because HGH will create new muscle cells while AAS make them bigger. You will need to supplement insulin and t3 for high doses of HGH. This is because it will cause the suppression of thyroid hormone and create insulin resistance. If you do all of this then you could take multiple GH injections at 10 or more IU day. I don't recommend this until you have a fairly good amount of experience already, mainly because insulin can kill you if you don't know what you are doing. You should plan on using HGH for a year, anything less than 6 months is a waste unless you use it as part of PCT.
Baby Hulk says: HGH it is very expensive to do it correctly. anything less than 500 bucks for 100 IU is some bullshit ass HGH. Get HGH from someone that has used it before and gets the real stuff. If someone tells you they have blue tops or green tops or any color tops for that matter you need to tell them no thanks or fuck off. Those are fake, dirty, and could possibly kill you. I would have to say that HGH is the most counterfeited hormone out there today. Companies have to put serial numbers on the package for them to be confirmed legit because of counterfeiters selling fakes. Some people will scam you by selling you HCG because it looks the same, its not GH its human chronic gonadotropin.
I recommend HGH for experienced users. You should have a lot of knowledge about performance enhancing drugs before taking the leap to HGH in large amounts.
We will cover HGH a lot more in the future, it is an incredible compound, we'll discuss that fact/myth and its potential to-
Keep you SHREDDED while you eat whatever you want.
Help you recover from major and minor injuries.
How bodybuilders and athletes use it.
It's ability to grow your penis. (verified)
It's potential to make you taller. (verified, 3/8" the first summer I used it for my knee)
It's [rumored] prevalence in Hollywood among celebrities, both male and female.
Please direct any questions or comment to the "Get Juiced" part of our forum.
Baby Hulk is an EXPERT and you have direct access to him there.