NFL Draft 2012 (by position)
This is Good Looking Loser's official NFL Draft offensive player rankings by position.
It seems like I dislike A LOT of prospects. While that isn't exactly true, I follow a strict criteria that requires picks in round 1 and round 2 to be: very productive in college, the potential for more, good work ethic, a good football IQ and the immediate talent to fill a specific need that free agency cannot provide.
If the player lacks any one of the five- they are simply not worth an early round pick. If this is the case, I'm in favor of trading down- much like the Ravens and Patriots always seem to do. A lot of teams seem to simply pick guys based on "okay, it's our turn to pick, lets pick someone and see if what happens…" To me, teams should draft guys that will work to fill an immediate need (or a value pick based on NFL potential) rather than "he's the best player on our board."
Chris' Top Quarterback Prospects (NFL Draft Rankings By Position)

Robert Griffin (Baylor)- While Luck may be the most "NFL ready," Griffin has the bigger upside. I argue that Griffin had far LESS talent around him at Baylor and significantly outperformed Luck. Griffin also played better against tougher defenses. The thing that worries me about Griffin is that he was TERRIBLE against the blitz on down 3rd down and more than 5yards. Luck also posted better stats in the redzone (and generally seemed more comfortable). I have loved Griffin since his freshman year when, he and he alone, would keep Baylor in big games against powerhouse Big12 teams- Texas, Oklahoma. Remember how terrible Baylor was? For a decade, they were the biggest joke of ANY college football team in a major conference. Griffin, while of the mold of Michael Vick, is not as reckless and is more coachable. After watching Griffin for 3 years and Luck for 3 years- I would take Griffin since I feel he is special.
Overall 93, Ceiling 97

Andrew Luck (Stanford)- I haven't believed the hype on Luck for a while now. Admittedly, all the hype has made me even more skeptical of Luck more than I should. He is very good. ESPN tried their best to award Luck (and Trent Richardson) the Heisman the entire year but the production and big game wins just were not there. Typically, Luck got none of the blame and all f the credit. Clearly, Jim Harbaugh makes QBs (see: Alex Smith) look better than they really are. For as "untalented" Stanford surrounding cast, in reality the Cardinal may produce 3 other FIRST ROUND picks (David DeCastro [G], Coby Fleener [TE], Jonathan Martin [T]). The argument that Luck had far less talent around him [than Griffin] is complete garbage. Luck also played significantly weak defenses. At best, throwing mechanics aside, I see Andrew Luck developing into a more athletic version of Philip Rivers or Drew Bledsoe- Luck warrants a top-10 pick for a team looking for a QB and could have a better career if he is surrounded with more talent than Robert Griffin III.
Overall 92, Ceiling 94

Kellen Moore (Boise State)- Living in both Los Angeles and Boise, I've had the chance to watch Kellen Moore play and compare his game to what I saw from Chris Leak, Tim Tebow, Brian Waggener and John Brantley at Florida. Kellen is far above them all in terms of football IQ and accuracy. "Accuracy," is often misunderstood by the average fan. Accuracy is simply the ability to understand, apply and perfect "timing" with your receivers. Leak, Tebow, Wagener and Brantley can all hit targets, moving targets not in traffic and open receivers (yes, even Tim Tebow). However, how accurate they appear in game situations is quite different. Accuracy is often a product of football IQ and ability to learn rather than raw skill. "Timing" is also a product of applying a week's worth of repetitions on Sunday. Needless to say, I believe Kellen has a football IQ above all these guys and probably above Robert Griffin III and possibly higher than Andrew Luck. Kellen is my sleeper of this class. This is predicated on opportunity however and joining a quality franchise that can recognize and apply his ability. This is not unlike what the Patriots have done with Tom Brady. Not unlike Brady, Kellen Moore has been highly successful with whomever he has had to throw to. If I were an NFL GM of a team that already had an established top-tier QB I would trade down slightly and draft Moore in the middle of the 2nd round (and NO LATER). I believe Robert Griffin and Andrew Luck should be drafted ahead of Kellen Moore because desperate franchises need an NFL-ready QB to fill the seats. At the same time, I feel the ceiling for Moore is just as high, if not higher than Griffin and Luck. His NFL success will largely depend on opportunity however. Moore is a winner, 49-3 at Boise. Southpaw quarterback that will need at least a year of practice with the 1st team to establish his timing.
Overall 88, Ceiling 98.
Brandon Weeden (Oklahoma State)- I actually like Weeden a lot but I have been wrong on the older baseball prospects in most cases. I regard Weeden to be along the lines of Chris Weinke who was sensational at Florida State. Given the general lack of success for Weinke and Weeden playing in the Big XII (which is weaker defensively than the ACC in the late 90′s), I have to drop Weeden to no higher than a 4th round pick and unfortunately project him to be simply a backup at best. Perhaps unfair to Weeden, I'm just not buying QBs that play at Big XII powerhouses anymore (note: Baylor/Robert Griffin IS NOT a Big XII powerhouse). Zac Robinson looked like a Heisman candidate just a few years ago at Oklahoma State, but won't be much of an NFL QB. I believe Weeden's football IQ is higher than Robinson's and probably pretty close to Andrew Luck's. I'll root for Weeden but I can't think he'll be a long-term starting in the NFL. The drop off from Kellen Moore to Brandon Weeden is significant in my opinion.
Overall 79, Ceiling 83.
Russell Wilson (Wisconsin)- Rarely am I impressed with a prospect (especially at QB) when I feel his collegiate team underachieved. Considering Russell Wilson's ability to learn an entirely new offensive in about a month (he transferred from NC State to Wisconsin), adapt to defenses he's never seen, be quite successful, be a LEADER on a new team and his interviews- I really like Russell Wilson. He's a first round pick if he's not 5-10.5. Of the remaining college prospects that can fight an uphill battle and be successful, I pick Wilson to do so. Like Kellen Moore, his success may be a product of opportunity and coaching from a QUALITY NFL franchise. I list him slightly below Brandon Weeden because Wilson is not as polished as Weeden as of the 2012 NFL Draft. If I were an NFL GM, with an established (not necessarily top-tier starter), I would not hesitate to draft Russell Wilson in the 4th Round. If Andrew Luck's "ceiling" is 92 and Andrew Luck is Drew Bledsoe, I believe Russell Wilson can be almost equally as productive if he pans out.
Overall 76.5, Ceiling 88
The following college prospects deserve some consideration as late round picks

Ryan Tannehill- Seems to be developing some skills, lets not go overboard. He isn't much different than Stephen McGee, a former Aggie that didn't win in the big games.
Kirk Cousins- Just another in a long line of average Michigan State QBs.
Ryan Lindley- I honestly don't know much about him, other than the guys in the next list are worse. There is no reason to reach for Lindley however.
Jacory Harris- I don't think Jacory is a potential starter, but he's decent backup, tall at 6-4.
Darron Thomas- Dennis Dixon. Not as good as Josh Johnson.
The following college prospects deserve absolutely no consideration as late round picks
Brock Osweiler- Wasn't good in college vs. weak Pac-10/12, inexperienced, dorky, has an attitude. Like Joe Flacco but even worse. Wouldn't even dominate if he stayed another year.
Nick Foles- Hyped up too much, not his fault. Even still- never did anything significant against a weak Pac-10/12.
Case Keenum- I don't disqualify guys on arm strength usually, but Keenum has a really weak arm and not much else. Keenum is a winner though and could make an okay backup if he develops.
Aaron Corp- California sissy boy. Talked into coming to USC by sleazy Pete Carroll, should have gone elsewhere to develop.
John Brantley- Awful. Just terrible
Jordan Jefferson/Jarrett Lee- These guys make JaMarcus Russell and Matt Flynn look like Warren Moon and Joe Montana. Nothing more to say.
Joe ESQ says:
I agree with you about the quarterbacks; three things specifically.

First, why is Ryan Tannehill so highly thought of? It doesn't make any sense to me. He was the QB on a team that started the year in the top-10 and then lost 6 games. He played in a spread offensive system that could probably produce points with anyone (remember when Jerrod Johnson was considered a stud?). When defenses adjusted in the second half of games, Tannehill couldn't do anything. He literally threw away games against Oklahoma State, Oklahoma and Texas with loads of second-half picks; picks that were mostly his fault, not that of his receivers, which shows he's got some problems reading defenses. He stares at his receivers and hasn't even shown he's capable of making progressions.

I understand the guy only played a year and a half at QB and that he's athletic, so maybe there's some long term potential there. For that reason, it would make sense to take him in the 3rd through 5th rounds. Considering him a first round pick is just ridiculous though. Absolutely ridiculous. He wasn't very good.

Second, although Luck might be great, why is he considered a once-in-a-lifetime pick? Why is he considered better than the last two No. 1 picks, Cam Newton (who is superior to Luck in every respect) and Sam Bradford, who both out performed him in college? As you said, Luck played in a Jim Harbaugh offense that we know makes QB's look better than they are. He played with a dominant offensive line and running game, which also makes a QB look better than they otherwise are. He played against relatively weak defenses, and didn't carry his team to victory late in big games. Stanford lost to Oklahoma State game because they twice settled for field goals at the end of the game. They lost to Oregon two years in a row because Stanford's offense couldn't do much in the second half either time. They lost to Cal in '09 because of a horrible pick in the final minute, which wasn't even as bad as the horrible pick against USC in the final minutes this year.

Yeah, Luck is tall and athletic. So was JaMarcus Russell. So was Brady Quinn. So were the other 50% or so first round QB picks who turned out to be busts. That's not to say he will be a bust, but his college performance doesn't indicate he's much more likely to be successful than any of those other guys. The talk about him being the risk free pick and guaranteed savior of a franchise is bullshit. It's all based on hype and nothing more.

Third, I don't understand why Moore doesn't get more respect either. He didn't just dominate lousy defenses, he dominated good ones. Did people not watch what he did to UGA in the second half last year? He has a quick release, he's as accurate as they come, he knows how to read defenses and makes progressions, he can feel and knows how to avoid pressure, and he knows how to lead his team to victory at the end of games (missed kicks are what cost them against Nevada and TCU). He has everything you need in a QB except maybe height. We saw last year that a QB coming out of the same situation, Andy Dalton, can have success instantly. Moore was even better than Dalton in college, yet he shouldn't be taken seriously? WTF?

And if he isn't taken until late, a failure to become a legit starter will more likely than not be the result of a lack of opportunity, not ability. NFL teams for some reason treat QB unlike every other position—they announce a starter and then spend years working with and developing that starter and ignoring everyone else, regardless of whether that starter is actually good. See Chad Henne, Mark Sanchez, Blaine Gabbert, etc. When a guy is picked late, he'll only get a chance if injured. TJ Yates looked decent for Houston last year. Maybe, as a result of that, someone will take a flyer on him. The same thing happened to Matt Moore. Hell, the same thing happened to Tom Brady and Matt Cassel. Without being lucky and have other people get injured, those guys would never get an opportunity. The same will happen to Moore.
Chris' Top Running Back Prospects (NFL Draft Rankings By Position)

1. Doug Martin (Boise State)- Although some running backs have looked elite at Boise State (see: Ian Johnson), I feel Martin is the real deal. I've watched him for over 2 years and he has no trouble running threw, past and away from solid competition when Boise played tougher competition outside the WAC/Mountain West. He reminds me a lot of Frank Gore but is a better receiver. Somewhat like Duce Staley, but a better running back. Martin is generally regarded at the best blocking runningback in the draft. The causal fan doesn't put a lot of weight on that but NFL franchises and starting QBs do. It's what separates great from good. If Martin ran behind the Alabama Crimson Tide offensive line, I believe he would have been equally as productive at Trent Richardson. I don't know that Trent Richardson would have been as productive as Doug Martin at Boise [running out of the shotgun] however. Boise State has gotten the reputation as an undersized, overachieving, blue collar, gimmicky football team. While that may have been true in 2006, Martin is part of a the new breed of Boise athlete that is big, fast, hard working and fundamentally sound. Martin warrants the first pick for any team looking for a starting running back. Also notable, the only game that Boise lost in 2012, Martin was sidelined with an injury.
Overall 90, Ceiling 94
2. Trent Richardson (Alabama)- Like Joe ESQ, I am not that high on Trent Richardson. Like Andrew Luck, there has been a lot of hype around Trent Richardson. With the hype comes the sharper critique. It was the foregone conclusion that Trent Richardson and Andrew Luck were in a 2-player Heisman race, even after both failed to deliver in big games. While this is enough to call Richardson overrated, I can't drop him any lower than the second best back in this draft since their is no player that stands out more in my mind. Richardson is worthy of an early 2nd round pick based on "need" or as a late 1st round pick as an overall athlete. Notable also is Mark Ingram, Trent Richardson and recently, Eddie Lacey have all looked like Eric Dickerson running behind the Crimson Tide line. I felt Mark Ingram was a good late round pick and I feel Trent Richardson would be the same. An X-factor here is something I call the "Juice Factor," even though Richardson is a genetic freak, Trent Richardson's muscle mass at this point is not natural. As former athlete that has [legally] used anabolic steroids, I worry that Trent Richardson will have a short shelf life in the NFL. He is not Adrian Peterson.
Overall 87, Ceiling 88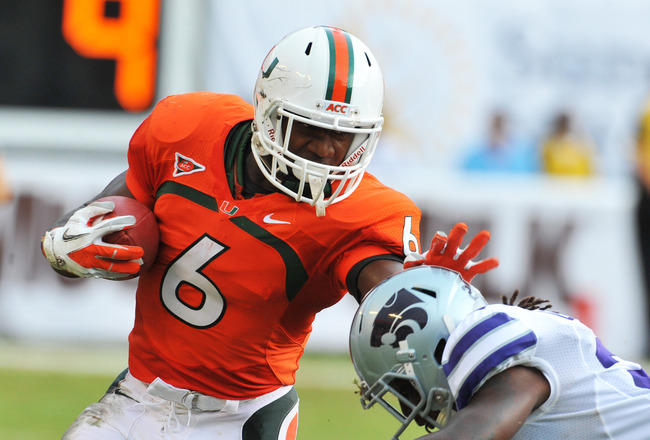 3. Lamar Miller (Miami)- By default and by my "only draft a running back based on 4 years of potential" criteria, Lamar Miller gets the third spot by default. There's simply nobody with significantly more upside that I see. Chris Polk is good, but he's carried the ball over 1000 times. LaMichael James is good but he's too small to play every down. If I thought James was as good as Darren Sproles, I would easily have him #2 overall. Lamar Miller seems to be a very talented, somewhat productive piece of a dysfunctional Miami team. Miami has a good history of developing running backs, so Miller is worth a look.
Overall 81, Ceiling 86
The following college prospects deserve some consideration as late(r) round picks
Dan "Boom" Herron- What's with the Ohio State nicknames? Decent player overall. Sat behind Beanie Wells though.
Chris Polk- Quick but extra short shelf life probably.
David Wilson- Overrated, worth a late round look though, not a fan of drafting running backs early if they aren't a sure thing.
LaMichael James- Good guy. Who knows, maybe I'm wrong- maybe he's Darren Sproles.
Isaiah Pead- Is he better than most NFL free agents? Slightly. Good player, don't expect him to play all 3 downs.
Terrance Ganaway- Huge Black running back who found success running out of the shotgun despite his size, might be a solid change of pace back to a smaller established RB such as Ahmad Bradshaw or LeSean McCoy.
The following college prospects deserve no consideration as late(r) round picks
Chris Rainey- Like Gator Strength Coach Mickey Marrotti said, "How many guys are there in the NFL that weigh 150lbs?" Unlike the line of hard-working Urban Meyer recruits, Rainey is lazy and isn't serious about football.
Marc Tyler- Wow, it's crazy to think that Marc Tyler was part of the Dream Class of USC blue-chip running backs. Simply too many injuries for this guy even though he worked extremely hard to fight back. I feel bad for putting him here actually.
Bernard Pierce- Like Tyler, I feel bad for putting this guy on the list. I like him. He's just had too many injuries and not worth a pick or a guaranteed contract. The teams with a good GMs pay running backs for their potential not their previous stats.
Random Projects
Bryce Brown - Still young, talented former 5-star high school star that basically quit two college teams but might be humbled to play against elite competition. Likely just a lazy waste of talent though (see: Fred Russell). Obviously he probably won't get picked, but this is an interesting story. I'm not a fan of drafting or signing player that weren't successful at lower levels, but running back is somewhat different considering there's no long-term commitment necessary.
Chris' Top Wide Receiver Prospects (NFL Draft Rankings By Position)

Michael Floyd (Notre Dame)- Despite the pathetic QB situation at Notre Dame, Michael Floyd still had 100 catches and 10 TDs (total). I haven't been high on Notre Dame wideouts (Golden Tate) but Floyd is a big, talented receiver that is the leading receiver in Notre Dame history (most Notre Dame players stay 4 years). Clearly, if Floyd had gone to Oklahoma State, he would have been as productive as Blackmon. He's taller and faster off the line. He can be big and nasty like Hakeem Nicks. I like Floyd a lot and I don't consider him to have character issues. He went to Notre Dame right?
Overall 89, Ceiling 93
Justin Blackmon (Oklahoma State)- Maybe it's unfair to hold it against Blackmon but both Dez Bryant and Michael Crabtree have vastly underachieved. As well as a host of other Big XII stars- Malcom Kelley, Limas Sweed, etc. [after looking unstoppable in conference play. I consider Dez to be the most overrated player in the entire NFL. I swore Crabtree was nearly the best WR I'd ever seen and he isn't even good in the NFL. Blackmon is talented, but largely a product of the Cowpoke Air-Raid and pathetic defensive in the Big XII. Big XII corners are particularly vulnerable to tall flankers. I don't believe Blackmon is as tough as Michael Floyd either. Blackmon has good body control and good hands though, he's just moderately overrated. For comparison purposes. he's nowhere near AJ Green or Julio Jones. He will have a productive career and due with the lack of elite talent at the WR position this year, Blackmon warrants a first round "need-based" pick.
Overall 86, Ceiling 90
Nick Toon (Wisconsin)- If Ryan Broyles were healthy, this spot would go to him. Still, I'm surprised that more scouts aren't talking about Nick Toon, the son of NFL "pretty good" WR- Al Toon. He's a big and tough physical player somewhat like Anquan Boldin (I predicted Boldin's huge success). He's good after the catch and strong hands. Faster than we thought, 4.43 but still needs to learn to flip the hips to square off routes. I like him better than Kendall Wright.
Overall 84, Ceiling 89
The following college prospects deserve some consideration as late(r) round picks
Kendall Wright- I tend to think that Robert Griffin and the weak Big XII made him look better than he is, but he's worth consideration as the 4th or 5th WR in this class.
Stephen Hill- Undoubtedly, Stephen Hill will be picked high by some losing franchise that doesn't understand that track players than don't make an impact at the college level will NEVER become elite receivers. I'm thinking Washington, Jacksonville or Cleveland will step up to get Hill. The comparisons to Calvin Johnson are ridiculous, he's more like Demarius Thomas who is garbage. Hill is worth a late middle/late round pick. Not much earlier unless the team is in desperate need of at receiver. He won't be playing much for 2 or 3 years. Consider him Darius-Heyward Bey.

Alshon Jeffery- Just two years ago this guy looked like the best SEC receiver ever. He wasn't the typical Spurrier WR either. He was one of the only WRs to match up and beat Janoris Jenkins several times. Apparently he got really fat and slow. This is very bizarre but I'd rather have him over Stephen Hill. Jeffery has elite body control and hands, but isn't that fast. Very late 2nd round or early 3rd round seems appropriate. Prior to this season I believed he was top receiver in this class. Teams can't take a player in the first 2 rounds unless the player is a sure thing (starter). Jeffery isn't a sure thin.
Rueben Randle- I tend to think that Randle is closer to the 'can't get on the field LSU WRs' rather than closer to Early Doucet or Dwayne Bowe. But he's worth consideration in the late rounds.
Brian Quick- Little known D1-aa WR that has elite straight line speed and size. Played well at the Senior Bowl. Understandably, he faced competition that could never play major Division-1 football but he's worth a late round pick. 202 catches in his Appalachian State career and likely could start at ANY college football program.
Marquis Maze- Small, but strong work ethic and intangibles make him an interesting late(r) pick. Teams that target (and need) slot receivers could justify a reach for him and not regret it.
Tyler Shoemaker- A tall, tough Boise State receiver with good hands. Somewhat like the Buffalo Bill's (former Gator) David Nelson but Shoemaker is tougher but not as smooth.
The following college prospects deserve no consideration as late(r) round picks
I don't see any guys that are so much worse than the rest here.
Any remaining unlisted wide receivers with character issues should be immediately removed from draft boards.
Random Projects
Ryan Broyles- The NCAA's leader in receptions and considered by far the best player on Oklahoma by his teammates. Had a major knee injury that has destroyed his draft stock. I know Oklahoma hasn't produced an elite receiver in decades and Broyles is small. Broyles is also tough, hard working and has great hands.
Chris' Top Tight End Prospects (NFL Draft Rankings By Position)
I don't see anyone here that I'd pick in the first round that is significantly better or provides more upside than the players in free agency. The success of these tight ends will depend largely on their role in their new offense. Basically, nobody stands out in terms of pass catching ability. I'm sure there are a few guys that can block well, those guys deserve consideration as late picks. There's no Rob Gronkowski or Jimmy Graham in this class.
The following college prospects deserve some consideration as late(r) round picks
Coby Fleener- We establish Fleener's value ranking assuming that Fleener is legitimately worthy of a late 1st round pick, as most draft boards have him. With that assumption, I have to say Fleener is overrated. If a team has an immediate need at TE, drafting Fleener makes sense in the early second round. He offers upside as former star basketball player and playing in a pro-style system at Stanford. With that said, compared to other draft boards I don't see the point of taking Fleener. Trading down seems like a better deal.
Ladarius Green- Green is the most interesting TE in this class. All 32 NFL teams watched his pro day. He's 6-7 and can move well, he averaged 18 yards a catch and even lines up a wide receiver. I don't think he an split out wide with ISO on an NFL corner or safety, but this is just evidence that he can move. If he had a "Vernon Davis" or "Vernon Gholston" body he might be seen as a first round pick. I'd rather take Green late than Coby Fleener early. I see Green being very successful on a team like the Patriots, Texans or Panthers that like (and know how to) get their tight ends in space.
Orson Charles- Charles gets some consideration over the remaining also non-standouts for the simple fact that Georgia seems to put out solid pass-catching TEs. Ben Watson, Randy McMichael, Jermanine Wiggins, Leonard Pope, etc. It's inappropriate to totally generalize but like Miami is 'Tailback U" and Penn State was 'Linebacker U', I guess Georgia is 'Tight End U'. I'm not suggesting a team pick Charles based on what other athletes have done, I think it's worth some consideration to at least look at the guy who plays against (and has been successful against) very fast SEC linebackers and safeties.

Chris' Top Offensive Line Prospects (NFL Draft Rankings By Position)
Center (worthy of a pick in rounds 1-2)
Peter Konz (#1)- In a long line of excellent Wisconsin offensive linemen. Can pass block well, Wisconsin is known for their rushing attack.
Michael Brewster (#2)- Solid Ohio State Center, faster than most Ohio State interior players.
Kai Maiava (late pick)- Only Center prospects that I've seen in person, won his matchup all day against Oregon State. He will need lose a fair amount of weight to move with the NFL players though. Brother Kuluka Maiava is in the NFL.
Offensive Guard (worthy of a pick in rounds 1-2)
David DeCastro (#1)- One of the reasons that Andrew Luck had all day to throw. First round pick.
Kevin Zeitler (#2)- Another Wisconsin monster on the line that can pull and move. First or second round pick.
Amini Silatolu (#3)- Athletic Polynesian that dominated Division II because he didn't have the grades for Boise State (might not speak English well). Looked like Orlando Pace in Division II. Second round pick.
Offensive Tackle (worthy of a pick in rounds 1-2)

Matt Kalil (#1, #1 OVERALL)- I consider Matt Kalil the very best player in this draft. Obviously the quarterback position is the most important, but the left tackle position is exceptionally important too. If the Colts didn't have a need at QB, I would expect them to take Matt Kalil. Had no trouble dominating at USC when he first saw action. Brother of smaller pro-bowl center Ryan Kalil. Huge, hard worker, athletic, will be an All-Pro for 10 years.
Johnathan Martin (#2)- Another reason that Andrew Luck had all day to throw. Smart, instinctive player. Late 1st round pick.
Mike Adams (#3)- Anchor of a overlooked Ohio State offensive line. Not neccesarily a pro-bowl player, but a solid offensive wall. Rare Breed. Late 1st round/early 2nd round pick.
Cordy Glenn (#4)- Glenn may be selected before Martin and Adams because he's bigger, but he's not quite as good. He is still worthy of an early 2nd round pick.
Riley Reiff (#5)- Not as overrated as Robert Gallery but no where near the top 2 guys on this list. Why is he hyped so much? Late 2nd round selection.
Check here to see Good Looking Loser's NFL 2012 Draft Preview (Defensive, by position)
If you have any comments, please post them below-